*This post may contain affiliate links. As an Amazon Associate we earn from qualifying purchases.
Whether you are visiting Bellaire, Michigan for the ski resorts, access to beautiful lakes or the beer, Short's Brewery is one of the cornerstones of any vacation in northern Michigan. This unassuming brewpub, hidden in a tiny town far from the highway, offers a surprising array of interesting beers, good food and a vibe fit for both young people and families. Whether you are looking to visit the brewpub, or just try some of its bottled beers, check out this complete review of Short's Brewing Company. If you are a craft beer enthusiast or looking for a place to get affordable, quality food, Short's Brewery is an excellent stop in Michigan.
WHERE IS SHORT'S BREWERY?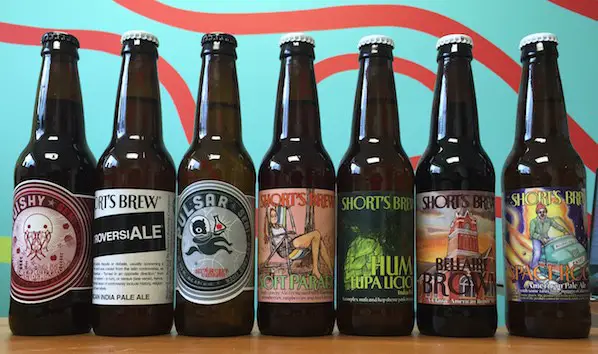 Located in Bellaire, Michigan, a small village near Lake Michigan in the northwest portion of the state, Short's Brewery looks unassuming on the exterior. The sleepy town comes alive with vacationers visiting the lakes in the summer, ski resorts in the winter, and the brewery year-round. The village isn't far from Lake Michigan, Torch Lake and other pristine waterfronts.
You can find Short's beers bottled and distributed all across the state of Michigan. While the company began selling only in Michigan, it has since expanded to selling nationwide. Find Short's classics, like Local's Light and Bellaire Brown, or look for more unique bottled beers as well.
A SHORT HISTORY
True to its innovative and young person style, Short's Brewing Company was founded by a 22-year-old Bellaire, Michigan resident, Joe Short. It has expanded into not only a staple of the small town in Michigan, but is also popular all throughout the state.
In 2017,  Lagunitas Brewing Company, the owner of more internationally recognized beers like Heineken beer, acquired  19.9% of Short's Brewery. Despite the takeover, it still keeps a small-town vibe with a passion for creating unique, seasonal beer. You can now find Short's beers around the nation, particularly in craft beer or specialty beer stores and pubss.
SHORT'S BEER
When you try a Short's beer, you're likely to come across beers like Key Lime Pie, Bloody Beer or Melt My Brain. The artwork, flavor and names of its beers are unique and quirky, but oddly satisfying. Short's specializes in experimental beers, so don't be surprised if you see ingredients as varied as tomatoes, raspberries or coriander. While you may need a master brewer to decipher the ingredient list, the flavor of each beer is a good balance of familiar and new. You can still find some craft beer staples, like a blonde ale, IPA and a brown ale, known as Local's Light, Huma Lupa Licious and Bellaire Brown, respectively.
The brewpub has 20 taps on hand, but there are always new choices available. Fill a growler, grab a pint or sample from flight of five tastings of your choice at Short's Brewery. If the list of 20 tap beers has you feeling lost, your server or bartender should be able to help you understand the finer points of each offering. The menu also provides an extensive list of ingredients and flavor profiles.
STARCUT CIDERS
If beer isn't your scene, try Starcut Ciders by the bottle or on tap at Short's Brewery. Made from northern Michigan apples, these ciders follow the Short's trend and offer artistic labels, names and flavor profiles. Sample popular ciders, like Squishy, which uses both Michigan apples and Balaton cherries to create a great cider named after the jellyfish artwork. There aren't as many options for great ciders, but the list is expanding each year. This new adventure for Short's Brewing Company started in 2014, with distribution beginning in 2015. Keep an eye out for more unique ciders as the Starcut Ciders line continues to expand.
PRODUCTION FACILITY
If you love getting behind the scenes, schedule a tour of the production facility in nearby Elk Rapids, Michigan. All the bottling and much of the brewing happens in this large factory setting. There's a small storefront, beers on tap and a rotating local food truck on site. It's a short drive from the brewpub, but worth the trip.
MERCHANDISE
Attached to the brewpub in Bellaire, Short's Mart is a small storefront that offers plenty of merchandise and bottled Short's beer. Enjoy some of the artwork, T-shirts, bumper stickers or other items while you wait for your next round of beer at the brewpub. You'll also find a few local offerings for sale, like Higher Grounds coffee from Traverse City.
SHORT'S BREWERY RATINGS AND REVIEWS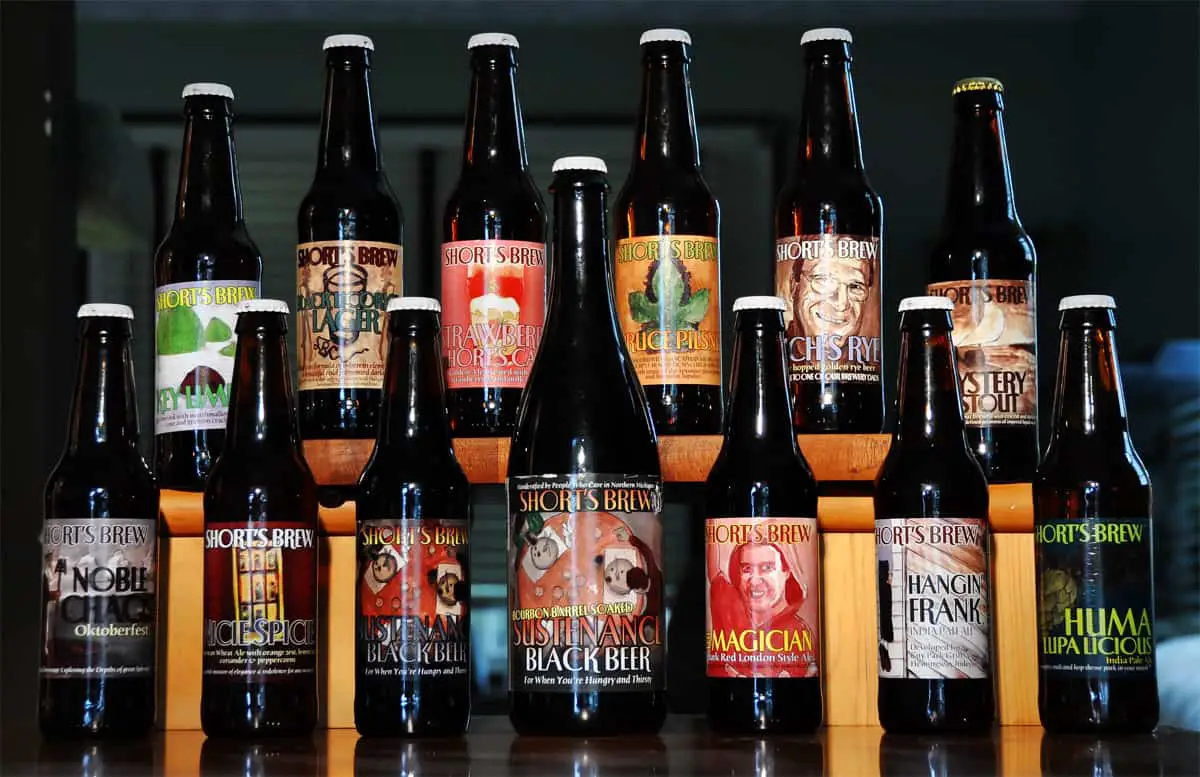 The excellent beer selection, quality brewpub fare and great, if informal, service has given Short's Brewery excellent ratings and reviews. Short's has received a Certificate of Excellence from TripAdvisor and is rated highly with any rating platform. Take a look at each section to get a better sense of the reviews of Short's Brewery.
Short's Brewery has an overall 4.5 rating on both TripAdvisor and Yelp. The beer selection is generally considered extensive and satisfying. Most customers love the food and service. However, some customers have experienced poor service, food quality or disliked the atmosphere. As with any restaurant or brewpub, there is a range of reviews and ratings, but overall, Short's Brewery is a highly recommended dining and drinking experience.
BEER AND CIDER
Untappd, the online beer rating service, gives Short's beer selection an overall 3.66 out of 5 stars. Short's has earned a 3.8 out of 5 rating on BeerAdvocate. Some of the most popular varieties of beer are the Huma Lupa Licious, an American IPA, and the unique Soft Parade, which is a fruit beer that uses a range of fruits, including blueberries and strawberries, to create a wine-like beer that is sweet and drinkable.
Short's Brewery has won several awards for different beers throughout the years. From the Great American Beer Festival to Draft Magazine's Top 25 Beers of the Year, Short's Brewery has a range of award-winning beers. Notable beers include the Key Lime Pie, which won the gold medal for experimental beers at the Great American Beer Festival in 2014. The Melt My Brain won the silver medal the following year under the same category.
Starcut Ciders at Short's Brewery have yet to win any awards, but its offerings are very popular among cider-loving customers.
FOOD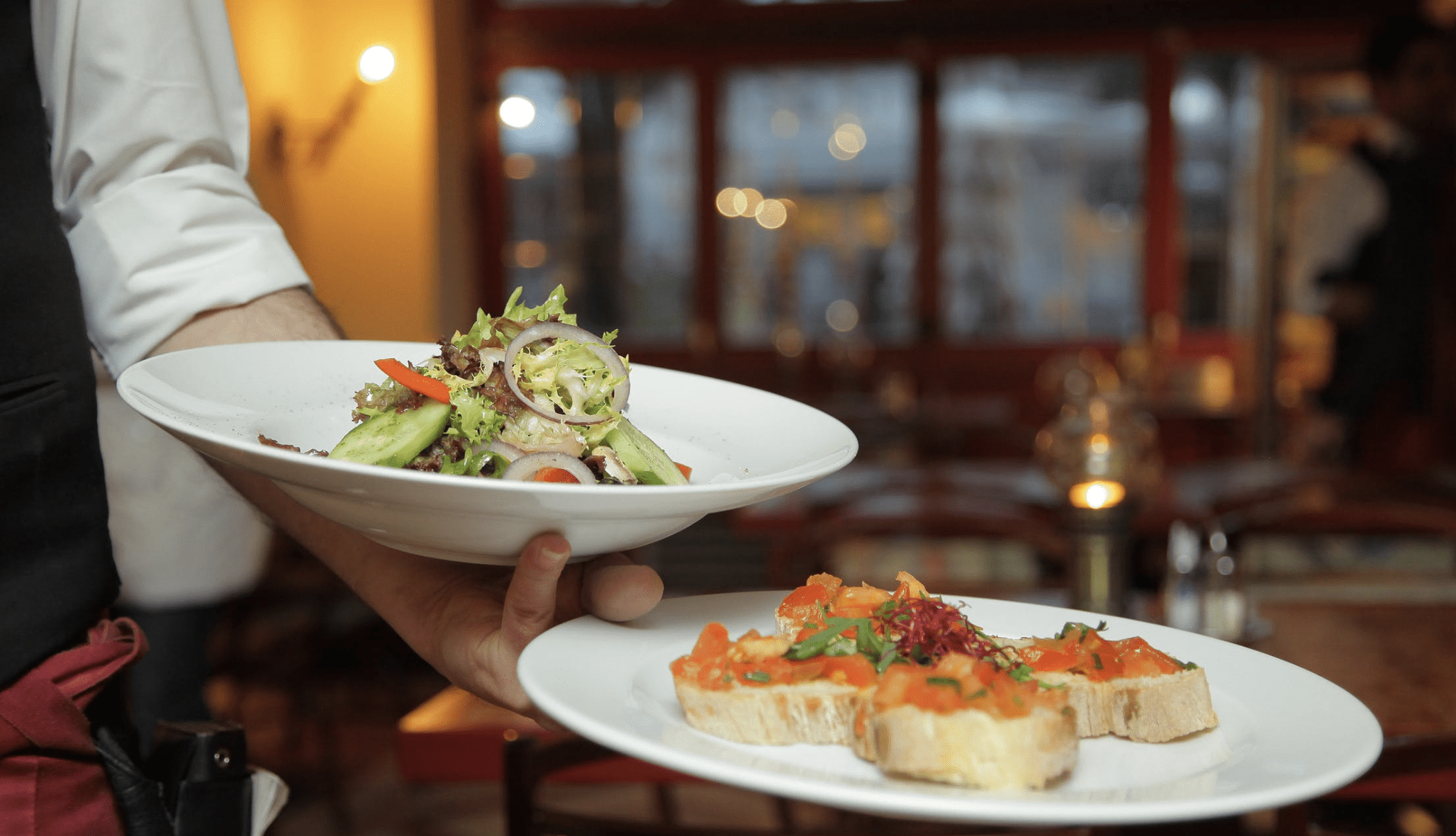 Short's Brewery offers a small menu of pub fare, like nachos, buffalo chicken dip, pizzas and sandwiches. The sandwiches are all served with Great Lakes Potato Chips kettle chips from nearby Traverse City, Michigan. The food is fresh to order and pairs well with beer. Most customers love the selection of food, especially the appetizers. The spinach and artichoke dip is a particular favorite among many customers.
Some customers, however, have had quality issues with the pizzas and sandwiches, particularly during busy weekends. The variety of food options is more limited than many restaurants and larger brewpubs, so you may want to check out the menu first to see if there is anything that suits your tastes.
The menu items at Short's Brewery all feature quirky names, just like the beer. Order an Old Man Thunder braised beef on a hoagie bun, or the Loop De Loop handmade pretzels. Few items change on the menu, but Short's offers a soup of the day and a Mac 'N Cheese of the day. Be sure to ask about gluten-free options as well. The menu is conspicuously missing any burger option, which is usually common in a brewpub setting.
SERVICE AND ATMOSPHERE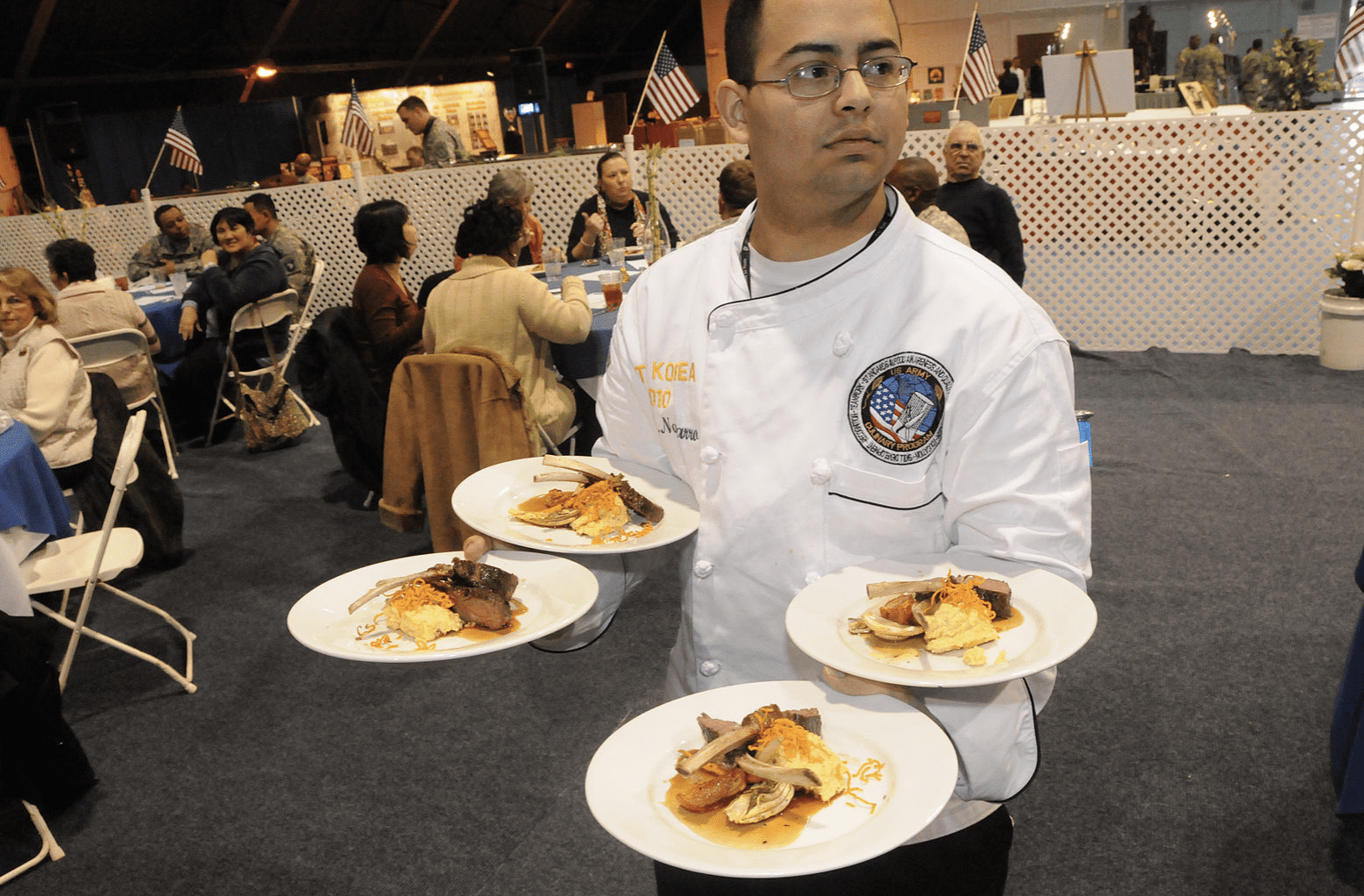 Informal, friendly and helpful, the service at Short's Brewery is typical of a small town. The young staff of beer-knowledgeable servers and bartenders are all dressed casually in Short's merchandise. Add the wood tables, steampunk decor and Short's artwork on the walls, and you get a sense of the eclectic atmosphere that greets you there.
The brewpub is bustling in the summer, so reservations are wise. Because of the small town its located in, it's also a family-friendly location, as long as the loud folk music doesn't bother you. Short's Brewery frequently hosts local bands to play on the small stage in the main seating area. Many customers feel this makes the experience less enjoyable, due to the loud echoes in the building. Other customers love the ambiance and local feel of this brewery. Come during the fall or winter on a weekday, and you'll easily find a table or a place at one of the several bars in the brewpub.
Like most restaurants, there are a few customers who received poor service. A few customers felt their server was inattentive and slow to take their orders. Most complaints were about the crowded feel and loud atmosphere of the brewpub, rather than the service.
CONCLUSION
Craft beer drinkers, cider lovers and pub fare enthusiasts will love a visit at Short's Brewery. The brewing company fits in nicely with the local town and offers an excellent stop if you are touring northern Michigan. While the service can be slow and informal, the wide selection of experimental beers and the modest selection of excellent pub food will have you wishing you spent every summer in northern Michigan.
You may also like to read:
BEER REVIEWS 101: THE MOST POPULAR BEERS
BLUE POINT BREWERY RATINGS, REVIEWS, AND MORE OF THIS NEW YORK ORIGINAL
THIS IS YOUR ULTIMATE GUIDE TO COOKING WITH BEER AND MORE
FOR THE LIGHT BEER LOVERS – TOP 10 BEST LIGHT BEER BRANDS
NIGHT SHIFT BREWING RATINGS, REVIEWS, & MORE – CRAFT BEER
GOOSE ISLAND BREWERY: RATINGS, REVIEWS AND MORE OF THIS INTERNATIONAL BREWERY
​