*This post may contain affiliate links. As an Amazon Associate we earn from qualifying purchases.
ULTIMATE GUIDE TO COOKING WITH BEER: RECIPES & COOKING
You love a good beer. We all do, there's nothing better than something to relax and wind down with.
Taking the time for yourself to enjoy one of the few things that unites all people on this crazy world of ours is something more people should take the time to do. Not knocking back ten cheap beers to get wasted, or to prove something, or being forced to drink because you want to be a part of the group.
It should be a choice, and that choice should be to appreciate what you have.
What's so phenomenal about beer is that it has applications that range far beyond simple consumption.
Loosening rusted bolts, washing your hair, navigation, improving your health – maybe not all practical, but it doesn't change the fact that beer can be useful.
AND WHAT'S MORE USEFUL THAN COOKING WITH BEER?
It's not a new concept either – people have been cooking with beer for a long time. It's one of beer's many uses that improves, assists, and eases the cooking process.
It's a skill that anyone can put to good use while kicking a dish that might have been delicious on its own up a notch or two.
So how do you cook with beer?
It varies from dish to dish. Rather than try to explain it, how about we do you one better?
HERE'S THE ULTIMATE GUIDE TO COOKING WITH BEER
We'll find some delicious, fairly easy to follow recipes for you to make at home. We'll be providing everything you need, from thorough instructions to ingredients to what materials you'll need prepared.
Remember: the whole point of learning how to cook with beer is a multi-part journey. You'll be learning a new skill, expanding your repertoire, and, most importantly, having fun.
That sounds cheesy, but what's the point of doing something new like this if you don't enjoy it? Immerse yourself in the experience, it'll be good for your mind, body, and soul.
QUICK TIPS ON COOKING WITH BEER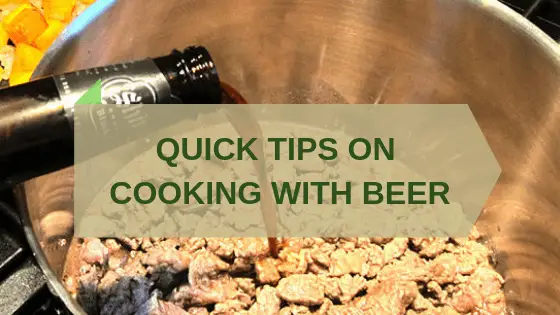 Photo credit: canva.com
Before we get to any of the recipes, we'd like to add a few tips on future cooking.
For instance, beer pairing. The type of beer you use is important depending on what you end up cooking.
Thankfully, the reasoning is fairly intuitive. Lighter beers, like wheats and pale ales, are best used for lighter dishes, like chicken or fish. On the other end, for rich meals that involve heavier meats like steaks or pork, deeper beers complement those.
You also probably shouldn't bank on making anything that'll get you drunk if you eat it. Whether that was a worry or an expectation, the alcohol will evaporate during the cooking process.
Keep in mind that beers with higher ABV will change how your beer will taste. That's part of the whole reason you take time and care selecting your beer to start with. If you enjoy having a little bit of beer taste in your food, great! But if you're cooking for a crowd, it might be worth it to be safe than sorry when cooking with beer.
Finally, cook with beers you like. If you aren't a stout-friendly person, then cooking with stout will end up with something you just frankly won't enjoy. There's nothing more frustrating than putting a lot of effort into cooking something only to find out you hate it in the end.
NOW ONTO THE RECIPES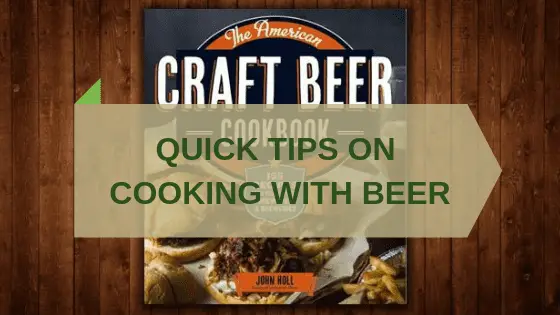 Photo credit: canva.com
We'll try to keep some fun, inclusive choices on the board. There'll be some light dishes, some rich dishes, and some dishes in between. Expect the whole range and come prepared to try each, if you please.
FISH AND CHIPS
We're gonna be keeping this more centered on the frying portion, but we suggest adding something green to the sideboard. Not only it is healthy, but it adds a good balance to the fried nature of the rest of the dish.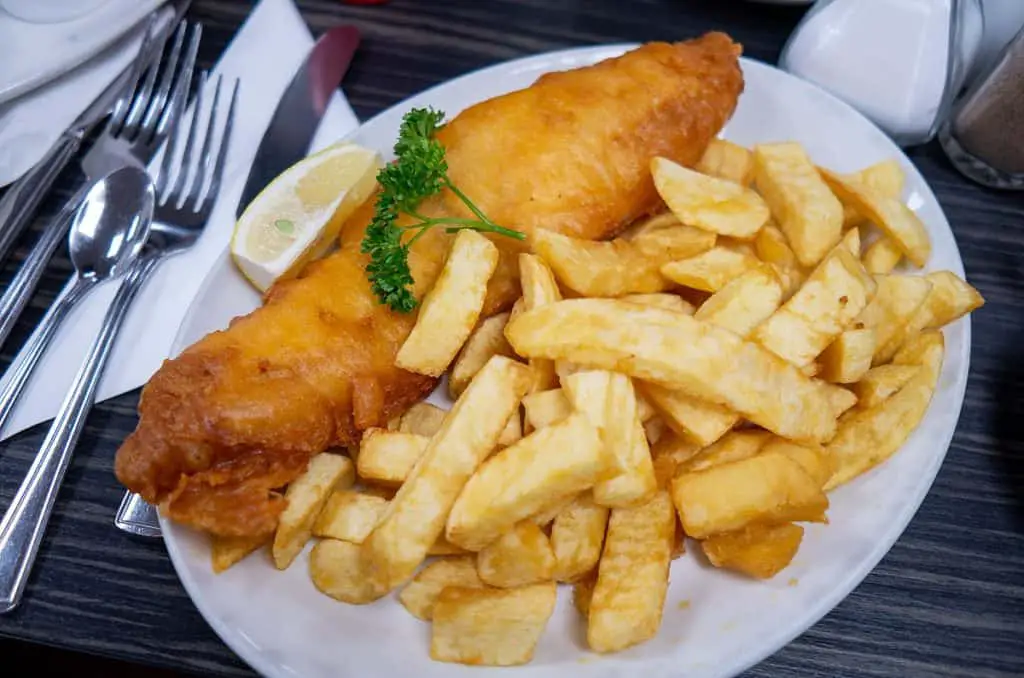 Photo credit: wikipedia.com
For just plain, classic fish and chips, here's your grocery list:
5 Quarts of Vegetable Oil
2 Peeled, Large Russet Potatoes (1 pound total)

Cut into ½-inch-thick sticks as part of preparation

A 12-Ounce Can of Lager Beer

Don't worry about getting anything expensive, Budweiser, Miller, or Keystone will perform the job nicely

1 Teaspoon of Soy Sauce
¼ Teaspoon of Cayenne Pepper
1⅓ Cups Plus ½ Cup Self-Rising Flour
Kosher Salt and Freshly Ground White or Black Pepper
4 4-Ounce Strips of Haddock or Cod
As far as cooking utensils go, you'll only need a few things.
Large Pot
Large Bowl
Small Bowl
Whisk
Slotted Spoon
Measuring Cups
Deep-Fry Thermometer
Chances are you're going to have most of these, except for maybe the thermometer. They're pretty affordable, usually around 10 dollars on Amazon.
Once you've got everything, it's time to get started.
You're going to start with your large pot on the stove, fill to about 4 inches full with vegetable oil. Using the thermometer, heat over medium-high until it reaches 250 degrees.
Add half of your potatoes and stir them over the course of 10 to 12 minutes. Make sure they're tender, but not taking on any color. Once they're ready, use the slotted spoon to transfer the potatoes to a paper towel to drain. Repeat the process for the rest of the potatoes.
Afterward, you'll need to increase the heat to 325 degrees. Grab your large bowl and throw in the soy sauce, cayenne pepper, 1½ cups of flour, and, of course, the beer. Once it's all settled, whisk that bad boy until there are no lumps in the mixture. Toss a little bit of salt and pepper in the mix for flavor. This will be your batter and the whole reason why you're cooking with beer.
Get the small bowl and toss in the remaining ½ cup of flour. Grab the fish you picked out, sprinkle it with salt and pepper, and put it in the bowl. Don't cake it too much, just make sure the fish has a light coat of flour.
Don't cook with more than 2 fish at a time, it's easier and safer to keep track of that way. Dip your fish into the batter and, after it has a good coating, let any excess batter drip off back into the bowl.
Take your battered fish and carefully lower them into the oil. Let them cook for about 8 to 10 minutes until they're nice, crispy, and brown. Once they are, remove them and let them drain on some paper towels. Some more salt might be nice, but just a little. Repeat the process for the remaining two fish.
Once you're finished with the fish, then we've still got those potatoes to deal with. This part is quick, just a dip back into the oil for 4 minutes until they've got a nice browning and crisp to it. Remove, drain, and once everything is nice and dry, you've got yourself a delicious meal of fish and chips!
This meal can serve around four people at once, or one if you're really, really hungry. Remember: get some veggies too, just like Mom always said.
RUMP STEAKS BRAISED WITH MUSHROOMS AND ONIONS AND PORTER SAUCE
This one's going to be a little more of a long cook, a little pricier, and a little more complicated. Thankfully, it can feed a crowd of six, so the effort you put into cooking with beer will be worth it, especially if you have company coming over.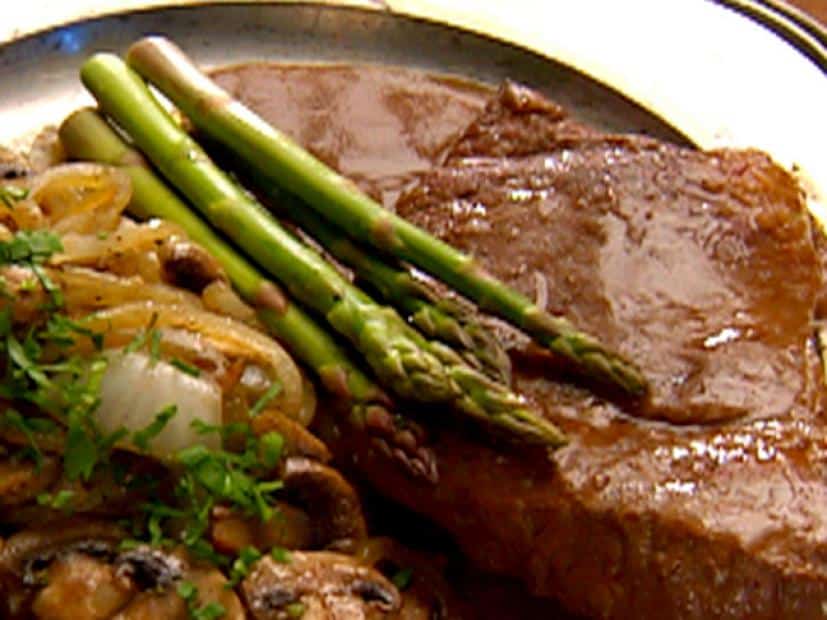 Photo credit: foodnetwrok.com
There's a lot more stuff to add and keep track of in this one, so make sure your grocery list is complete.
6 8-Ounce Rump Steaks
Salt
Black Pepper
1 Cup All-Purpose Flour
¼ Cup Canola Oil
2 Large, Sliced Onions
3 Cups Cleaned and Sliced Mushrooms
4 Cups Chicken or Beef Broth
8 Ounces of Porter Beer
2 Teaspoons Dark Molasses
1 Teaspoon Fresh Chopped Thyme Leaves
3 Teaspoons Hot Sauce
2 Bay Leaves
½ Stick of Butter, Cut Into Cubes
5 Ounces Creme Fraiche or Sour Cream
Same as before, you'll need to make sure you have your tools prepared.
Sauté Pan
Platter
Whisk
Measuring cups
Thankfully, not too much in the way of tools needed for this. You'll just need time and patience. So let's get started on the recipe.
Start off with the basics, salt and peppering the steaks on both sides. Start heating up your sauté pan, and throw ⅛ of a cup of canola oil to heat. You'd best use medium-heat for this. Use the flour to dredge the steaks, giving them a light coating. Make sure to give them a little shake to loosen up any excess flour.
Now to sear the meat. Searing is pretty easy, just pay attention. Put the meat in the pan and watch it, checking every so often to see how it's progressing. Once one side has begun to brown, flip it over to sear the other side. Once they're done, set them aside on a platter.
Add the remaining canola oil to the pan. Grab your onions and mushrooms and add them to the mix, sautéing them until the onions turn translucent. This should only take a few minutes.
Here's the cooking with beer part: add the porter beer to the pan. And then just about everything else. Include the broth, molasses, thyme, hot sauce, and bay leaves, give it a little stir if you like. Reduce the heat to a simmering, low heat and reintroduce the steaks to this delicious concoction.
Now it's the waiting game. Cover the pan with a lid and let it cook for the next two hours. In the meantime, grab a beer, why not? You bought porter just to cook with, it's just as good to drink.
Once the waiting is over, and the meat can be easily pierced with a fork, put them on a platter and keep them somewhere warm while you finish up.
For what's left in the pan, if it doesn't look thick enough then turn the heat up and reduce it. It'll start looking more like a sauce soon enough. Add the butter and creme fraiche or sour cream to the mixture, whisk it all together, and then it's time to plate your meal.
Once the steak is on the plate, spoon the sauce over them. And, et voila, you've made some absolutely delicious steaks by cooking with beer. You're probably starving at this point, but it's rude to start eating before everyone's ready.
Unless you made this for yourself, in which case, dig in.
BEER AND CHEDDAR SOUP
We've already got some real hearty meals here, so let's go a different direction for cooking with beer. How about a nice, rich soup?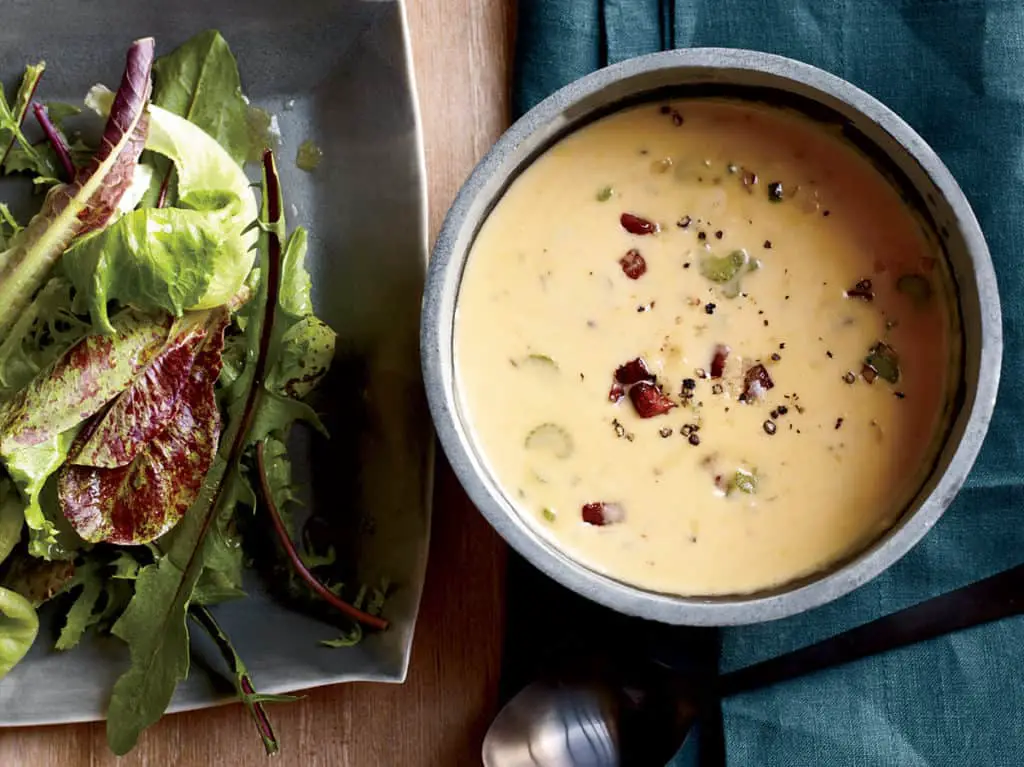 Photo credit: foodandwine.com
Even though it seems pretty straightforward, this soup's got a bit of a grocery list. Good hunting.
½ Pound Piece of Slab Bacon, Slice ⅓-Inch Thick and Cut Into ⅓-Inch Dice
1 Celery Rib, Finely Chopped
1 Small Onion, Finely Chopped
1 Large Jalapeño, Seeded and Finely Chopped
2 Large, Minced Garlic Cloves
1 Tablespoon Chopped Thyme
1 12-Ounce Lager or Pilsner
2 ¼ Cups Low-Sodium Chicken Broth
4 Tablespoons Unsalted Butter
¼ Cup All-Purpose Flour
1 Cup Heavy Cream
½ Pound Sharp Yellow Cheddar Cheese, Coarsely Shredded
4 Ounces Smoked Cheddar Cheese, Coarsely Shredded
Salt
Pepper
Don't forget to bring your best equipment.
Large Saucepan
Small Skillet
Slotted Spoon
Whisk
Let's start cooking, shall we?
Starting with the large saucepan, turn up the heat to moderate and cook the bacon in it. After 7 minutes, and the bacon is crispy, remove it to a bowl.
Next, add the jalapeño, garlic, onion, celery, and thyme and maintain the heat for 8 minutes. Stir over that time and check to make sure everything is softened. Time to start cooking with beer. Grab your 12-ounce and add half of it to the saucepan until half of it is reduced. Add 2 ¼ cups of chicken broth and bring the concoction to a simmer.
Now grab your skillet and melt the butter into it, using moderate heat. Once melted, add the flour and stir for 2 minutes until it's browned. Take your skillet contents and whisk them into the saucepan. Cook for around 8 minutes.
After the 8 minutes have passed, add the heavy cream, cheeses, and the rest of the beer. Stir for around 5 minutes, and the mixture should be getting pretty thick and creamy at this point.
Once it's ready, drop in the bacon, salt and pepper it, and it's time to serve.
Overall, not too difficult, and only takes around 45 minutes to cook to completion. Beer and cheddar soup makes a pretty good meal and is easy to store for later.
THERE'S A WHOLE WORLD OUT THERE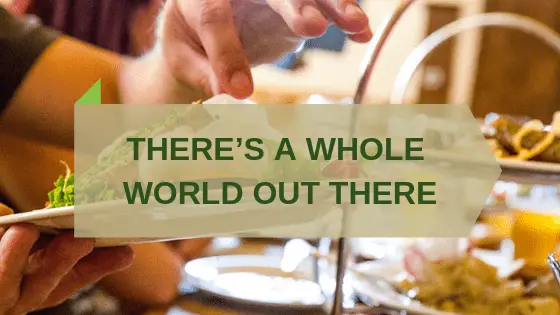 Photo credit: canva.com
And by that I mean there are so many more dishes that utilize cooking with beer to achieve some phenomenal flavors. While the ones we provide are sure to leave a great impact on your taste buds, there's going to be something that speaks to you personally as a dish.
Whenever you're cooking, cook responsibly. There's nothing wrong with having a nice beer while you're cooking, in fact we recommend it! But keep a close eye on how much you're drinking, and we can't recommend more than one beer at a time. Cooking can be dangerous, and you need to keep within your wits while dealing with hot surfaces.
As long as you stay on task, focused, and in control of yourself, you're sure to create a delicious dish.
Also, get experimental with it! If you feel like the dish could use a little something extra, go for it. The more you try, the more you discover, the more you'll grow as a cook.