*This post may contain affiliate links. As an Amazon Associate we earn from qualifying purchases.
What is night shift brewing?
Based in Everett, Massachusetts, Night Shift Brewing was started in 2012 by three friends, Michael Oxton, Mike O'Mara and Rob Burns, who were passionate homebrewers. The current location has 30,000 square feet of space to handle increasing production demands and house a taproom. The company distributes its beers to restaurant and retail partners in Massachusetts. In 2016, the brand launched its own distribution company, and it has been growing its operations since then.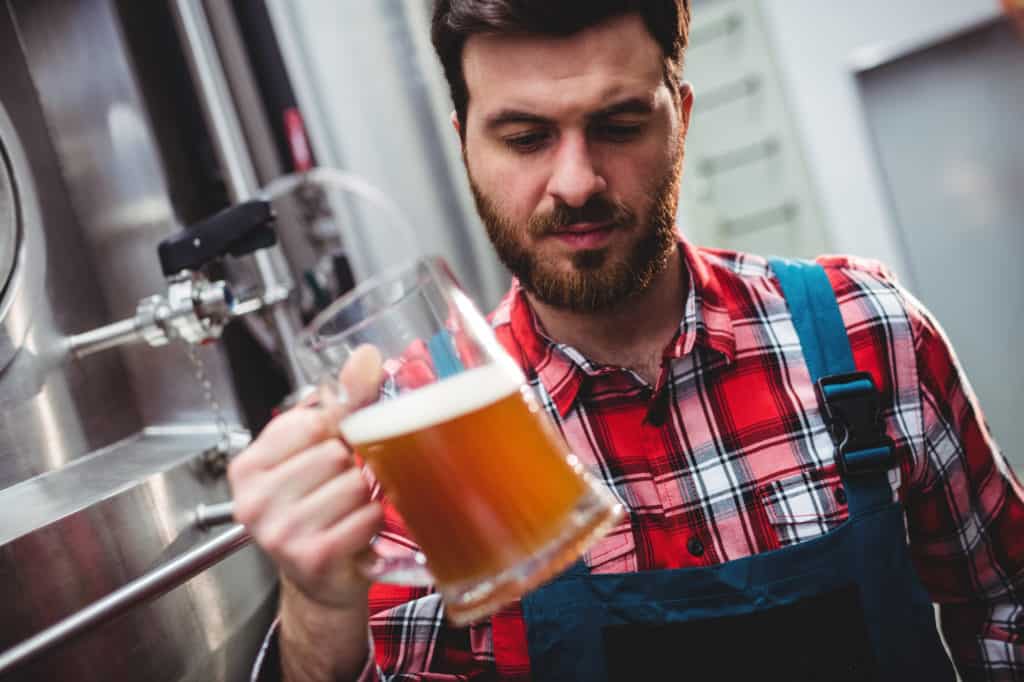 Night Shift Brewing has plans to open a taproom and a brewery at Boston's Lovejoy Wharf, the same site as the world headquarters of shoe brand Converse, in late 2018. It has signed a lease on a 12,000-square-feet space near North Station and TD Garden, where there will also be a kitchen and a 10-barrel brewing system to produce 2,000 barrels annually. The intent is to use the space to brew experimental and innovative beers and accommodate more customers with 300 seats and waterfront patio seating that overlooks the Harborwalk. The plan is for 30 tap lines, with the majority of beers brewed on the premises, kegged and poured specifically for this new location.
Why Is There a Need for Craft Beer?
Craft beer has become popular because of its taste. American beer had become known as a bland, heavily commercial product until independent and small craft brewers began to redefine how American beer should taste. While commercial beer has leaned toward watered-down lagers, American craft beer is becoming known for being flavorful and experimental. Consumers are becoming better informed and have higher standards and expectations of quality. Because craft brewers produce beer in small quantities, they can be more creative and take risks. They are less likely to feel beholden to reproducing successful recipes in large amounts.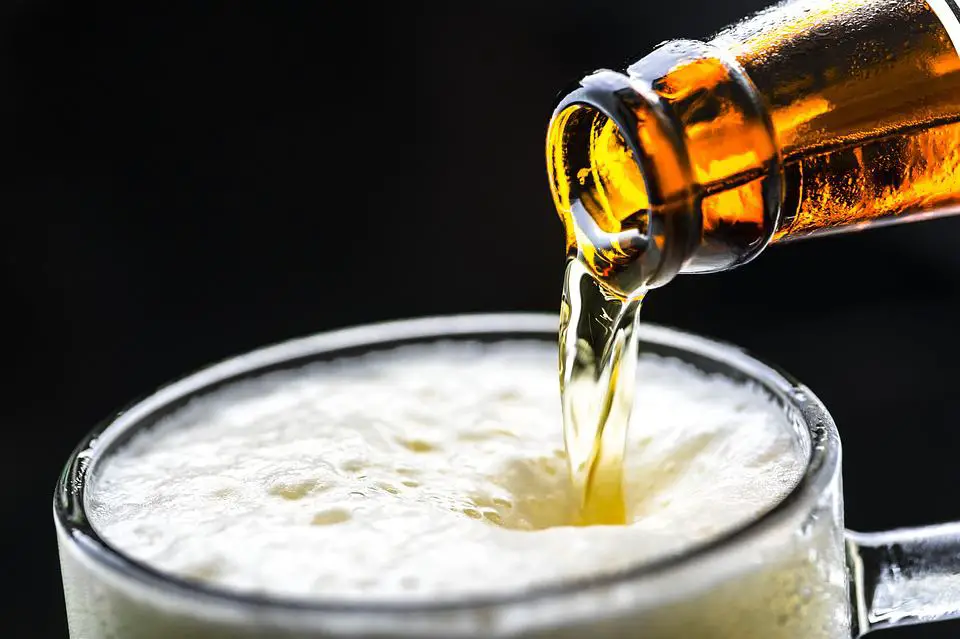 Craft brewers offer many diverse options. They are more likely to use exotic ingredients, unusual herbs and spices, and rich dessert flavors. Some examples include light molasses, cranberry, honey and coffee. The basic ingredients of water, grains, yeast, and hops tend to be of higher and fresher quality and are often organic or locally-grown. Their beers tend to have a higher alcohol by volume (ABV) than commercial beer. The brewers also brew their beers seasonally, ranging from rich beers for cold winter nights to crisp and refreshing India Pale Ales (IPAs) for summer days. The beer range could also include stouts, ambers, and saisons. Because of the frequent beer changes, people are less likely to become bored.
The variety of beers coming out of craft breweries is unparalleled, and people have been enjoying the experience of visiting breweries to sample beers. Visitors can meet the brewers onsite, take a tour of the brewing facilities and learn more about the brewery's products. People have also become interested in pairing food with beer, very much like wine and food pairings. Beer has a wider range of pairing options because of its four ingredients and varieties of each.
Drinking craft beer has also become a way that someone is able to support one's local community. Buying craft beer helps the local economy and strengthens relationships. Breweries and taprooms have become popular places for people to meet and connect over unique beers. Local farmers benefit, and craft brewing is a more sustainable beer production method that requires fewer resources than commercial brewing. Environmentally friendly practices are also encouraged, such as locally filled kegs and reusable growlers, to decrease waste and energy usage.
Beer has health benefits, comparable to the benefits of drinking wine. It has more protein and vitamin B than wine. It shares the same antioxidants as wine, which actually makes beer heart-friendly, lowering cardiovascular risk. Some researchers have found that drinking beer improves brain health and reduces stroke risk. Alcohol thins the blood, which therefore prevents the formation of blood clots. Consuming too much alcohol could lead to brain atrophy, but moderate consumption could decrease anxiety and depression.
LIST OF CURRENT NIGHT SHIFT BREWING BEERS
Night Shift Brewery offers the beers listed below. Sampling each of them helps you to understand the brewery offers and what makes them distinctive.
Santilli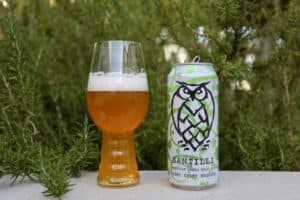 This is the brand's flagship American IPA. It gets its name from Santilli Highway, which is the street in Everett where the brewery is based. This crisp beer was initially known as Morph and won a bronze medal at the World Beer Cup in 2016. It has an ABV (alcohol by volume) of 6 percent and has tasting notes of pine and orange zest.
whirlpool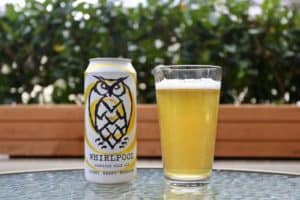 This soft and juicy New England pale ale contains a malt bill of wheat, barley and oats. It is another one of Night Shift's flagship beers that helped gain the brewery's wide popularity. Night Shift uses Summer and Mosaic hops in the kettle, and another round of Mosaic for dry hopping. When poured, the beer looks slightly hazy, with a straw yellow color. There are mango and peach aromas with ripe citrus notes and a crisp finish. It has an ABV of 4.5 percent.
NITE LITE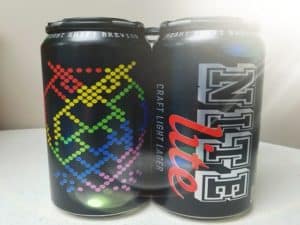 This is a light beer that is unpasteurized, unfiltered and all-natural. It's light bodied and crisp, with an ABV of 4.3 percent. The beer has a malt bill that includes 20 percent corn and has 120 calories.
THE 87
This is a double IPA that gets its name from its address on 87 Santilli Highway in Everett. It has an 8 percent ABV and has tasting notes of papaya, mango and candied peach.
MORPH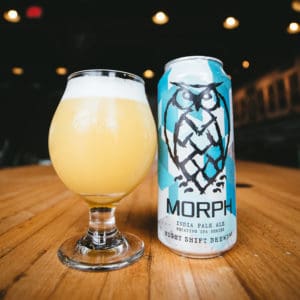 Morph is the brand's rotating IPA series that features new recipes for each batch. The most recent batch is #60, which uses all Northwest hops: Columbus, Idaho 7 and Simcoe. With an ABV of 4.9 percent, the beer is a balance of dank, ripe tropical fruit and earthy, pine notes.
SMALL-BATCH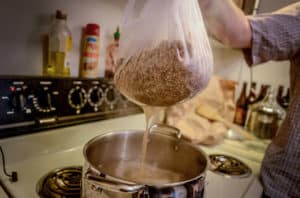 These limited offerings are available in small batches. There is Buzz, a double IPA brewed with wildflower honey and lupulin powder. Swell is a double IPA, Gravitas is a triple IPA and Mirage is a double IPA brewed with lupulin powder.
ONE HOP THIS TIME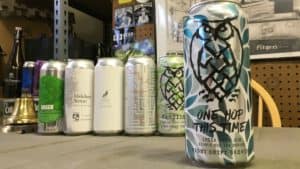 This is a rotating series of single-hop IPA beers. The featured beers for 2018 are Amarillo, Citra, Simcoe and Mosaic. The ABV is around 6 percent.
AWAKE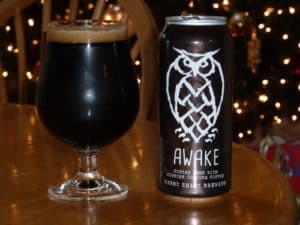 This is a limited release offering that features porter aged with coffee. The coffee has a fruity bitterness that balances out toasty notes from the beer's malt bill. With an ABV of 6.7 percent, this smooth beer has tasting notes of coffee roast and baker's chocolate.
MATISSE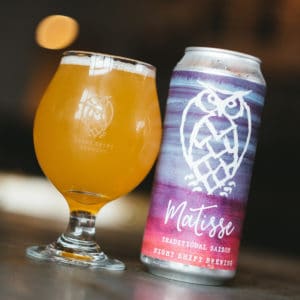 This classic saison is another limited release offering that is inspired by Belgian and French farmhouse beers. The name comes from French artist Henri Matisse, who painted lively French countryside scenes. This beer won a silver medal at the 2017 Great American Beer Festival. It has an ABV of 6 percent and has floral, white pepper and subtle spice tasting notes.
FURTH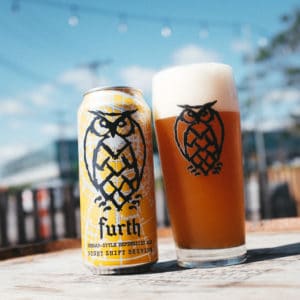 Furth is a Bavarian-style Hefeweizen with banana, clove and wheat notes. The brewing is done according to German tradition, with complex flavor. The Hefeweizen yeast gives the beer a soft mouthfeel, a cloudy appearance and an ABV of 5.5 percent. This beer is available during the summer months.
BENNINGTON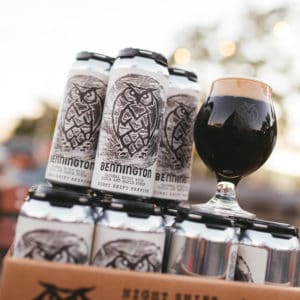 Bennington, also known as "Benny," is a fall season oatmeal stout that is brewed with cocoa to give it a brownie-like quality. This limited-edition beer also uses Vermont maple syrup and is described as velvety, luscious and full-bodied, with molasses tasting notes. Its ABV is 7.6 percent.
EVER WEISSE
This spring beer is part of the brewery's Weisse series, which has a sour ale base and is fermented exclusively in stainless steel tanks with brewer's yeast and lactobacillus, which results in complex tartness. After fermentation, the base is aged with recipes of fruit purees and spices, such as strawberries, kiwi fruit and hibiscus.
RICKEY WEISSE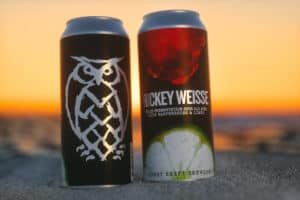 This summer beer is part of the brewery's Weisse series and uses raspberries and limes. Its inspiration is raspberry lime rickeys, and it blends citrus and berries.
MAINER WEISSE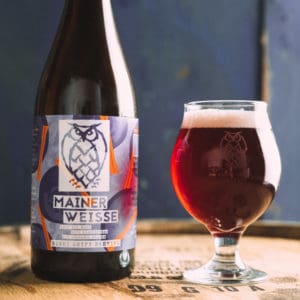 Part of the Weisse series of sour ales, this fall beer is aged with blueberries and cinnamon sticks. It has flavor profiles of tart blueberry pie and subtle cinnamon.
Why Should I Drink Beers From Night Shift Brewing?
Night Shift Brewing has been a leader of the craft beer movement in its geographical area and is known for its quality, consistent beer, which was immediately successful after opening its first brewery. The Massachusetts beer scene had been small and is just starting to grow, with this brewery being one of a few that have opened in recent years in the greater Boston area. Massachusetts residents have become more interested in supporting local breweries, whether it's from a nearby city, within the state or from the New England region. Besides its medals won at recent beer festivals, Boston Magazine voted is as the best brewery in Boston for 2017. The brewery is known for its range of solid beers from barrel-aged to IPAs. The beers are mostly available in Massachusetts and through a few sellers in Maine. Night Shift's frequent experimentation has included a summer Gose made with oysters, and the brewery continues to offer the unexpected.