*This post may contain affiliate links. As an Amazon Associate we earn from qualifying purchases.
TOP 10 BEST-TASTING BEER BRANDS
With as big as the world we have and as much history lives behind us, we've had plenty of time to dredge some truly incredible tasting beers.
Humanity's historical background with beer stretches past to our earliest days. So, given such an amount of time, humanity has made some world-class beers that simply can't be beaten.
But of course, some of those beers are going to be hyper-valuable. Near impossible to get.
Such exclusivity, while warranted, doesn't do much for the general public that has only a thin margin to get their hands on such delicacies. So we're not going to try and focus on the most valuable beers.
We're just going to list the tastiest.
Yes, yes, it's a matter of preference and all that, but you shouldn't insult the best for their hard work just because you personally don't find yourself appreciative of their flavor. I, for one, prefer a lighter beer, but that doesn't mean that overall, a darker one isn't considered more delicious.
Comparison table
| pRODUCT | RATING | VISIT WEBSITE |
| --- | --- | --- |
| Photo credit: foxtrotco.com | Topping Goliat | |
| Photo credit: thetakemagazine.com | TREE HOUSE | |
| Photo credit: thebeerist.com | THREE FLOYDS | |
| Photo credit: chicagotribune.com | GOOSE ISLAND | |
| Photo credit: flickr.com | RUSSIAN RIVER | |
| Photo credit: pastemagazine.com | HILL FARMSTEAD | |
| Photo credit: dontdrinkbeer.com | ANGRY CHAIR | |
| Photo credit: itsabrewlife.com | THE ALCHEMIST | |
| Photo credit: brewbound.com | CIGAR CITY | |
| Photo credit: growlermag.com | PRAIRIE ARTISAN ALES | |
HOW WE CHOOSE THE BEST BEER BRANDS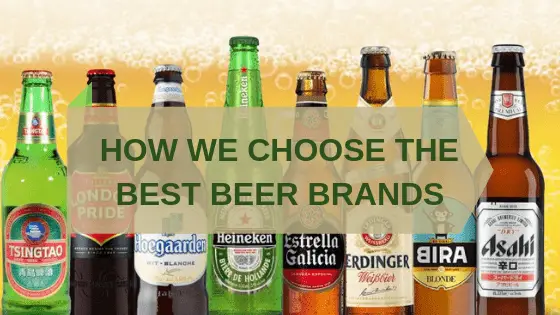 Photo credit: canva.com
There are a lot of factors to consider when comparing which beer brands taste the best. Is it sweet, sour, tart, smooth, thick, and whatever? There's no use in trying to list everything. When judging what makes a beer good, however, it usually boils down to four things:
Appearance
Aroma
Flavor
Mouthfeel
They're all the most important aspects of a beer that ultimately decide what the best-tasting beer is. But, for the sake of this list, we're going to simplify it even more. There are thousands upon thousands of beer brands on the market, and for the most part, the highest quality beers are all going to be extremely close in terms of overall quality.
So we're going to take into account the three qualities that truly determine the best-tasting beer brands:
Quality
Consistency
Critical Opinion
These brands might not all be readily available, but they've proven that they can reliably create and distribute high-quality, delicious beers that top the charts.
HERE ARE THE TOP 10 BEST-TASTING BEER BRANDS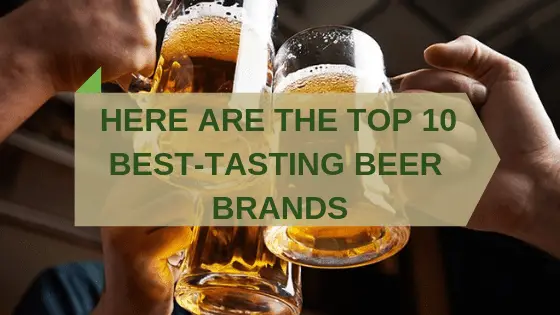 Photo credit: canva.com
There may be brewing companies that have created beers that topple their competitors, but the average is what matters most. A brewery that creates ten #2 beers is better than a company that creates one #1.
1. TOPPLING GOLIATH
Photo credit: foxtrotco.com
Toppling Goliath, a company based in Decorah, Iowa, is the industry standard when it comes to creating repeated world-class beers. In fact, their Kentucky Brunch Brand Stout has been featured as the best beer in the world on multiple lists, including Beer Advocate, Rate Beer, and The Daily Meal.
If you're looking for a sweet beer, packed with a maple body, the emulation of chocolate chip pancakes, and a cornerstone topping of espresso and bourbon, then you'll see why it's ranked among the best.
The KBBS isn't their only award winner though. The SR-71, Assassin, and Mornin' Delight are among a few of the other extraordinary options Toppling Goliath presents. If you're a connoisseur of fine American Imperial Stouts, Toppling Goliath has you covered.
RATING:
2. TREE HOUSE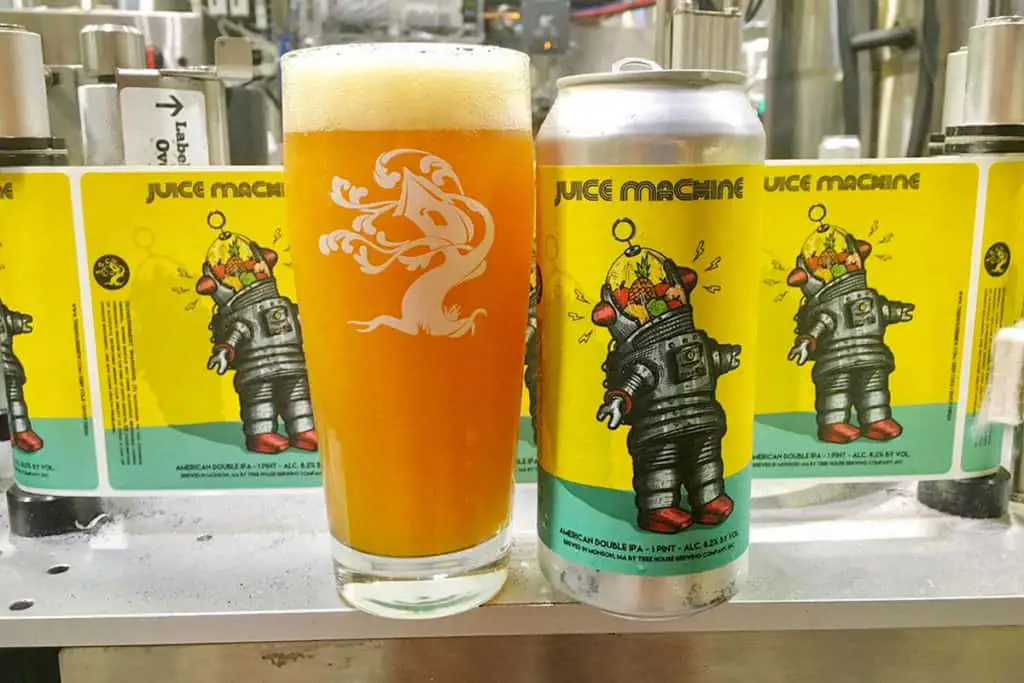 Photo credit: thetakemagazine.com
Ever had a Julius? King Julius, King JJJuliusss, Julius with Coconut, any one of the Julius variants? You're missing out. Based out of Charlton, Massachusetts, Tree House has maintained an enviable place among one of the best, most delicious beer producers on the globe. Any one of their Julius variants is packed with all manner of fruity bodies, aromas, and bases while also providing an unmatched smoothness.
Tree House prides themselves on providing high-quality, delicious beer. They're small, but that's all the more evidence that they're devoted to their craft. Their quality speaks for themselves.
RATING:
3. THREE FLOYDS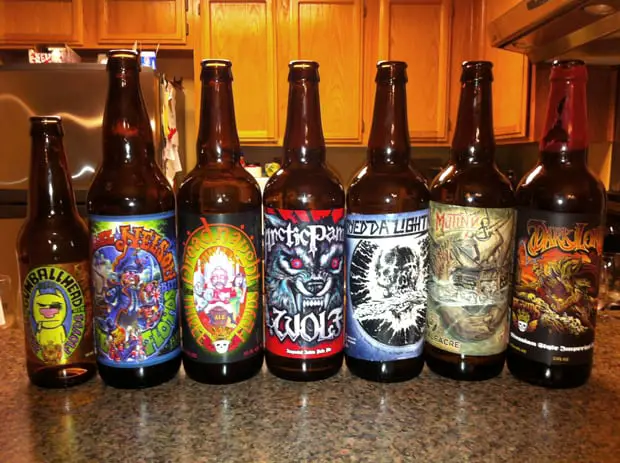 Photo credit: thebeerist.com
Purity is the name of the game with Three Floyds' style of brewing. Out of Munster, Indiana, Three Floyds makes the best beer with the most variety while only using the four main ingredients in brewing. This dedication to pure beer has helped them make some of the best beers available.
Take your choice between two of their highest rated beers: Marshmallow Handjee, a Russian Imperial Stout, or Dark Lord, also of the same ilk of beer.
The Marshmallow Handjee, a deep beer that overflows with the smell of vanilla and chocolate, follows the aroma with a smooth bourbon and vanilla flavored drink. The Dark Lord, while following in similar aroma footsteps, tastes of a body with dried fruit, brown sugar, chocolate, and coffee.
While Russian Imperial Ales are a sort of specialty, you'll find no shortage of delicious beer among their selection. Smooth, dark, and full-bodied, they're sure to entertain you.
RATING:
4. GOOSE ISLAND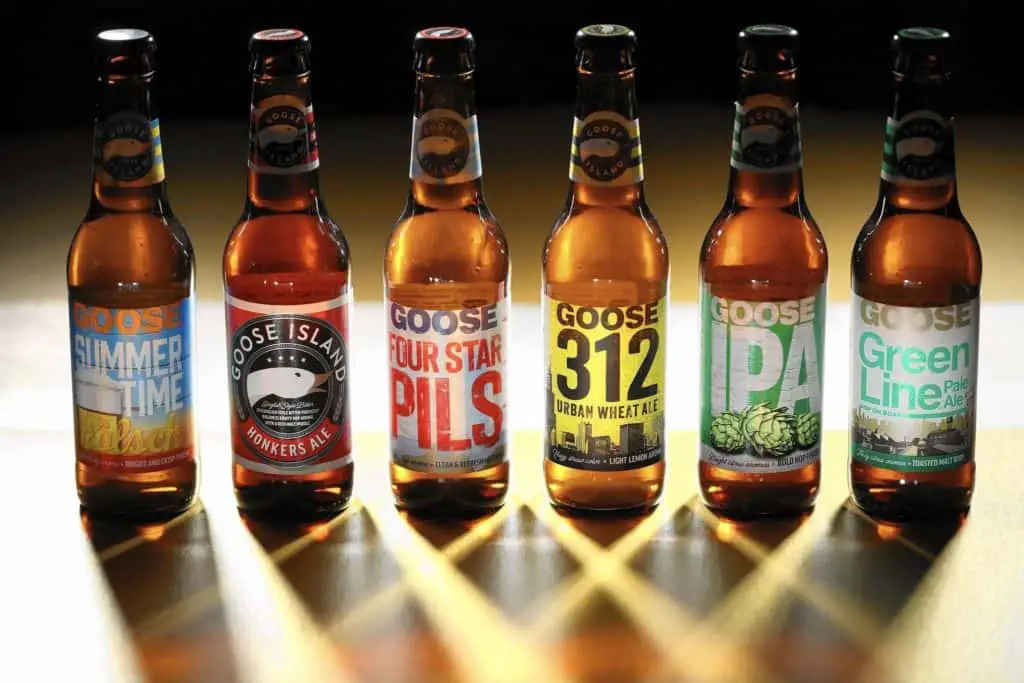 Photo credit: chicagotribune.com
Goose Island wears their pride for their American Pale Stouts on their sleeves. While only comprising a small variety of their beer selection, Goose Island maintains top marks in quality and taste when it comes to everything they offer.
Their Bourbon County Brand Stout, handily their most well-known and sought-after beer, cements itself as their signature and as one of the best stouts you can find. It's dark, daunting in a way, but draws you in with rich flavors hinting of raisins, dates, and dark chocolate.
Goose Island found itself started out of the Windy City in Illinois. With 30 years of experience under their belts, and plenty of awards won for their timeless beers, they're a commodity to look out for if you need something new.
RATING:
5. RUSSIAN RIVER
Photo credit: flickr.com
Pliny the Elder was a Roman author who penned the Naturalis Historia, a historical book purporting to all ancient knowledge known at the time. It was in this book that the first mention of what we now know as hops was ever written down. So the fellows at Russian River in Santa Rosa, California named their flagship brew after him.
Now everyone knows who Pliny the Elder is, as well as his nephew Pliny the Younger who also debuts as a complementary beer. Regarded as some of the best-tasting beers in America, Russian River also maintains the integrity of their brand with an entire assortment of great tasting selections.
RATING:
6. HILL FARMSTEAD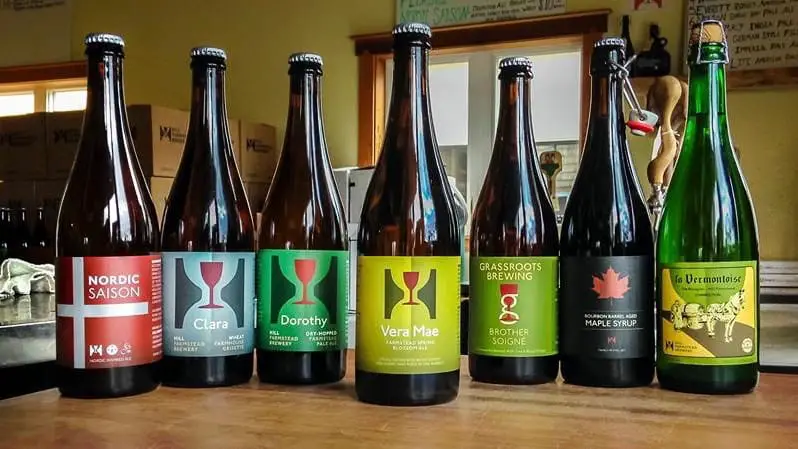 Photo credit: pastemagazine.com
There's a lot of sentimental value this brewery brings with its beer. That adds something to it. Maybe not to the taste, but to the worth of drinking something that's dedicated to family dead and gone.
Hill Farmstead is found in Greensboro Bend, Vermont. They brew as a family for family, and that means a lot of love goes into their work. It shows, resulting in them being one of the best brewers in the nation with the product to prove it.
One of their best, Anna, named after their grandfather's sister, is a Belgian Saison brewed with wildflower honey and their very own well water.
Of course, not all their beer is named after dead relatives, only their ancestral line. They also have philosophical, single hop, and singular series to choose from as well.
RATING:
7. ANGRY CHAIR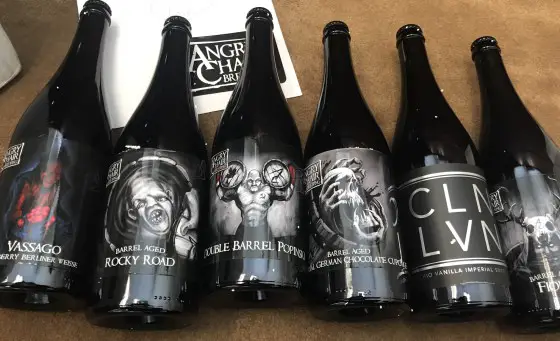 Photo credit: dontdrinkbeer.com
German chocolate cake doesn't actually have any origins in Germany. The German part of the chocolate cake derives its namesake from the baker who invented that style of chocolate, Samuel German. He was an American who devised the treat in the mid-1800s.
The point of that history lesson isn't a strong one, it's just a bit of fun information that applies to one of Angry Chair's best brews: the German Chocolate Cupcake Stout.
Dessert beers are known for their strong taste, and the Cupcake Stout doesn't disappoint in name or delivery. It touts itself as a fun spin on traditional beer and backs itself up by being full-bodied with coconut, Madagascar vanilla beans, and cacao nib flavors.
Angry Chair has an entire assortment of high-quality, delicious beers to choose from, especially if a dessert beer isn't really your style. Red Peeps, Barrel-Aged Fionn, and Woke are some among their peers that may be more appealing. But if sweet beers are your thing, then you'll find a good deal for you here.
RATING:
8. THE ALCHEMIST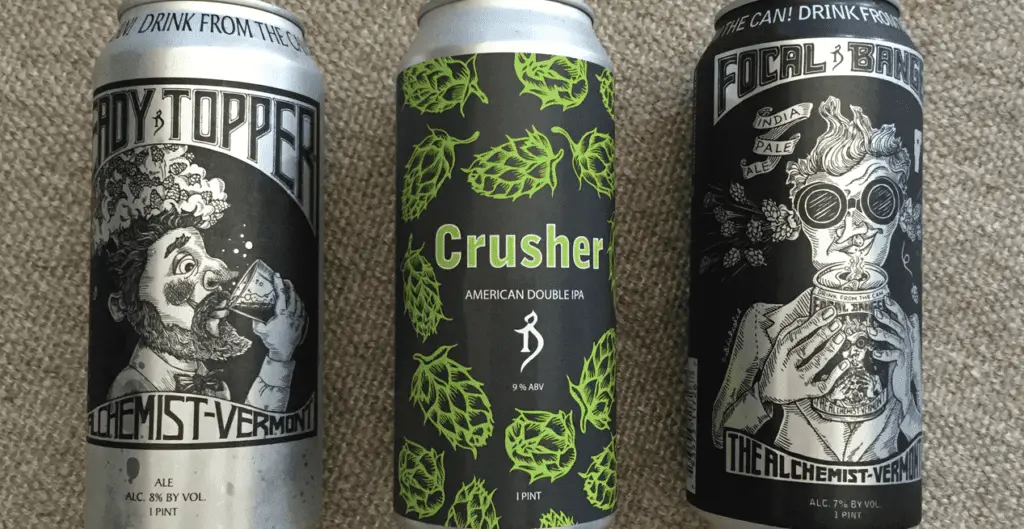 Photo credit: itsabrewlife.com
Unfortunately, this is going to be one of those extremely good beers that are only available within a 25-mile radius of where they brew it.
Despite only being available in such a small area, The Alchemist in Waterbury, Vermont provides an astounding brew: Heady Topper. A hoppy brew that hits you with waves of spices, oranges, and pine, it's a highly desired beer for its incredible taste.
The Alchemist finds themselves a specialization in American and New England IPAs, all regarded as top-class beers. However, if there's anything you can expect from this list, is that there's no one-note brewery you'll find. Heady Topper may be their flagship, but it's far from being their only best-tasting beer.
RATING:
9. CIGAR CITY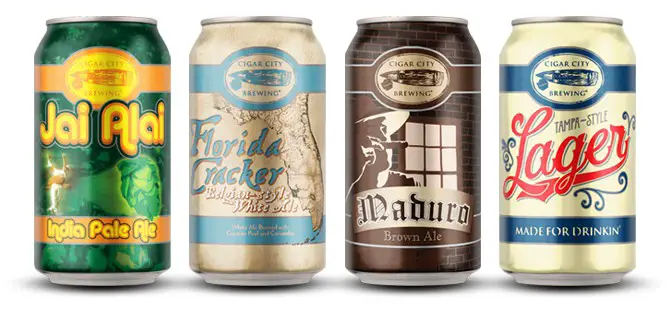 Photo credit: brewbound.com
Jai Alai, Golden Ale, Brown Eyed Blue, Caffè Americano – Cigar City, an establishment based in Tampa, Florida, makes a name in a place known for theme parks by becoming an attraction itself. Whether it be hosting festivals, providing tours, or providing their community with a place to have fun, they make a good name for themselves in every walk. That is, of course, including incredible beer.
We already named a few of their good ones, but their best should be given top billing: Hunahpu's Imperial Stout – Double-Barrel Aged. A black beer, infused with strong tastes of cinnamon, vanilla, and spice. Some might call it a dessert beer, but that doesn't change the fact that it packs a punch.
RATING:
10. PRAIRIE ARTISAN ALES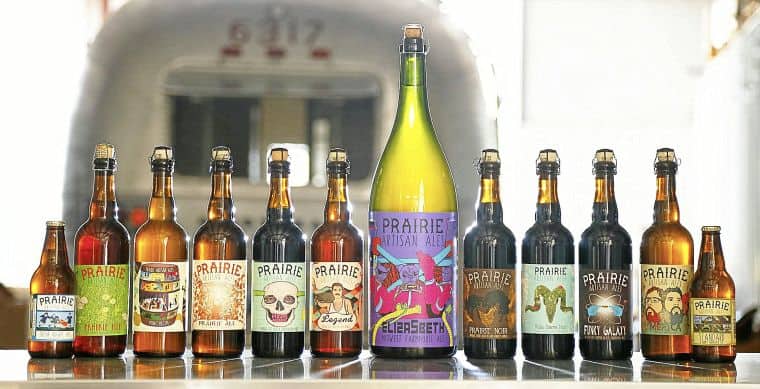 Photo credit: growlermag.com
If you're going to take a trip to Oklahoma anytime soon, then you may want to find the time to pick out something fresh from the brewery at Prairie Artisan Ales. They've made their home there, in Tulsa, Oklahoma, and have made a pretty good name for themselves when it comes to delicious, high-quality beer.
As good as everything on this list is, you might be looking for something that specializes in intensity. Something rich, smooth, and deeper than a boundless ocean to immerse yourself in.
Among Prairie Artisan Ales' prestigious lineup, one of their most delicious that's sure to titillate the senses is the Bourbon Paradise. No complex flavors, no flurry of spices and nuts and whatnot. Just bourbon and oak. That's all it is, with little to no carbonation, and that's all it needs to be.
Prairie Artisan Ales prides itself on its creativity when it comes to making their ales, they have it all. From stouts to farmhouse ales, there's a little something for everyone that they put their heart, soul, and mind into.
RATING:
THE BEER TASTER'S GUIDE
Photo credit: canva.com
These are only 10 of the thousands of delicious, world-class beers available in the world, and there's even a chance, small as it is, that none of these are going to make your personal list. That's alright, beer appreciation is largely subjective and there's nothing wrong with that. You should, however, always keep an open mind for something new, and whenever you try something new, try to appreciate the qualities it has.
Appearance
Aroma
Flavor
Mouthfeel
Quality
There's a perfect beer out there for you, and hopefully, you'll find it on this list. At least, maybe what you find will taste like it should be on this list.