*This post may contain affiliate links. As an Amazon Associate we earn from qualifying purchases.
Belching Beaver Brewery remains as a craft brewery that was started in 2012 in San Diego County, California. Tom Vogel had been a homebrewer and a winemaker for years before he partnered with Dave Mobley to start this business. Vogel convinced Troy Smith to leave his position at Coronado and become the brewmaster at Belching Beaver. Through Smith, Peter Perrecone joined the brew team as a barrel master, and Thomas Peterson worked his way from being an intern to training as a brewer, eventually becoming the head brewer.
What Is Belching Beaver Brewery?
The beers were meant to be fun, easy to drink, and in the brand's own words, for "Dam Good Times." The Belching Beaver Brewery company wants its beers to be accessible to everyone and be wide-ranging and approachable. Conclusively, it has grown from a brewery operation based in Vista, California.
It includes up to two tasting rooms, a production brewery with a tasting room in Oceanside, and a brewpub and a separate tavern in Vista. Hence, the company produces 60,000 barrels annually with plans to open another production facility and another tasting room.
The Beer Scene
Belching Beaver Brewery remains as one of several craft breweries contributing to San Diego's burgeoning beer scene history. This became popular for producing very hopped, bold, and flavorful beers, now known as the "San Diego style." Plus, the geographical area #78 Corridor or the Hop Highway became as one of four beer districts within San Diego County alone.
Within the #78 Corridor are other well-known craft breweries such as Stone, Mother Earth, Lost Abbey, Pizza Port, Bear Roots, Wild Barrel, Rip Current, and Burgeon. Plus, there are 130 craft breweries within San Diego County, making this the most concentrated craft brewing region in the United States.
This area also benefits from the presence of life sciences companies, with some breweries founded by former scientists and industry veterans, along with some companies producing brewing yeast for brewers.
Is There a Need for Craft Beer?
Craft beer has become increasingly popular because small breweries have become known for their high-quality levels, innovation, experimentation, flavor, and consistency. Additionally, craft brewing represents the return of traditions and styles that had been disappearing since the late 1970s because of commercial brewing and the domination of light lager beers.
As fewer beer options existed on the market, homebrewing hobbyists began making their own beer to experience different varieties from other countries. Some homebrewers became craft brewers, launching a new craft brewing industry. Craft beers have more flavor and more variety, a welcome departure from mass-produced American beer that had little if any character.
The Brewers Association
To be considered a craft beer, the brewery producing it must be "small, independent, and traditional," as defined by The Brewers Association, the craft beer trade industry group. The brewer must use traditional ingredients, produce less than six million barrels per year, and not have large financial investments coming from non-craft brewers.
The craft beer industry is growing because consumers want higher quality, more flavorful and robust beer. Brewers are using Old World traditions and testing out new flavors and combinations to keep craft beer drinking interesting and exciting. India Pale Ales have become the most popular craft beer option because of its strong hoppy, bitter flavor.
Current Belching Beaver Brewery Beers
Primarily, Belching Beaver Brewery currently offers the beers listed below. Try them to understand the brewery's offerings and what makes each one unique as part of your journey to become a budding beer enthusiast.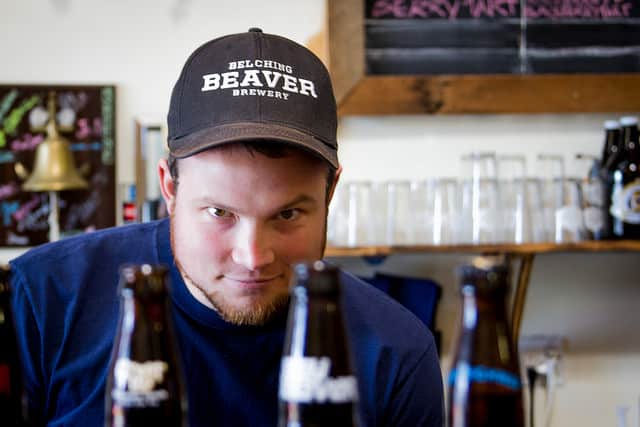 Deftones Phantom Bride Release
This citrusy India Pale Ale blends Amarillo, Citra, Mosaic, and Simcoe hops. It's a collaboration between the brewery and the band Deftones. Available throughout the year, this beer has 70 international bitterness units and an alcohol by volume of 7.1 percent.
Me So Honey Blonde
This is a golden honey blond ale that uses high-quality honey and has floral aromas. Furthermore, a subtle and sweet honey flavor lingers on the finish. Available year-round, this beer has an ABV of 5.5 percent and 25 IBUs.
Here Comes Mango IPA
This is a fruity IPA that uses Amarillo and Simcoe hops with natural mango flavors. Available during the year, this beer has 55 IBUs and an ABV of 6.6 percent.
Hop Highway
This West Coast IPA was created in honor of the City of Vista's 50th anniversary and named after California Highway 78, otherwise known as the Hop Highway, which connects several well-known North San Diego County breweries. It uses Citra, Galaxy, Mosaic, and Nelson hops and has citrus and passion fruit aromas.
Available throughout the year, this Belching Beaver Brewery has an ABV of 7.3 percent and 65 IBUs. This beer is also a past award winner at the World Beer Championships, the Los Angeles Beer Competition, the West Coast Craft Can Invitational, and the Penitentiary Pint Fest.
Peanut Butter Milk Stout
Peanut butter and the brand's Beavers Milk Stout are combined to make a beer with aromas of roasted peanuts, dark chocolate, and coffee. It reminds many of a nationally-known peanut butter chocolate cup candy. The beer is a previous award winner at the World Beer Championships. Available year-round, this beer has an ABV of 5.3 percent and 30 IBUs.
Mexican Chocolate Peanut Butter Stout
This dessert beer has creamy peanut butter, coffee, and cinnamon notes. Another, it remains available year-round, has an ABV of 7.5 percent and 28 IBUs.
Beavers Milk Stout Nitro
This is the brand's first craft beer but now is offered in a nitro package. Beavers Milk Stout has previously won medals at the World Beer Championships. The color is dark, but not the flavor. Even more, the Belching Beaver Brewery beer is silky, creamy, and smooth with chocolate and roasted coffee notes. It remains available all year-round, has 30 IBUs and an ABV of 5.3 percent.
Digital Bath
This is another collaboration beer between the Deftones and Belching Beaver. It's a hazy New England-style IPA with citrus notes. Also, the combination of Citra, Galaxy, Mosaic, Nelson, and Simcoe Cryo hops creates this limited-availability beer, which has an ABV of 6.5 percent and 30 IBUs.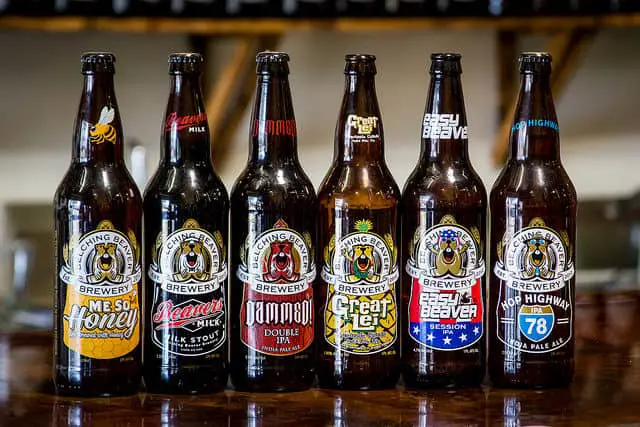 Mosaic Double
This beer offers a tropical fruit-forward Double IPA using all Mosaic hops. Above all, its availability is seasonal, and it has an ABV of 8.8 percent and 60 IBUs.
PB&J
Surprisingly, the blend of Roasted peanut flavors compliments with fruity grape jelly in this blonde ale. The availability is seasonal, the ABV is 5.5 percent, and the bitterness level is at 25 IBUs.
Hoppy, Hoppy Night
Accordingly, the creation of this beer needs proper credit for the five-year anniversary. It's a New England-style IPA using Citra, Galaxy, and Nelson hops. Additionally, the makers describe this as both juicy and hazy while having passionfruit and citrus notes. It is seasonally available, has an ABV of 7 percent and 30 IBUs.
'Peach' Be With You
This pale ale is a fall season beer using Galaxy hops, which uses stone fruit flavors and pureed peaches to present bright flavors. Certainly, it has 25 IBUs and an ABV of 5.5 percent, which works fine as a Belching Beaver Brewery product.
Swerve City
This is yet another Deftones collaboration beer, using the combination of passionfruit, orange, and guava in this IPA. With an ABV of 7 percent and 55 IBUs, the beer is available only on a seasonal basis.
Coconut Pineapple IPA
This summer IPA has soft pineapple notes and a coconut finish. The ABV is 6.6 percent, and there are 55 IBUs.
Orange Vanilla IPA
This IPA uses Mosaic and Citra hops, which give the beer tangerine, passionfruit and heavy citrus aromas. Therefore, there are also natural orange and vanilla flavors in this springtime beer, which has 45 IBUs and 6.9 percent ABV.
Peanut Butter Latte
This beer is a variation on the Peanut Butter Milk Stout. It has a golden color and is first loaded with coffee. Then, it adds peanut butter intended for the winter months. It has 30 IBUs and an ABV of 5 percent.
Batch 5
This beer is part of the brand's Sour Series. Also, the involvement of many different barrels occurred as well as Brettanomyces and lactic acid, which produces bacteria. Then, fresh blackberries are then added, and the beer re-ferments itself on the fruit. Likewise, the beer is only available on a seasonal basis and has an ABV of 6.8 percent.
Why Should You Drink Beers From Belching Beaver Brewery?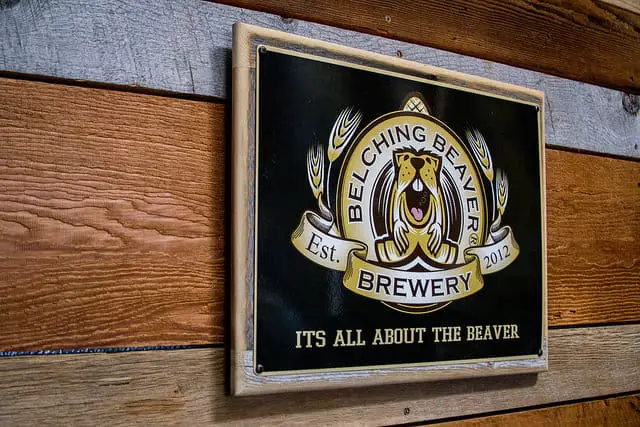 Most notably, Belching Beaver Brewery beers maintained the rate as very good by most reviewers. As the expansion happened in the San Diego area, the brewery developed brand recognition and a strong fan following. This allowed it to grow and expand in a short time.
People can buy Belching Beaver Brewery brand's beer online for home delivery or in stores and restaurants in California, Nevada, Arizona, Washington, and Idaho. Similarly, the top beer to try is the Beavers Milk Stout, followed by the Peanut Butter Milk Stout. Both of which have brought the brewery nationwide attention.
The Deftones collaborations have also been popular, and notable beers such as Hop Highway and Me So Honey Blonde is also worth trying. Others argue that the brand's best beers are its sours and IPAs. Finally, even with an established core range of beers, the brewery releases new, experimental beers often, to the interests and delight of beer drinkers.
Featured Image: CC by A-SA 2.0, Four Brewers, via Flickr