*This post may contain affiliate links. As an Amazon Associate we earn from qualifying purchases.
Rogue Ales
Rogue Ales is a Pacific Northwest craft brewery known for its fun attitude and its distinct flavors and ingredients. It has 10 brewhouses, pubs, and tasting rooms in Oregon and Washington. While there is some overlap in menu items at the pubs and brewhouses, each has its own features and character.
Unique Brews From Farm to Bottle
Rogue Ales has been around since the late 1980s, well before craft brewing was popular and before many of today's craft brewers were even born. Started by three former Nike executives in Oregon, Rogue Ales truly is a rogue beer company. It uses ingredients it produces on its own farms, and all stages of production happen on-site. Rogue Ales is not afraid to experiment with unusual flavors, such marionberry and kombucha tea. Rogue Ales also doesn't limit itself to beer it makes sodas and spirits (whiskey, gin, and rum), which are also created using barley, rye, and even cucumbers grown right on its farm.
A Fun-Loving Culture
Beer is available at countless bars and restaurants. The Rogue brewery experience is different, not only because of the diverse and one-of-a-kind brew offerings, but because of the culture that comes through in every aspect of the Rogue Ales experience.
Rogue's branding – from the art on its bottle labels to its clever beer names – has a distinct sense of humor. Rogue truly engages with its fans and has created a dedicated community. Rogue Nation is made up of 270,000 "citizens" from around the world, and it even has a "Pledge of Roguellegiance."
Rogue's friendly, welcoming culture can be experienced firsthand at each of its pubs, brewhouses, and tasting rooms. Children and dogs are welcome at many of them. They even host garage sales at which Rogue brews and merchandise are available at a discount. There are 10 Rogue breweries, each of which represents Rogue Ales through its selection of beverages and laid-back atmosphere.
Sampling Rogue's Brews in Different Settings
Brewer's by the Bay
Brewer's by the Bay is a two-story pub and restaurant located right at the Rogue Ales headquarters in Newport, Oregon. True to its name, Brewer's by the Bay sits on the Yaquina Bay, and you can enjoy spectacular views of the bay from inside the pub. It offers 40 ales and lagers on tap, and if you find yourself overwhelmed by the number of offerings, try ordering a few samplers to discover your next favorite brew.
Brewer's by the Bay offers a large dining menu that seems designed to complement their beverage selection. It includes standard fare you would expect at a pub, such as mac and cheese, burgers, and sandwiches, as well as creative twists on classics, including kimchi crab sliders and poutine. Enjoy a tour of the brewery before or after your visit to Brewer's by the Bay. Tours are offered three times a day, at 1:00, 3:00, and 5:00 in the afternoon.
HOUSE OF SPIRITS
Located next door to Brewer's by the Bay, House of Spirits also sits right on the Yaquina Bay, next to a boat launch. This is the place to sample Rogue's whiskeys, gins, and rums. The menu consists of a variety of cocktails made with Rogue spirits that incorporate unique flavors, including a hazelnut rum and spruce gin. House of Spirits has an easygoing and intimate feel to it. Just behind the bar is a panoramic view of the Yaquina Bay and Yaquina Bridge. The concrete flooring and minimal décor (consisting primarily of wall signs and barrels) are no-nonsense and unpretentious, but still very festive.
Bayfront Public House ROGUE ALES
Located in the heart of Newport, Oregon, and originally called the Bayfront Brewery, this location has a special place in Rogue history. It is the first place where Rogue's Brewmaster, John Maier, brewed Rogue. Today, there are 35 taps at the bar. This pub is casual and family-friendly. Rogue Nation citizens know that on Mondays, military service members can enjoy $2 pints, and on Tuesdays, Tiki shirt-wearers get $3 pints.
The Bayfront menu includes four different tasting flights that let you sample a selection of Rogue's spirits. You can choose between flights of four whiskeys, four gins, two whiskeys and two gins, or two vodkas, one rum, and one whiskey. The menu also lists three whiskey-and-beer pairings. Like Brewer's by the Bay, food options include traditional pub fare as well as classics with a twist, such as mussels frites and a Hawaiian Seoul burger with pineapple, candied bacon, and Korean barbecue sauce.
Rogue Pearl Public House
The Rogue Pearl Public House is located in Portland's Pearl District. This Oregon pub is located at the original site of the Rogue Spirits distillery, which operated there until it moved to Newport in 2008. Formerly known for its quirky vibe, after its recent renovation, the Pearl Public House now has a more modern feel, with its gray walls, maple and steel furnishings, and big-screen TVs. There are 40 ales, ciders, lagers, and sodas available on tap, and all are listed on large signs displayed neatly behind the bar. There is plenty of seating, with booths, bar tables, and stools inside the pub, as well as small outdoor picnic tables.
The Rogue Pearl Public House feature a full dining menu, including a children's menu. Some popular menu items are the chowder (known for its generous helping of local fish), sweet potato dirty fries, and beer cheese soup.
Eastside Pub and Pilot Brewery
The Rogue Eastside Pub is located at the former home of the Green Dragon Bistro and Pub in Portland. The Green Dragon had 19 taps, which Rogue still uses to offer beers from other independent breweries. In addition, the Rogue Eastside Pub offers 36 limited-release and legendary Rogue brews. Toward the back of the pub is Rogue's pilot brewery, where one of Rogue's innovation brewers concocts experimental beers. The Eastside Pub also has a modern feel to it, but what makes it particularly special is its patio area, which features lush greenery, overhead string lights, picnic tables, bright red Adirondack chairs, and cornhole boards.
Rogue Hall
Rogue Hall opened in 2008 on the Portland State University campus. It offers 20 Rogue brews that are only available at the pub. Cocktails made with Rogue spirits are also available. Rogue Hall features a full menu similar to that at Rogue's other pubs; however, be aware that orders are taken at a counter, and there is no table service.
Standard-height ceilings, wood floors, and wooden furniture gives this pub a warm, intimate feel. There is also a dog-friendly outdoor seating area. Minors are allowed daily until 9 p.m. Together with its free Wi-Fi, Rogue Hall's friendly, welcoming vibe makes it a favorite hangout for students and locals.
It makes perfect sense for Rogue to establish a pub at a local university. Rogue has demonstrated a commitment to education by offering a scholarship to college students studying fermentation science at Oregon State University. Since 2014, it has given awards totaling $245,000. This scholarship is funded by a portion of the proceeds from sales of Rogue's Hot Tub Scholarship Lager.
Astoria Public House ROGUE ALES
The Rogue Ales Astoria Public House opened in 2007 at the site of the former Bumble Bee tuna cannery. Located in Pier 39 right along the Columbia River, this pub has a casual feel to it. There is plenty of seating in the pub and even event space that is available for rent. There are 30 taps at the bar, including some brews that can be found only at Rogue's pubs. The Astoria Public House has a patio area right along the water, making it an excellent place to enjoy picturesque scenery, and maybe even a sunset, with your brew.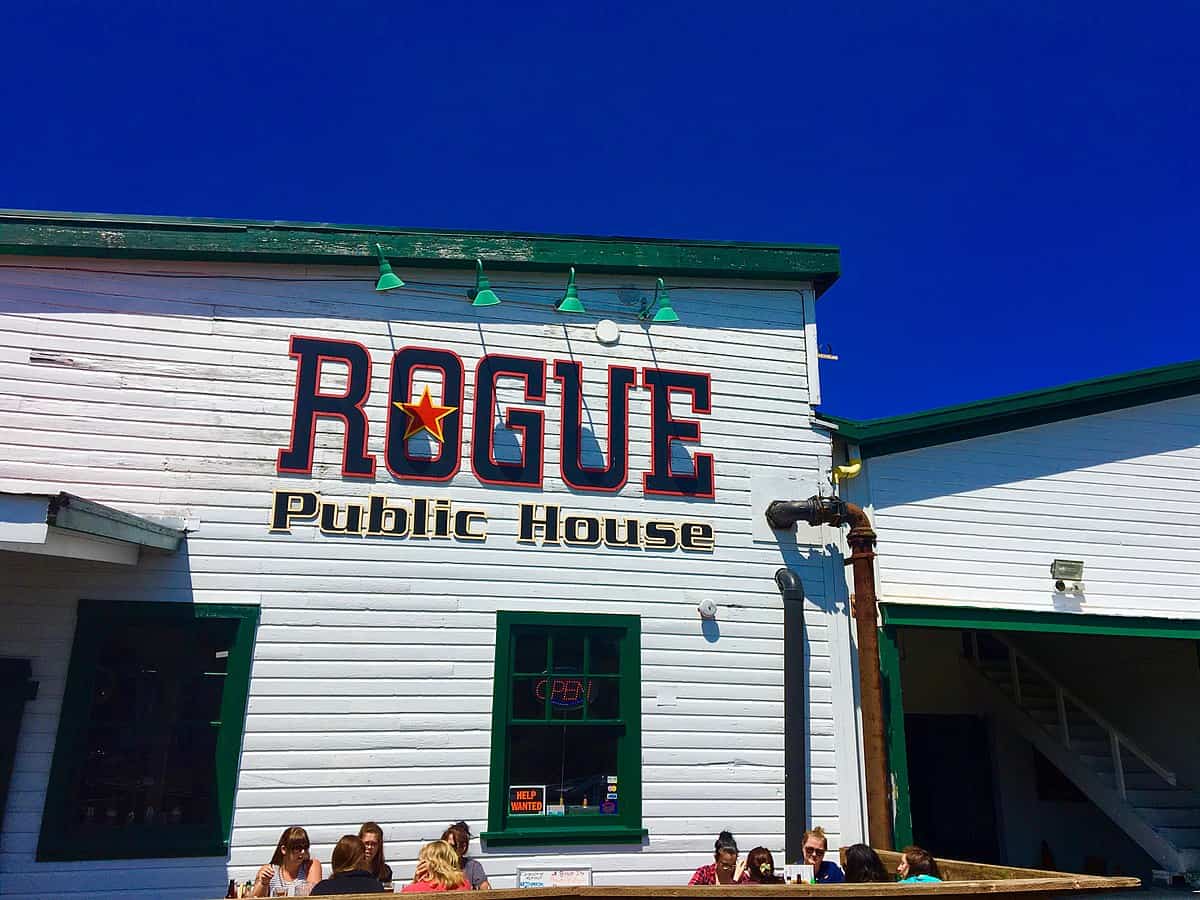 Rogue Farms Chatoe Tasting Room
Situated in rural Independence, Oregon, Rogue Farms Chatoe Tasting Room is located at the site of Rogue Farms, where Rogue Ales grows its hops. There are 12 brews available at this tasting room, each of which includes ingredients grown at Rogue Farms. There is also a limited food and appetizer menu. You can tour the farm if you make an appointment beforehand.
The tasting room is small and intimate, and the staff is knowledgeable and friendly. You can enjoy your beverage among the crops in the Chatoe Tasting Room's outdoor, dog-friendly seating area, which has plenty of picnic tables and a spacious lawn.
Issaquah Brewhouse ROGUE ALES
Rogue Ales Issaquah Brewhouse is located in Issaquah, Washington, less than 20 miles from Seattle. It brews its own small-batch beers. There are dozens of brews on tap, and cocktails made with Rogue spirits are also available. The Issaquah Brewhouse has a full menu of food, similar to other Rogue brewhouses and pubs. Its interior is a casual, restaurant-like setting, and there are a few small tables on the sidewalk outside the brewhouse.
Conclusion
Although each Rogue brewery offers a different setting for sampling Rogue's brews, they all enable you to experience firsthand the unique flavors, quality beverages and fun environment that Rogue Ales is all about.