*This post may contain affiliate links. As an Amazon Associate we earn from qualifying purchases.
Bell's Brewery
Beer is a tasty and often passionate pursuit. With the uptick in craft beer, it is not uncommon to know someone who brews personal stashes of stout at home. Maybe you've even had the chance to try a homemade beer or two, and while you enjoy them, you can't imagine the work and dedication brewing a single barrel of beer takes. Even though you like the taste, it just may not be worth the hard work of doing it yourself.
Larry Bell was a home beer crafter. He took an interest in making his brew after working at a bakery while in college. Today, his beer business has grown into a full-fledged commercial operation, and Bell's Brewery is the result. How did something that started as a personal hobby grow into a commercial success? What do people think about the product Bell puts out?​
Family-Owned and Operated Even to the Present Day
The story of Larry Bell isn't too far-fetched. Many of today's most successful companies, be it beer or tech, all started with one person's vision and creativity. Larry Bell's just happened to be focused on beer. He took an immediate liking to the fermentation process and wanted to learn more about how it worked. In his garage, he made one barrel of beer that started the whole vision. A decade later, he opened a home brew supply store to help others get their home brews launched. Shortly after, he began selling his ale which he bottled for the next few years until finally, it was time to outsource the bottling. Distribution was getting too much for him to handle alone.
Thus, the story of Bell's Brewery had its origin. Today, the brewery and Eccentric Cafe are still owned and operated by the Bell family. They oversee every facet of the business to ensure that they produce and distribute the best quality beer product available.
Variety Is the Spice of Bell's Brewery
Bell's offers seven year-round brews.
1. Amber Ale
Capped with caramel and interjected with citrus hops and aromas, the Amber Ale is considered the foundation offering from Bell's. They tap it as the "beer that helped build our brewery." Amber Ale can be easily paired with pizza, pork and pecans as well as sweet caramel and apple. It is 5.80 percent alcohol by volume and has a shelf life of six months.
2. Kalamazoo Stout
The flavor profile of this stout intermingles two of the most popular flavors out there today, namely dark chocolate and fresh-roasted coffee. This is a full-bodied beer and pairs nicely with venison, lamb, and oysters, as well as dark chocolate. The alcohol content by volume is 6 percent, and it has a shelf life of six months as well.
3. Lager of the Lakes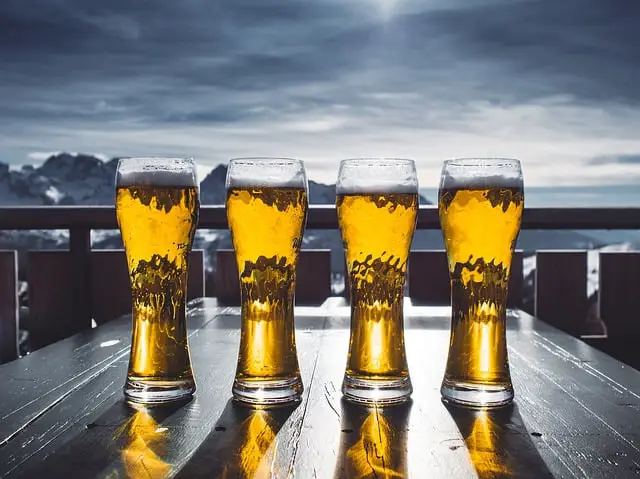 Considered a Bohemian Pilsner, the Lager of the Lakes features a flavor combination of sweet, fresh hops paired with a firm malt. It contains a 5 percent alcohol content by volume, with only a three-month shelf life this Czech-inspired concoction can be paired well with fried foods, greens, perch on the savory end, and cranberries and mango's on the sweet end.
4. Oarsman Ale
The subheading under this blend says it's a "tart, session Wheat Ale." This exciting blend pairs citrus and lemony flavors with smooth, silky taste. The bitterness is all but gone and replaced with a pleasant and mild-taste that goes well with any food you can eat. The Oarsman Ale is Bell's contribution to a lighter beer. It lasts on the shelf for six months and has a 4 percent alcohol content rate per volume.
5. Oatsmobile Air
This American "pale ale" is more of a traditional beer with a Bell's twist. The Oats mobile Air is replete with sweet and tropical aromas such as mango and peach, but the twist imparted is the inclusion of oats as the main ingredient. The oats add a stronger flavor body than traditional pale ale; however, it doesn't overpower the beer or make it bitter. With an alcohol volume of 4.3 percent, and a shelf life of six months, this wonderfully smooth ale pairs well with traditional favorites such as hamburgers and salmon.
6. Porter
Bell's Porter blend is an excellent middle ground between a stout and a brown malty ale. Its full-bodied flavor is set off by a slight bitterness in the hops combined with the aromas of coffee, barley and chocolate. The Porter is a great beer to serve at your next barbeque as it complements the smokiness of the meats and cheeses well. For dessert, serve up some peanut butter with chocolate to perfect the chocolate and coffee undertones of the beer. The Porter will last on the shelf for six months and has a 5.6 percent alcohol content concentration per volume.
7. Two Hearted Ale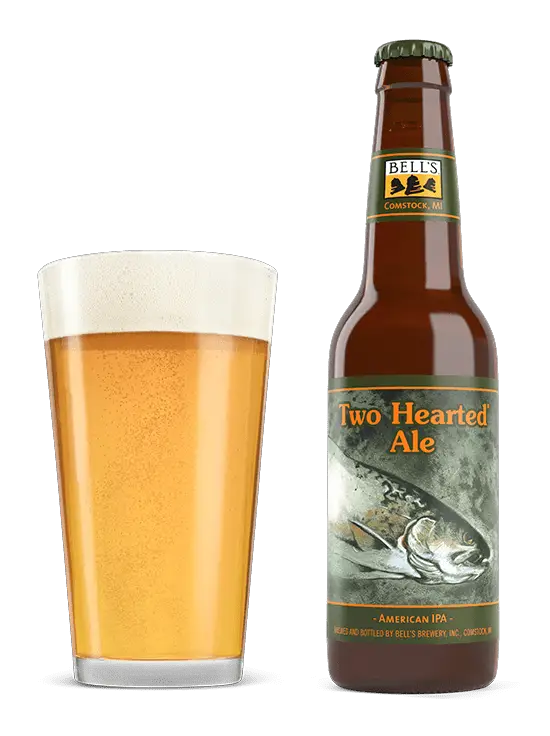 This "American-style India pale ale" is quite the brew for Bell's to pull off. This pine and grapefruit aromatic combined with the 100 percent Centennial hops grown in the northwest corner of the United States make this a great addition for any IPA lover. The beer pairs well with bold seasonings like cumin and chili, while also going great with such sweet offerings as carrot cake and maple syrup. This IPA can remain on your shelf for up to six months and contains a nice 7 percent alcohol concentration per volume.
Did these beer flavors entice you and make you want to take a trip to Kalamazoo? Even if you don't live in the Midwest where the Bell's Brewery and Eccentric Cafe are housed, you can, in fact, find most of these flavors at stores around the country. If you can't, you might want to ask your local liquor store to order some. If there is enough demand, they may start to carry it.
Seasonal Offerings at Bell's Brewery
Bell's Brewery isn't satisfied with serving just seven flavors of beer: They want to toss in some seasonal brews and maybe some special editions now and then. At the time of writing, there were ironically four seasonal blends available, each during one of the four seasons:
1. Oberon Wheat Ale
This offering is a summertime blend, and Oberon Wheat Ale is made with only four ingredients. It is light, mild and perfect for hanging out on the beach with your friends. It pairs well with every type of food. The Oberon has a shelf life of six months with an alcohol concentration of 5.8 percent per volume. It makes for a perfect summertime colored beer.
2. Winter White Ale
Bell's makes a foray into Belgium-inspired beers with its winter offering of Winter White Ale. Unlike most other winter beer offerings which tend to be dark and made primarily of stouts, the Winter White Ale is lighter, fresher and smells of fruity and clove aromas. It is purposely brewed to appear cloudy, and no additional spices have been added. The Winter White Ale will last roughly six months on the shelf and contains a little over 5 percent alcohol concentration per volume.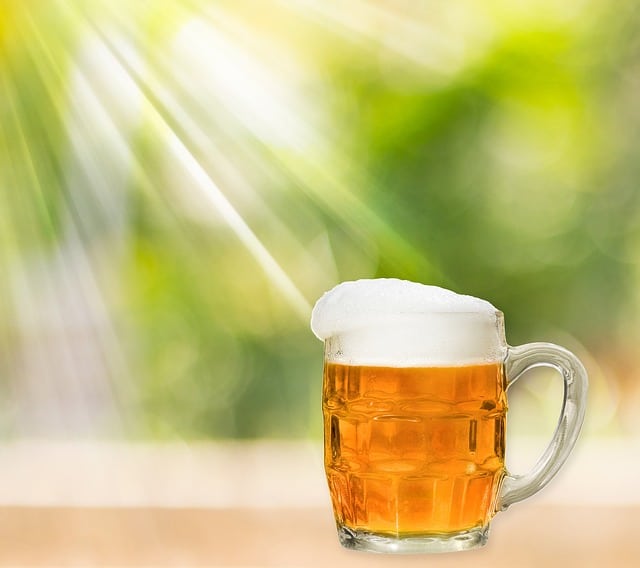 3. Best Brown Ale
This fall-time brew is the perfect blend of caramel, cocoa and American hops. It's a potent brew, but it isn't overwhelming or heavy. Best Brown Ale is the signature fall blend of Bell's Brewery. It contains 5.8 percent alcohol content per volume and stays fresh on the shelf for six months.
4. Larry's Latest Sour Ale
Released in the springtime, this innovative and fun sour ale is perfect for climbing out of the depths of a cold winter and bridging the gap to summer. This brew has a citrus tartness and tropical aroma that makes for a sweet and sour type of beer experience. The beer will last for six months on the shelf and has a concentration of 5 percent alcohol per volume.
While these are the season ales, keep an eye out for special releases commemorating Larry's birthday, the Brewery's founding and other fun holidays. Bell's is always trying to be at the forefront of the beer industry by staying fresh and innovative in their recipes and offerings.
What Are the Average Reviews for Bell's Brewery?
Now that you've got the lowdown on the products offered by Bell's Brewery, it's time to take a glance at what current customers are saying about the company's offerings.
Beer drinkers far and wide have consistently given Bell's Brewery and its eatery, the Eccentric Cafe, high reviews and ratings. On a scale of one to five stars, with five being the best, the average star rating is four. Many of Bell's brews have also been individually rated, and in fact, its highest-scoring beer was a 30th Anniversary Stout that was released for a limited time. It got a rating of almost five stars on average.
Whether you are a seasoned beer drinker, or new to the game and are looking to expand your pallet, Bell's Brewery is a great place to saddle up. With a wide range of offerings from light to stout to IPA, there is bound to be something to soothe and please everyone's taste range comfortably. The fact that the company is still family owned and operated in the vibrant mid-western town of Kalamazoo adds to the patriotic appeal of the brewery. It also may do wonders for your musings about being able to start your own business, beer or otherwise. It can be done.
Featured Image: CC by, Scottb211, via Flickr.