*This post may contain affiliate links. As an Amazon Associate we earn from qualifying purchases.
With its headquarters and roots in Downingtown, Pennsylvania, Victory Brewing Company has been making strides in the beer industry since its inception in 1996. Two childhood friends, Bill Covaleski and Ron Barchet, started Victory Brewing Company together and since have been perfecting the brewery's art and mark in the world of beer.
The story of Victory begins all the way back in the year 1973 when Covaleski and Barchet were only in fifth grade. The two were on their way to a new school, became the best of friends, and ended up attending colleges on opposite sides of the country.
THE EARLY DAYS OF VICTORY
How did the two founders link back up after college to create one of the most widely known breweries in the United States? Well, a few months out of college in 1985, Bill got his hands on his father's home brewing equipment which inspired his interest in beer-making. That same year, Bill gifted his long time best friend Ron a home brew kit and as they say, the rest is history.
A friendly rivalry began brewing between the two friends and their love of good-natured competition and delicious beer both grew exponentially in the upcoming years. Each of the men quickly became accomplished home brewers with a growing appetite for more. They each grew  apart from their corporate jobs and decided to take the plunge into the fine art of following their dreams and started completely new careers.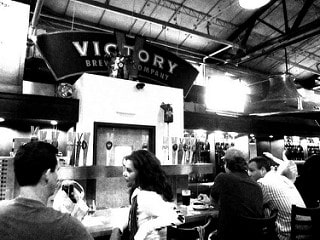 Not long after this decision was made, Ron left his job as a financial analyst and started working as an apprentice under a Dutch-born and German-trained brewer named Theo DeGroen at Baltimore Brewing Company. Ron acquired the skills needed to study at The Technical University of Munich at Weihenstephan, while Bill took over his job at Baltimore Brewing Company.
Victory Brewing Company Opens
They each began making quick strides in their educational and beer-related endeavors. Bill even helped Baltimore Brewing Company expand their line of beers to include a few German specialty beers that went on to win many awards at the Great American Beer Festival.
Bill then traveled to Munich, Germany to attend Doemens Institute and further his brewing studies. Ron wrapped up his time studying in Munich and returned to the States to take a role as the brew-master at Old Dominion Brewing Company in Virginia. After years of studies and finessing their beer-making capabilities, the two friends decided to finally open a brewery of their own.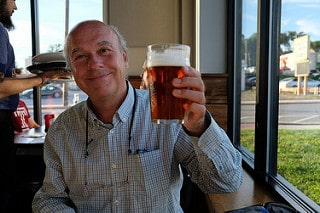 Victory Brewing Company opened its doors to the public on February 15, 1996 near where the two first met in Downingtown, Pennsylvania. The brewery opened at what was once a Pepperidge Farm Factory and became home to a 144-seat restaurant, 70-foot-long bar and a full production brewery with all the bells and whistles. Victory Brewing Company brewed 1,725 barrels of beer in their first year alone.
Victory Beer Hops, Malts & Integrity
What exactly goes into the brewing process at Victory and what makes Victory stand apart from the rest of the breweries out there? Victory Brewing Company believes that the very best ingredients are necessary in order to brew the very best beers for thirsty beer drinkers around the world. Victory uses signature German flavors and the endless education and training that both Ron and Bill gained during their time in Germany.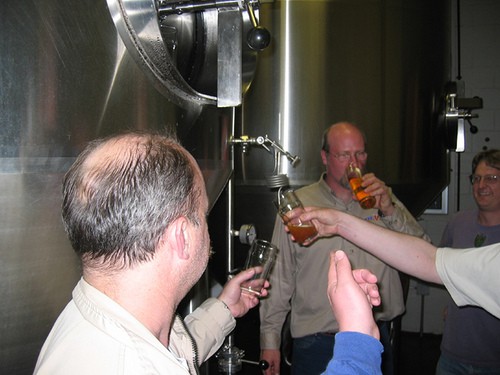 They use German malted barley, a mix of European and American whole flower hops, 45 different strains for their wide variety of beer flavors, and the high-quality local water to create their delicious and award-winning beers. Using full flower hops in their most natural form brings the most delicious flavors to the pint glass. Victory beers aim for words such as 'juicy,' 'piney,' 'citrusy,' 'earthy,' and 'herbal' to describe some of their incredible beers.
Victory Brewing Company is one of only a few handfuls of breweries in the country that uses the entire hops flower to brew their beer, truly creating a remarkable taste sure to be remembered with every single sip. Bill and Ron firmly believed in using the whole flower form of the hops to bring the most full and vibrant aroma and taste to the final product. Most breweries just use a processed and pelletized version of hops, so this is a feature that truly distinguishes Victory from the rest.
The brewmasters at Victory have gone through rigorous training and have developed strong and trusting relationships with the hops farmers that Victory buys their hops from. This way, Victory receives access to limited and experiential whole flower hop varieties like the highly sought-after Azacca hops.
Victory Brewing Process
The imported German malts are the first step the brewing process begins with at Victory Brewing Company. The malts are brought on a conveyor system from the silo to the brew-house where modern technology softens and removes most, or all, of the intact barley husk before the kernel inside is ground up. A sweeter and less tannic wort is created when the amount of husk in the ground malt is limited.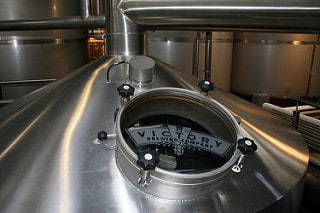 The brewers are then about to transfer the softened malt into the mash tun where it is mixed and the enzymes that transform the malt starches into simpler sugars become activated. The next step is the lauter tun, a machine that acts like a very large strainer to separate the sugar and nutrient-rich wort, which is the liquid that eventually becomes the final delicious product of beer.
The fresh wort is then transported to the brew kettles where the whole flower hops of American and European varieties are added to each flavor to produce the different strain of beer we see in the Victory Brewing Company beer lineup today. The hops are removed after a certain amount of time and then a whirlpool is used to sift out any remaining particles before the hopped wort is sent to the beer cellar for fermentation.
A really interesting fact about Victory is that 100% of their spent grain goes to feed cattle and pigs at local farms and an animal sanctuary – so neat!
After fermentation, the brewers add specific yeast strains to each to create each flavor of beer. The yeast converts the simple sugars from the brewing process into alcohol and carbon dioxide gas. After each beer is fermented and matured to appropriate levels, most of the beers made at the brewery are sent through a filtration system to make sure all yeast particles are removed to prevent any spoilage.
The only beers not sent through the filtration are the unfiltered beers such as the Sunrise Weiss. The final step of the Victory brewing process is bottling, kegging, and/or canning the beers and having them sent to the quality assurance team.
V FOR VICTORY: RATINGS & REVIEWS
Victory Brewing Company has been making strides and gaining accolades in the beer world since they first opened their doors in 1996. By 2015, the brewery had sold 141,671 barrels of Victory beer. The brewery flaunts 10 year-round beer in their staple lineup including the famous Headwaters Ale, Prima Pils, HopDevil IPA, Golden Monkey, DirtWolf Double IPA, Storm King Stout, Victory Helles Lager, Donnybrook Stout, V Twelve, and Vital IPA.
The brewery also makes 15-plus seasonal and specialty brands with over 70 different strains of yeast. There are 35 states and nine countries that carry Victory Beer and the brewery also diverted 7,000,000 pounds of waste from landfills in 2015.
Beer Advocate rates Victory Brewing Company a 3.79 out of 5 at a 'very good' rating, which is very high compared to their thousands of other brewery ratings. Beer and Brewing rates their Helles Lager at an impressive 95 out of 100 rating, and this is just a sample of the ratings you see across the board for the company's entire beer list.
Victory has seen plentiful victories of the decades and their beers have won a handful of awards. Victory Brewing Company won Brewery of the Year from 2010 to 2014, their brewmaster/co-founder Bill Covaleski won Brewmaster of the Year in 2013, and their Prima Pils won Best Pilsner in 2010 and 2011. Other award-winning brews by the popular brewery include Baltic Thunder, Golden Monkey, Storm King, Saison du BUFF, and DirtWolf.
The ratings and reviews are unanimous across the board – V is definitely for Victory Brewing Company!