*This post may contain affiliate links. As an Amazon Associate we earn from qualifying purchases.
THINK YOU KNOW EVERYTHING ABOUT FOAMY PINTS? THINK AGAIN. THERE'S MORE TO BEER THAN JUST SOLO CUPS AND CRAFT BREWS.
Ahhh brewskis.
Really, what's better than a bottle of suds?
On a hot summer day, there's not much that comes close to a couple of cold barley pops. Or grain grenades, foamers, oat sodas, cold ones, cervezas, hop juices, or pop tops.
Whatever you call different types of beer, one thing is for sure. It's a magical beverage that has captured the imagination (and taste buds) of humanity for thousands of years.
"Beer makes you feel the way you ought to feel without beer."
– Henry Lawson
We're living in a golden age of beer. So cheers!
There are more breweries and types of beer in the world than ever before. This means that there is something to fit every beer drinker's tastes. With the rise of beer blogs, mobile apps, home brewing kits, and brewery tours, it's also easier than ever to turn your love of pints into expert knowledge.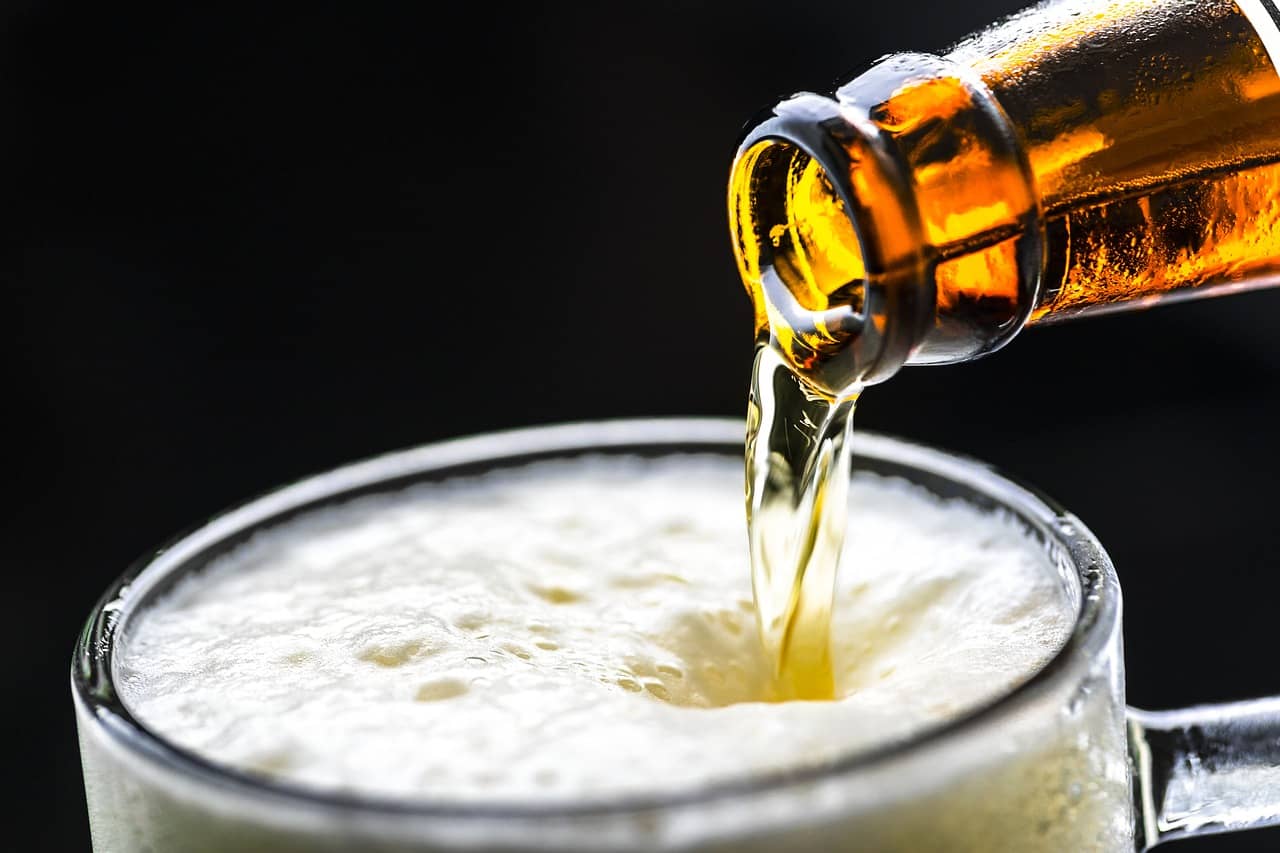 From its epic history to its awesomely nerdy creation, there's a lot to love about beer. It's a beverage that has transcended the food realm and now permeates cultures around the world. Seriously, what other beverage can hang equally well on a bass fishing trip and swanky-bar Tinder date? Let's just say milk would be a BAD choice.
But with so many great resources and types of beer emerging every day, how can a dedicated beer sipper keep up? It's easy to get overwhelmed by the seemingly endless selection of regional, seasonal, and artisanal brews. But don't bail! There's no reason to throw in the towel and drown yourself in a 30 rack of Keystone Light.
There's a lot to know and love about the world of beers. Heck, these days you can major in beer and actually stay in school!
Fortunately, you don't need to rack up any more student debt to sound like a beer genius. In this article, we'll help you get up to speed so you can put down the beer bong and start talking beer like a pro.
Here's what we'll cover:
Back to Basic

The Beer Family Tree

How It's Made: Beer Edition

So Many Types of Beer, So Little Time

Beer and Food: A Love Story
Beer Can Actually Be Good for You!

Deal with a Ripping Hangover

How Real Pros Drink Beer

DIY Beer. Really!

 How to Find Your Beer Soulmate
BEER NUTS AND BEER BOLTS
If you want to be a true beer connoisseur, then you'll want to learn a few of the basics. There's a lot to know about beer, but you are way more likely to impress your friends by riffing on the history of brewing than just shotgunning PBR. So let's dig into beer's impressive history and hit on some of its current cultural reach.
BEER IS OLD. WE MEAN REALLY OLD.
Most historians agree that humans had all the ingredients they needed to brew beer as far back as 6000BC. Old school, right? While no one is really sure how that first glorious beer came to be, it's thought that ancient peoples left barley-based bread out in the rain and it started to ferment. Residue from this bread was likely mixed with water and was consumed. It's also assumed that an ancient rager quickly ensued.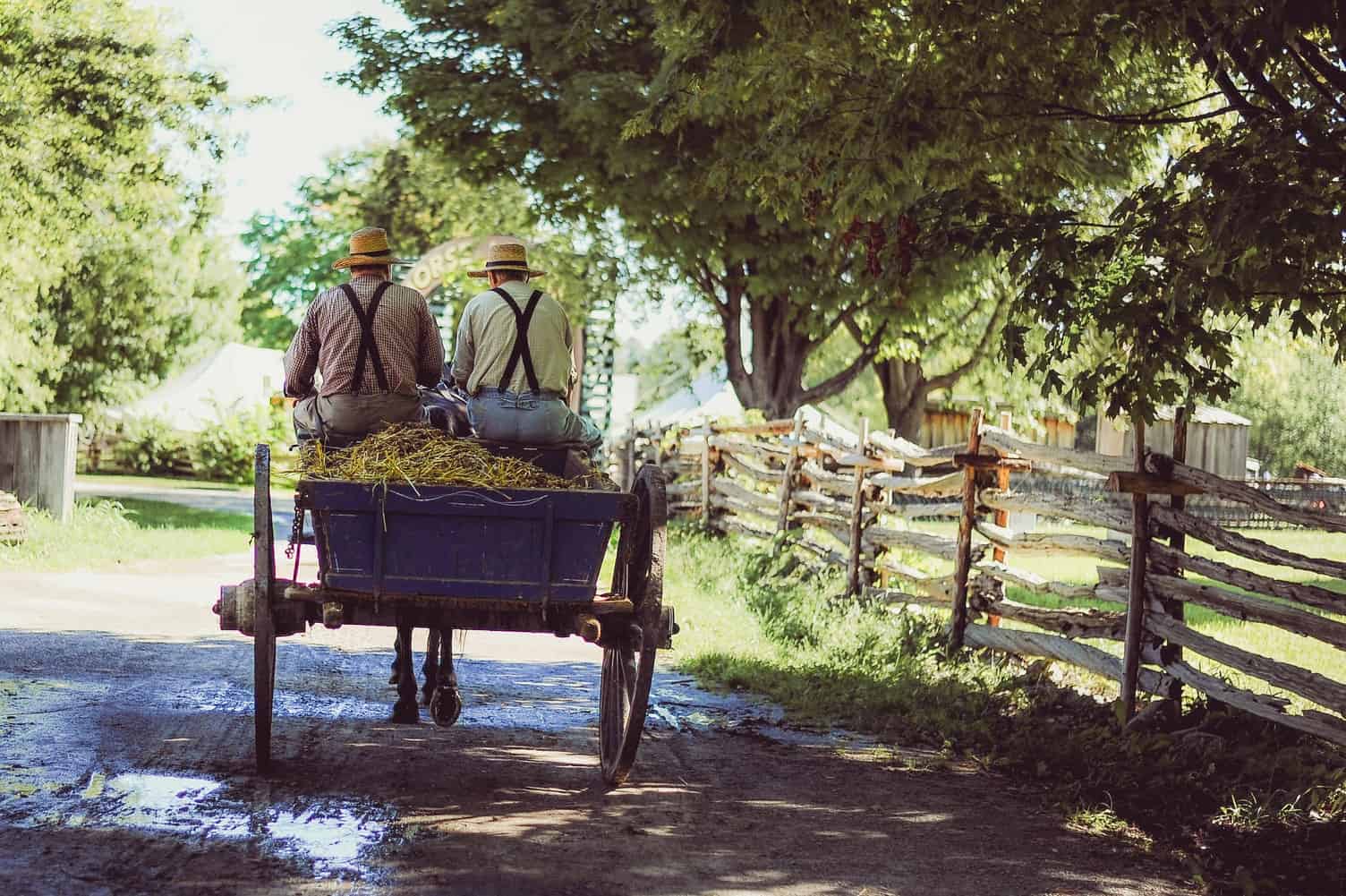 DELICIOUS GLOBAL DOMINANCE
Hard to believe that a drink invented by mistake turned into one of humanity's greatest inventions, huh? Well, it has. In recent years Western countries have been experiencing a boom in small-batch and craft brewed types of beer. In fact, the US Brewer's Association says that currently, around 85% of Americans live within ten miles of a brewery. We're also more likely to know the cool beer slang . . .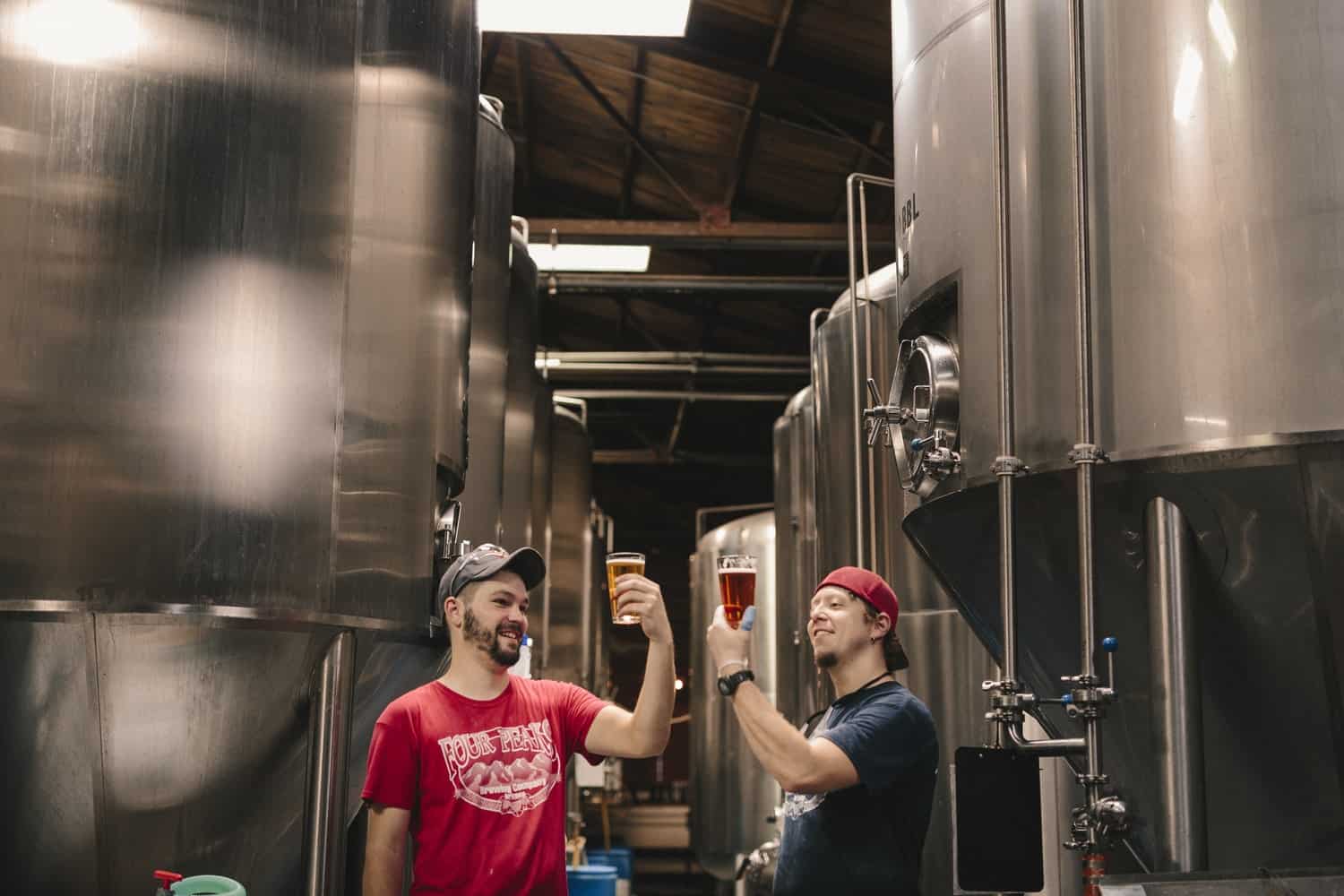 GET HIP TO THE LINGO
Have you got a growler with a really hoppy head in your fridge? What about a citrusy double IPA with astronomical IBUs and wicked ABV?
Nope, these aren't government agencies. We're still talking types of beer.
There's a lot of jargon flying around the beer world these days. Let's brush up on a few of these biggies:
ABV – This stands for alcohol by volume.

Hops – Hops are a flower used in the brewing process that gives beer its signature bitterness. There are many varieties of hops all with different signature flavors, but they all serve the same purpose. Hops are a natural antibacterial to fight off nasty bacteria in the brewing process. The bitter flavor of hops also helps balance the sweet elements in other beer ingredients.

Head – The head of a beer is the foam or froth that rises to the top of a glass. A head is produced when gas, mostly carbon dioxide, rises to the surface when a beer is poured.

IBU – When you see IBU on a beer it stands for International Bitterness Units. Technically, IBUs measure how many parts per million of isohumulone found in a beer. This is the acid found in hops that leave a bitter taste.

Growler – A growler is a container for transporting draft types of beer. They are often made of glass, ceramic, or plastic, and sold at breweries and wholesale beer facilities.

 IPA – IPA stands for India Pale Ale. These are types of beer that were developed with lots of extra hops as a preservative for sailors during long trips at sea. They are known for having high IBU ratings, but the hops can express a wide array of fruit flavors.
The beer world has a language all its own and this list barely scratches to the surface. Keep digging though. You're sure to pick up more of the lingo. Like, for example, the different branches on the beer family tree.
IT'S ALL IN THE FAMILIES
A newbie to the beer world could easily get overwhelmed by all the different types of beer out there. For real, does anyone actually know the difference between a Dunkel, a Gose, and Hefeweizen?
But let us simplify things before you throw up your hands and opt for a Diet Coke. Beer classifications are probably way easier than you'd expect. They're so simple, in fact, that nearly all beers are either classified as a lager or an ale.
Really? Just two types of beer?
Mmmhmm . . .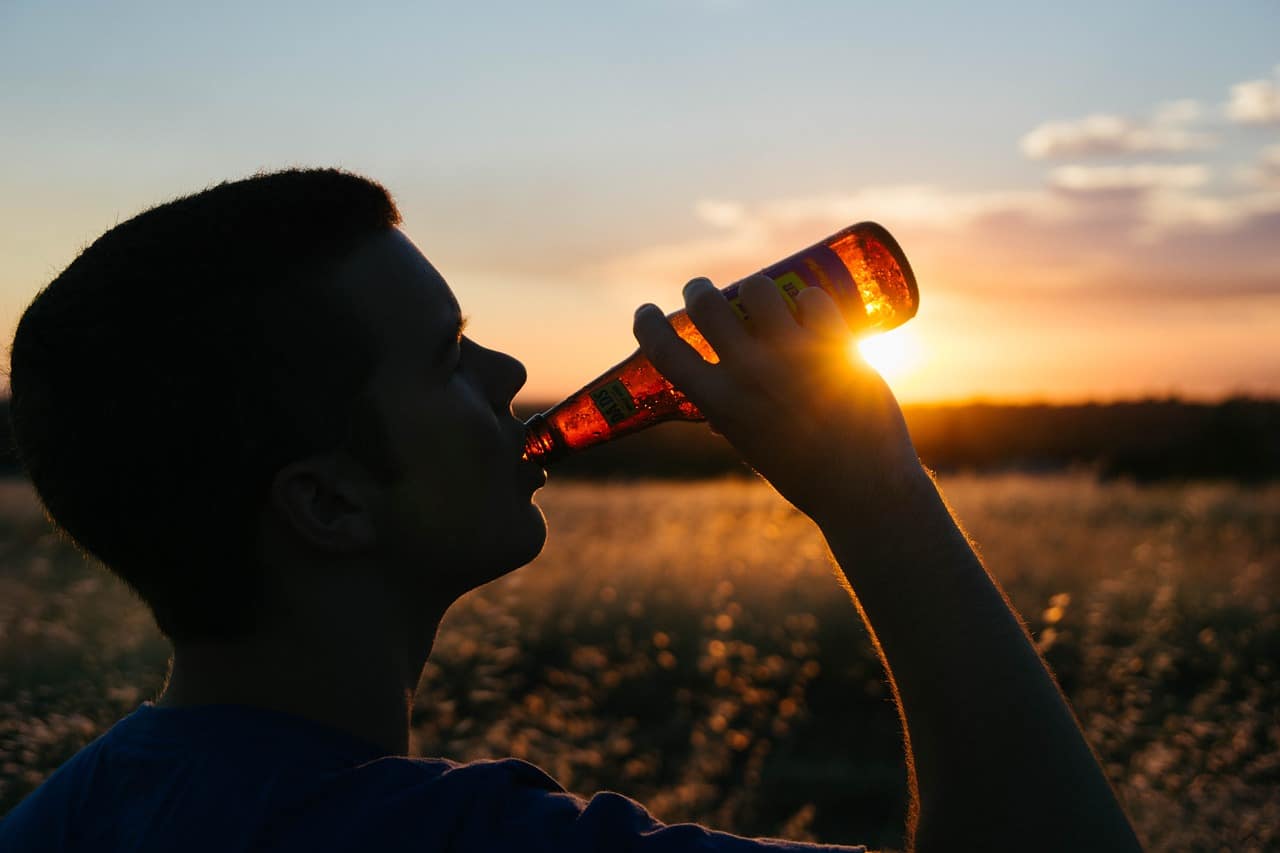 WHAT DOES "LAGER" MEAN ANYWAY?
Most people who have knocked a few back are familiar with the term lager. But what is the deal with the beers anyway? Well, it's actually a pretty simple deal. Lager beer is fermented with a type of yeast that stays at the bottom of the mixture. There are, of course, tons of beers within this classification. But any bottom fermented beer is a lager.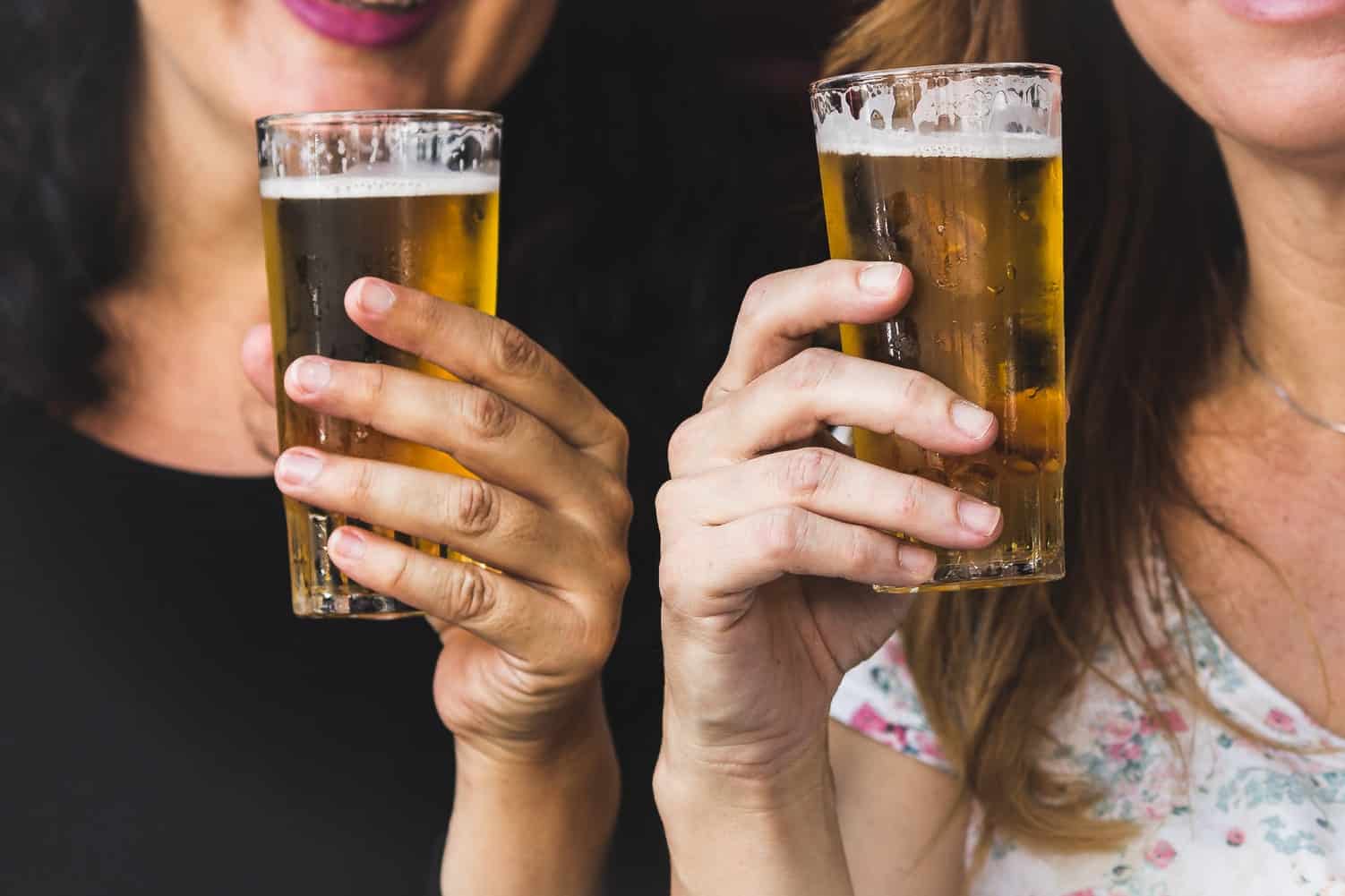 ALE UP IN YOUR BUSINESS
So does that mean ales are not bottom fermented?
DING DING DING.
Ales make up the other main branch of beer and they are brewed with yeast that ferments on the top of the mixture. Beers begin to branch out from here depending on different fermentation lengths, types of hops, and other ingredients. But it all begins with fermentation. Why don't we take a closer look at this wizardry?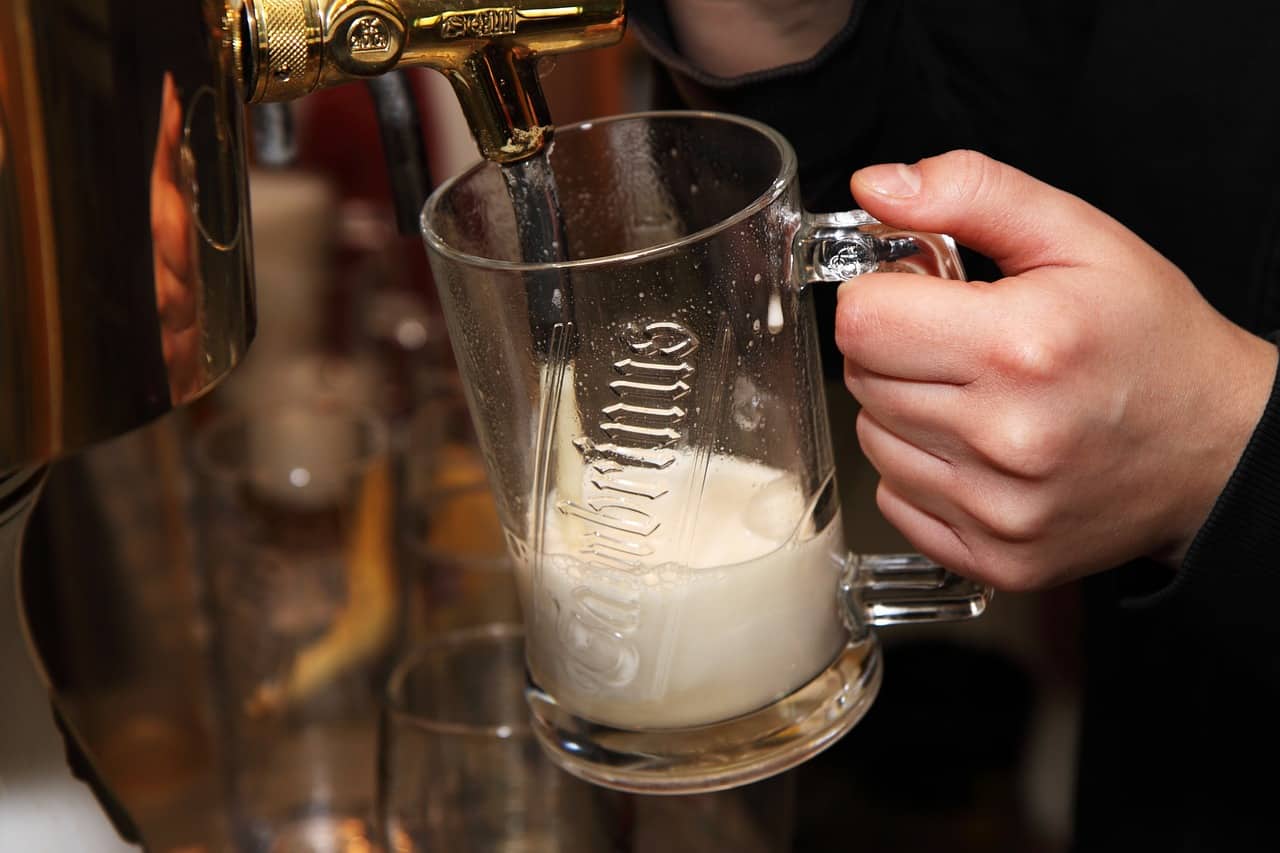 BEER'S NOT JUST DELICIOUS, IT'S ALSO SCIENCE.
So we know that nearly all types of beer are either ales or lagers. We also know that this is determined by top or bottom fermentation. And as cool as all this science talk is, well, beer is a lot cooler. So let's rap about fermentation in a way that makes sense even if you've already popped a few.
RISE UP!
Yeast is cruising all around in the beer mix when brewers make ale. As the fermentation process continues the yeast slowly starts to rise up in the mix. This is due in part to the yeast fermenting at a higher temperature than that used in a lager. It also has a higher alcohol tolerance than lager yeast. Which is renowned in grain circles for being kind of a lightweight.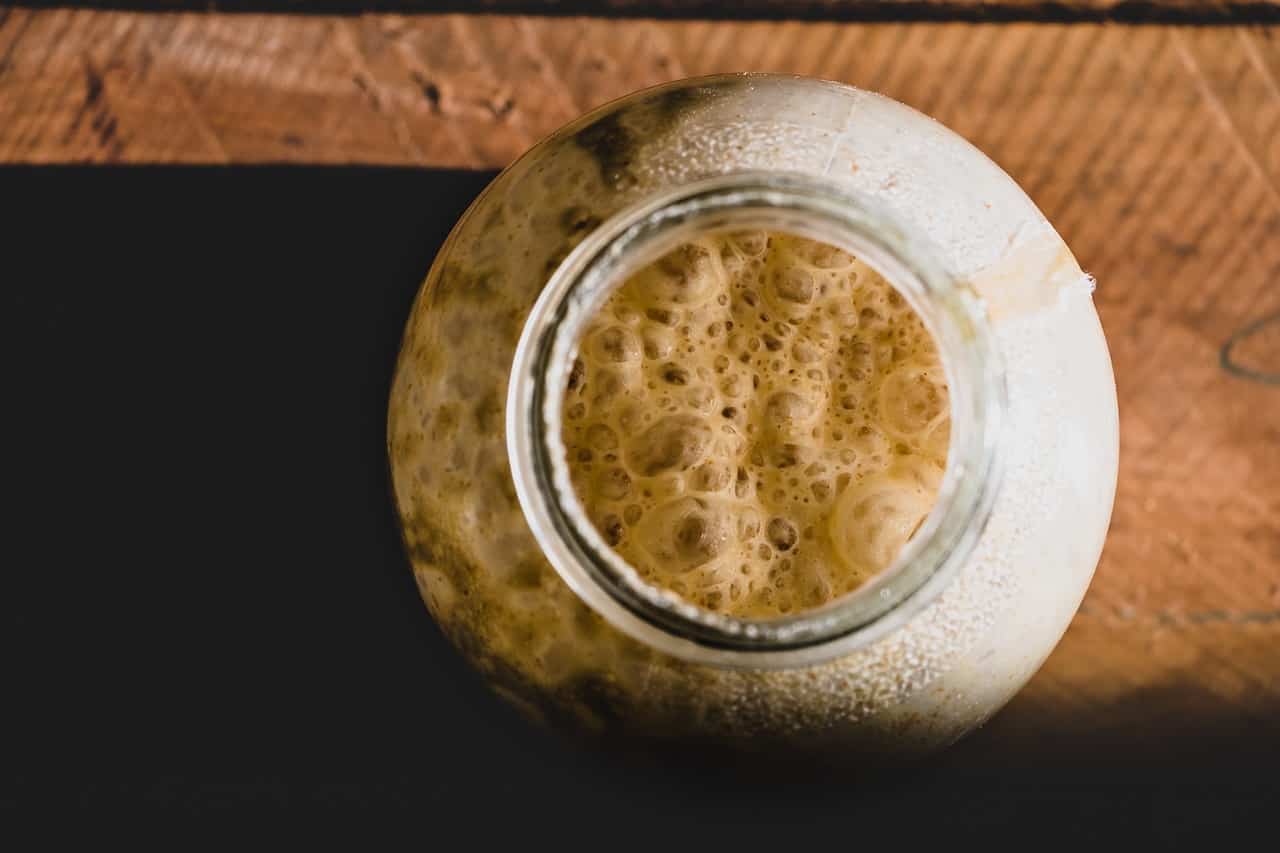 NOW GIT DOWN!
We were kidding when we called lager yeast a lightweight. The very opposite is true, in fact. The yeast used in the bottom fermentation process falls steadily throughout the brewing process and also requires much lower temperatures to ferment fully. While it does have a lower alcohol tolerance than top-fermenting yeast, we assure you that bottom fermenting yeast is totally chill and just likes to hang low.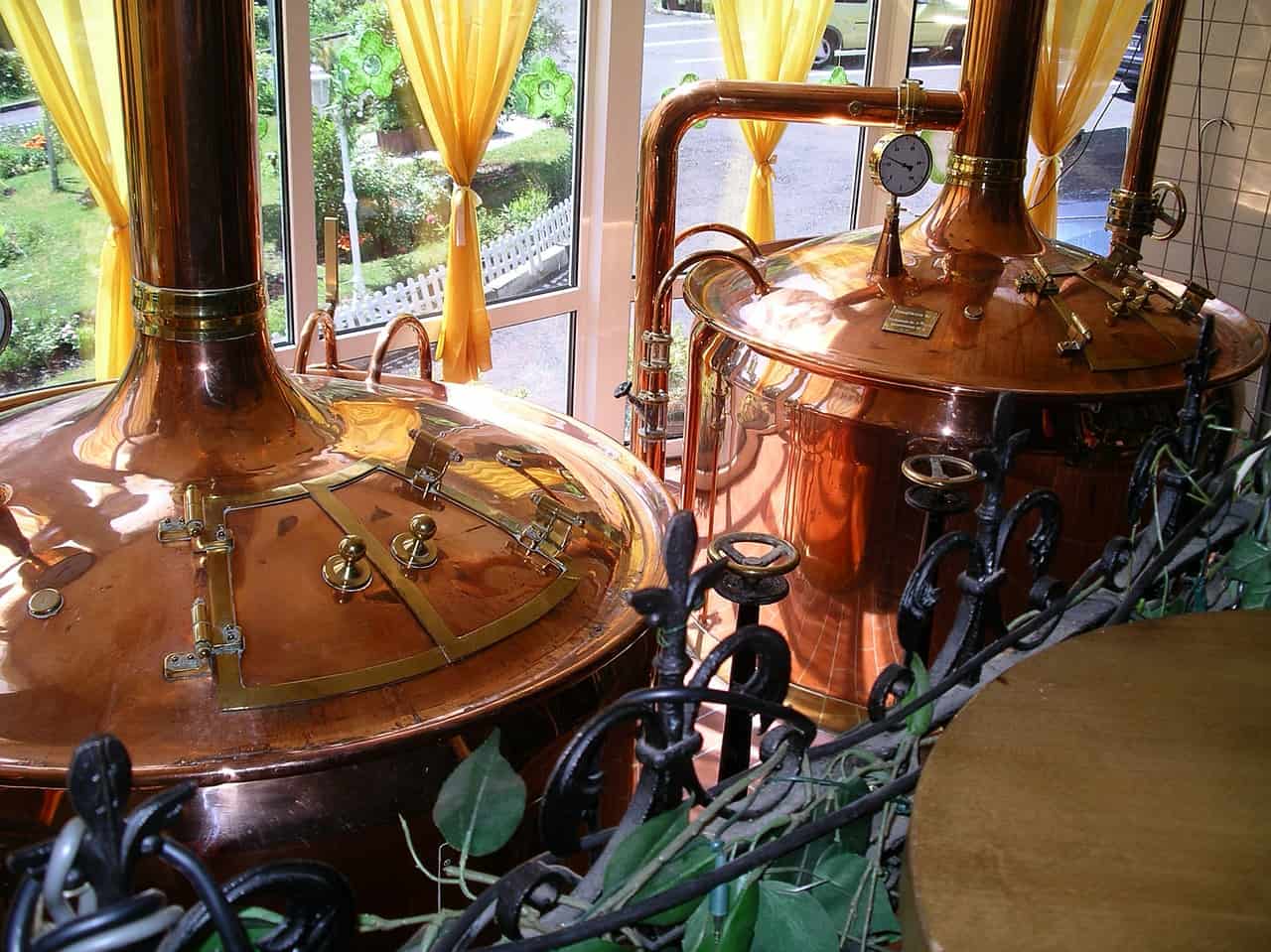 YEAST — IT'S SPONTANEOUS
So the lager yeast is low-hanging and likes to chill. You know what's less chill? Spontaneous fermentation!
Some sour and funky beers like lambic use a third fermentation method called spontaneous fermentation. This occurs when wild yeasts are used in the brewing process instead of the typical yeasts found in ales and lagers. While some sour types of beer may still be considered ales or lagers, they benefit from unique bacteria that you won't find in traditional ales and lagers.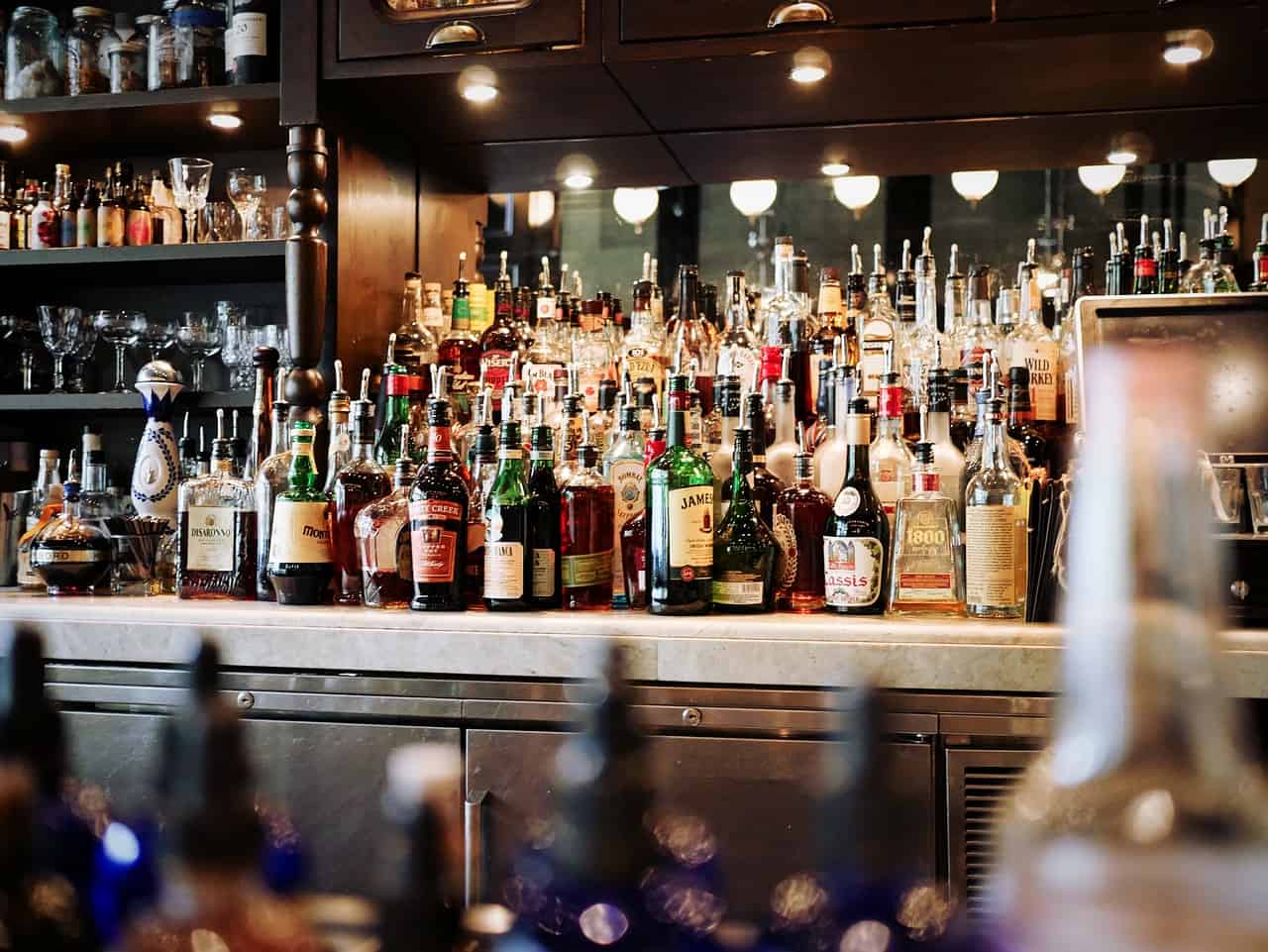 All this fermentation talk is great, but let's get down to the beer!
VARIETY: THE SPICE OF LIFE (AND BEER)
One of the great joys of being a beer drinking is all the different types of beer to try. Nearly all stem from ales and lagers, that's true. But from there the beer family tree splits in thousands of directions. From dark to light, sweet to bitter, the beer family tree is one that could take a lifetime to "research." For now though, take a look at this website that breaks down a few important things to know about the world's most popular types of beer and how they're served.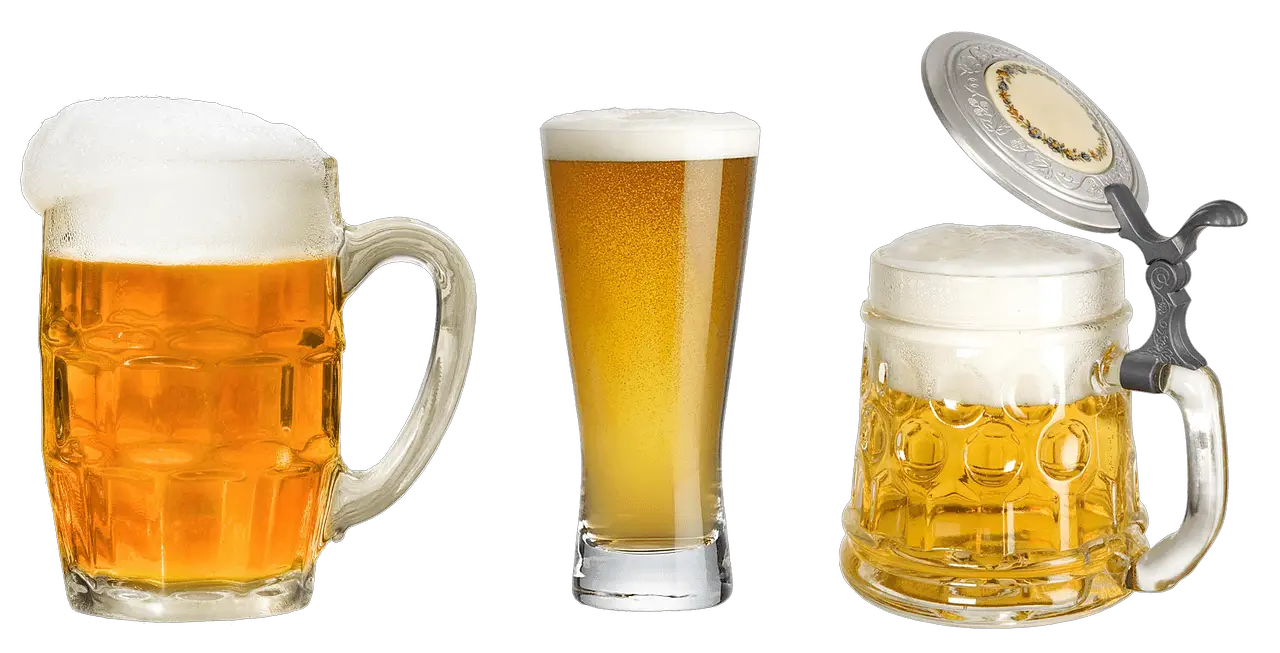 NOW THAT WE'VE GOT A GENERAL IDEA OF HOW THE DIFFERENT TYPES OF BEER LOOK, LET'S GET A LITTLE NERDY . . .
In the following section, we will go over different types of beer. Each will have a list of tasting notes, famous brands, and ABV and IBU scales. 
American Lager
Light color and flavor; crisp with low alcohol content

Budweiser, Pabst Blue Ribbon

3 to 4.5% ABV, 3 to 15 IBU score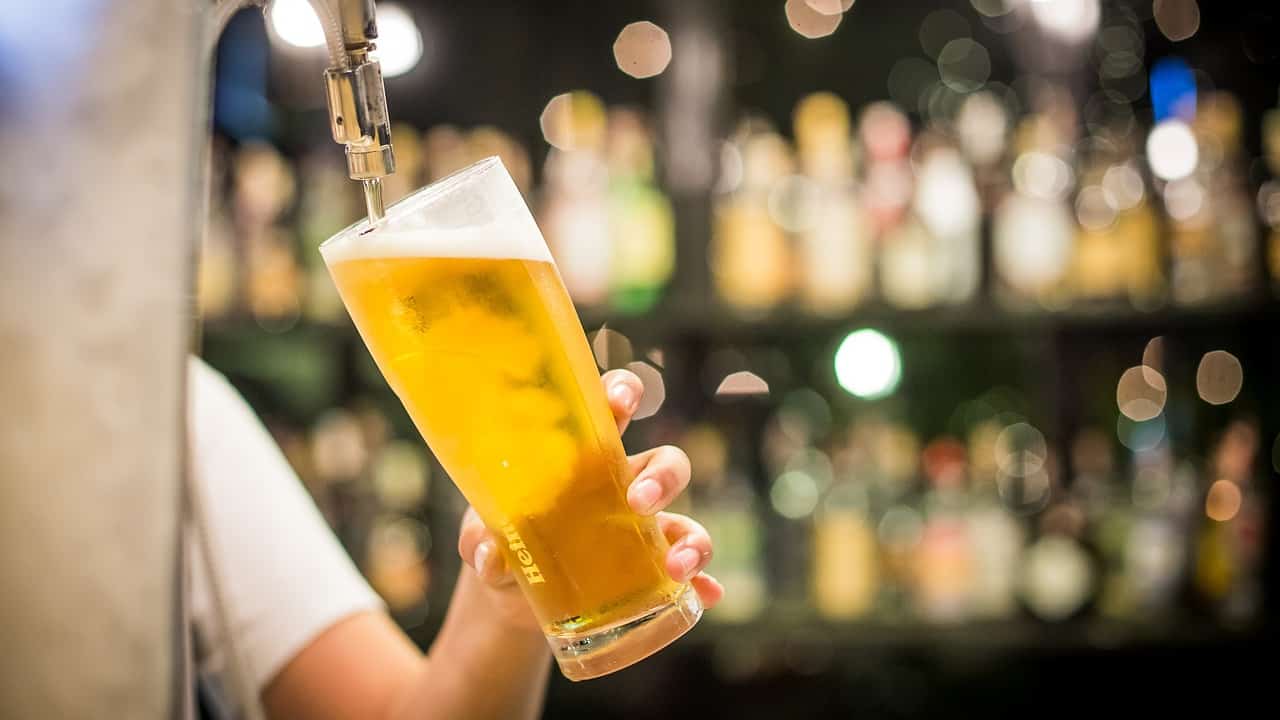 Czech Pilsner
Light in color with noticeable hop bitterness

Mermaid Pils, Lagunitas Pils

4 to 5% ABV, 25 to 45 IBU score
Amber Lager
Light amber hue with subtle caramel notes and low bitterness

Fat Tire Ale, Yuengling, Sam Adams Boston Lager

4.5 to 6 ABV, 15 to 25 IBU score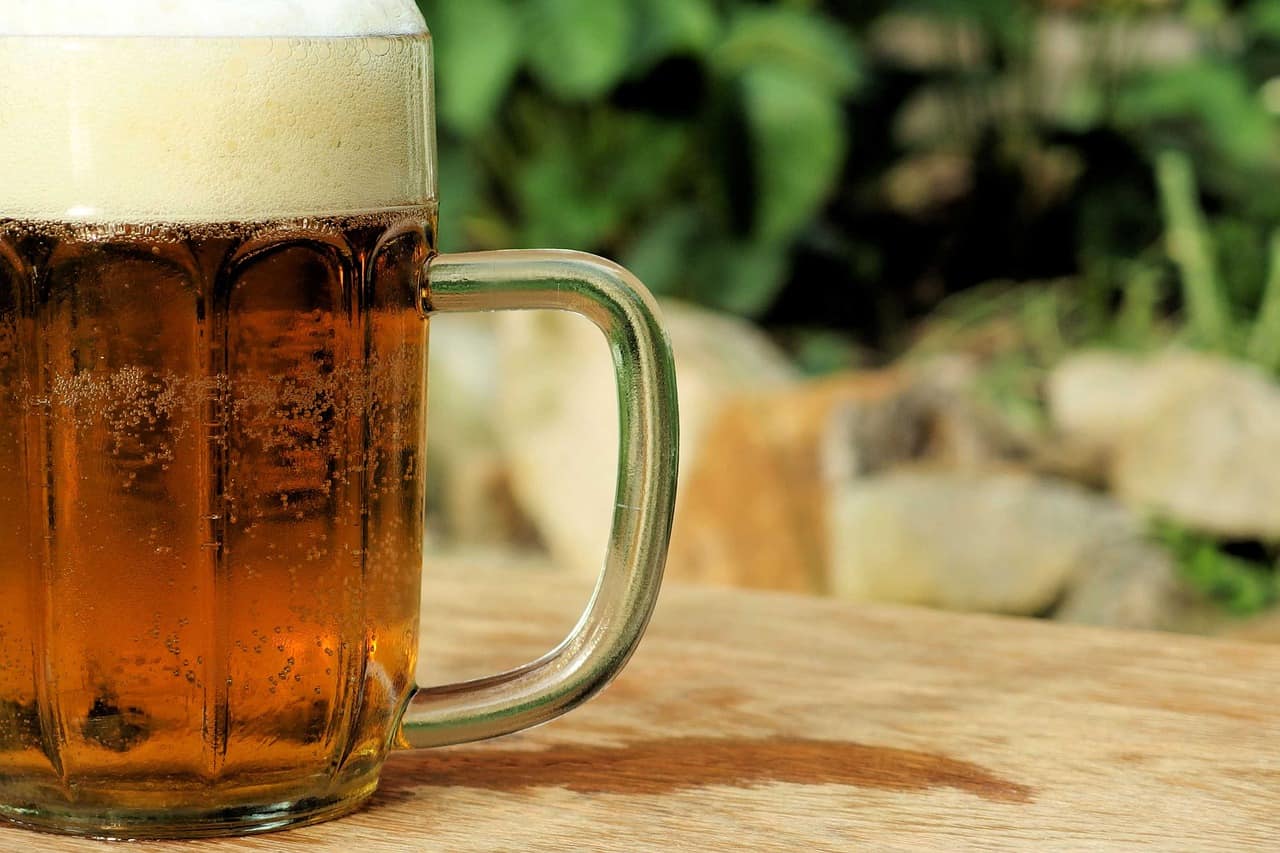 Oktoberfest
Deep, amber color with slightly sweet malt

Ayinger, Paulaner, Sam Adams Oktoberfest

3.5 to 5 ABV, 20 -30 IBU score
Vienna Lager
Slightly golden amber with subtle sweetness and hops

Blue Point Toasted Lager, Saranac Adirondack Amber

4 to 5.5% ABV, 20 to 30 IBU score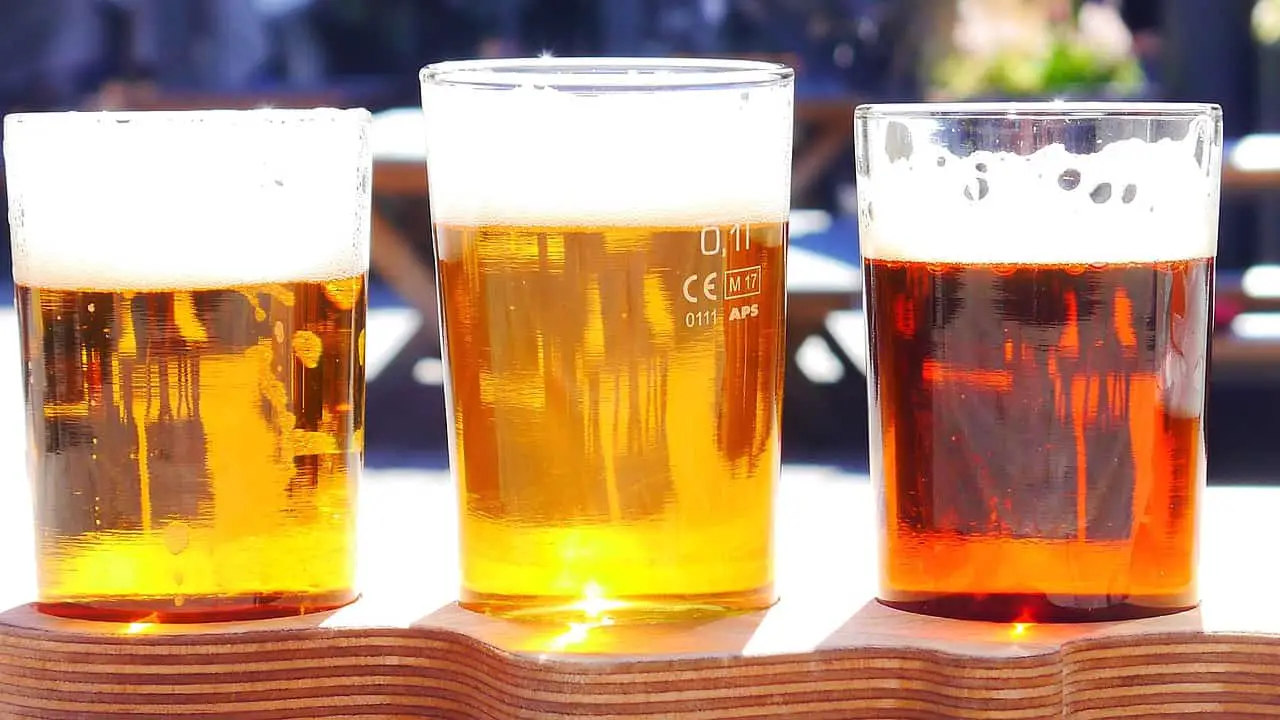 Bock
Deep amber hue with lots of malt sweetness

Sam Adams Winter Lager, Great Lakes Bock

6 to 8% ABV, 15 to 30 IBU score
American Brown Ale
Deep amber to light brown hues. Light caramel sweetness and nutty notes

Ithaca Nut Brown, Founders Sumatra Mountain Brown

4 to 6.5% ABV, 20 to 40 IBU score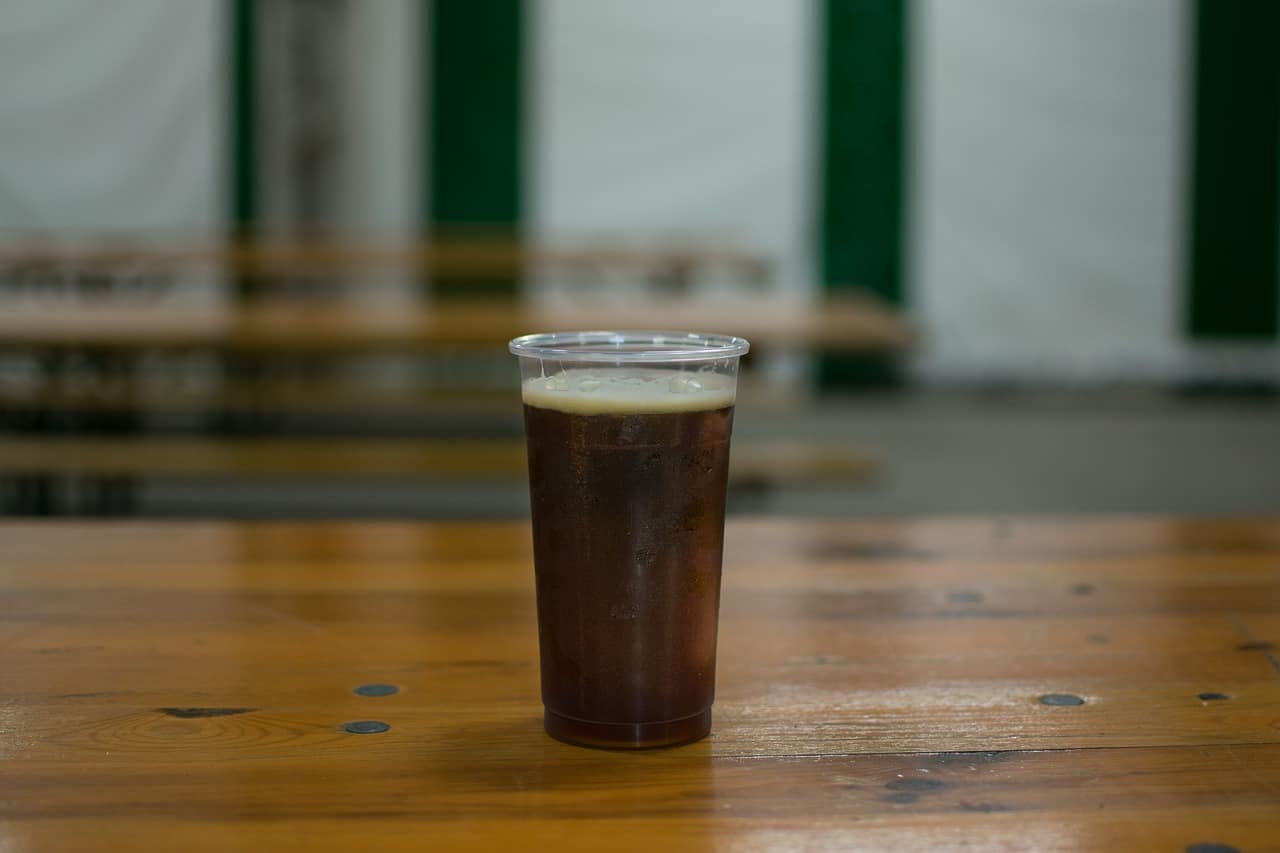 English Brown Ale
Slightly increased nuttiness over American Brown ale

Newcastle Brown Ale, Cigar City Brewing Maduro Oatmeal Brown Ale

4 to 5.5% ABV, 15 to 30 IBU score
American Pale Ale
Slight hop bitterness and smooth finish with a copper color

Sierra Nevada Pale Ale, Smuttynose Pale Ale

4 to 5.5% ABV, 30 to 50 IBU score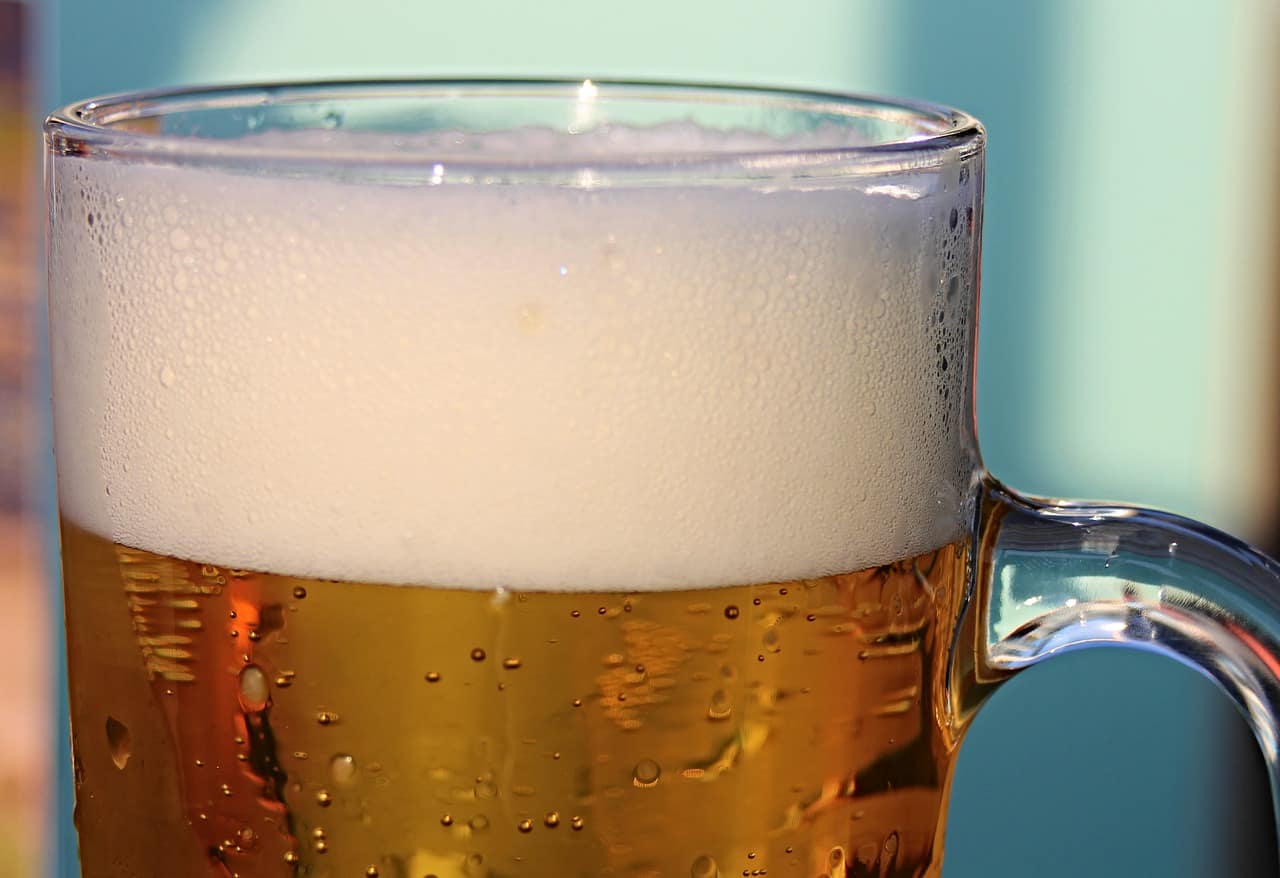 American Amber Ale
Medium bodied with a slight sweetness and bold amber color

Bell's Amber Ale, Flipside Red IPA

4 to 6% ABV, 20 to 40 IBU score
Blonde Ale
Well-balanced malt and hops; fruity aromas present in these types of beer

Victory Summer Love, Harpoon Sweet Spot

4 to 5% ABV, 15 to 25 IBU score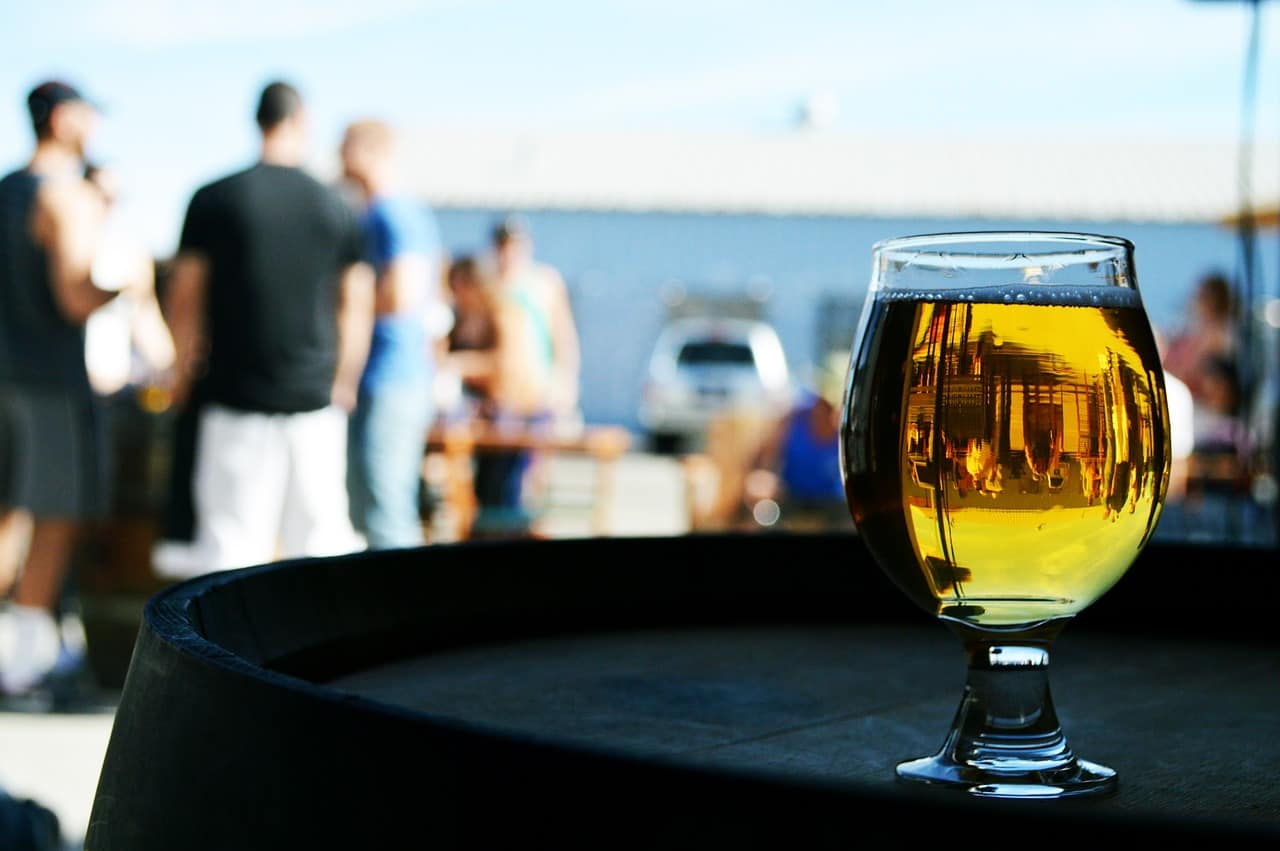 Extra Special Bitter (ESB)
Bracing hop bitterness balanced with malt sweetness

Fuller's ESB, Green Man ESB

4 to 5% ABV, 20 to 40 IBU score
American IPA
Lots of hops bitterness and citrus fruit flavors

Sierra Nevada Torpedo IPA, Lagunitas

5 to 8% ABV, 45 to 75 IBU score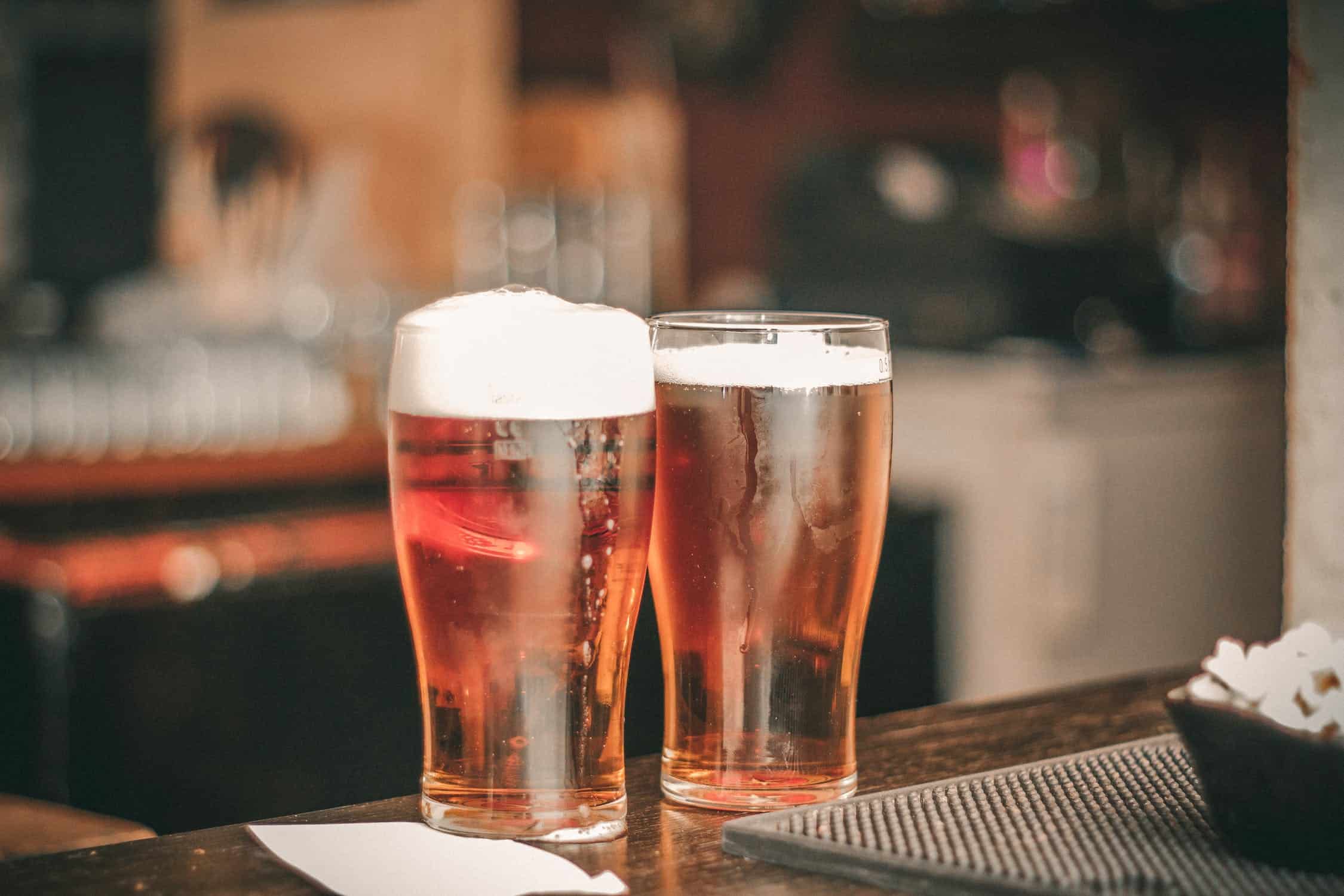 Double IPA
Even more hop bitterness and bolder flavors due to more alcohol

The Alchemist Heady Topper, New Belgium Rampant Imperial

6 to 15% ABV, 60 to 100 IBU score
American Imperial Porter
Deep, dark color with very little smokiness

Evil Twin Imperial Doughnut Break, Ballast Point Victory at Sea

6 to 12% ABV, 30 to 50 IBU score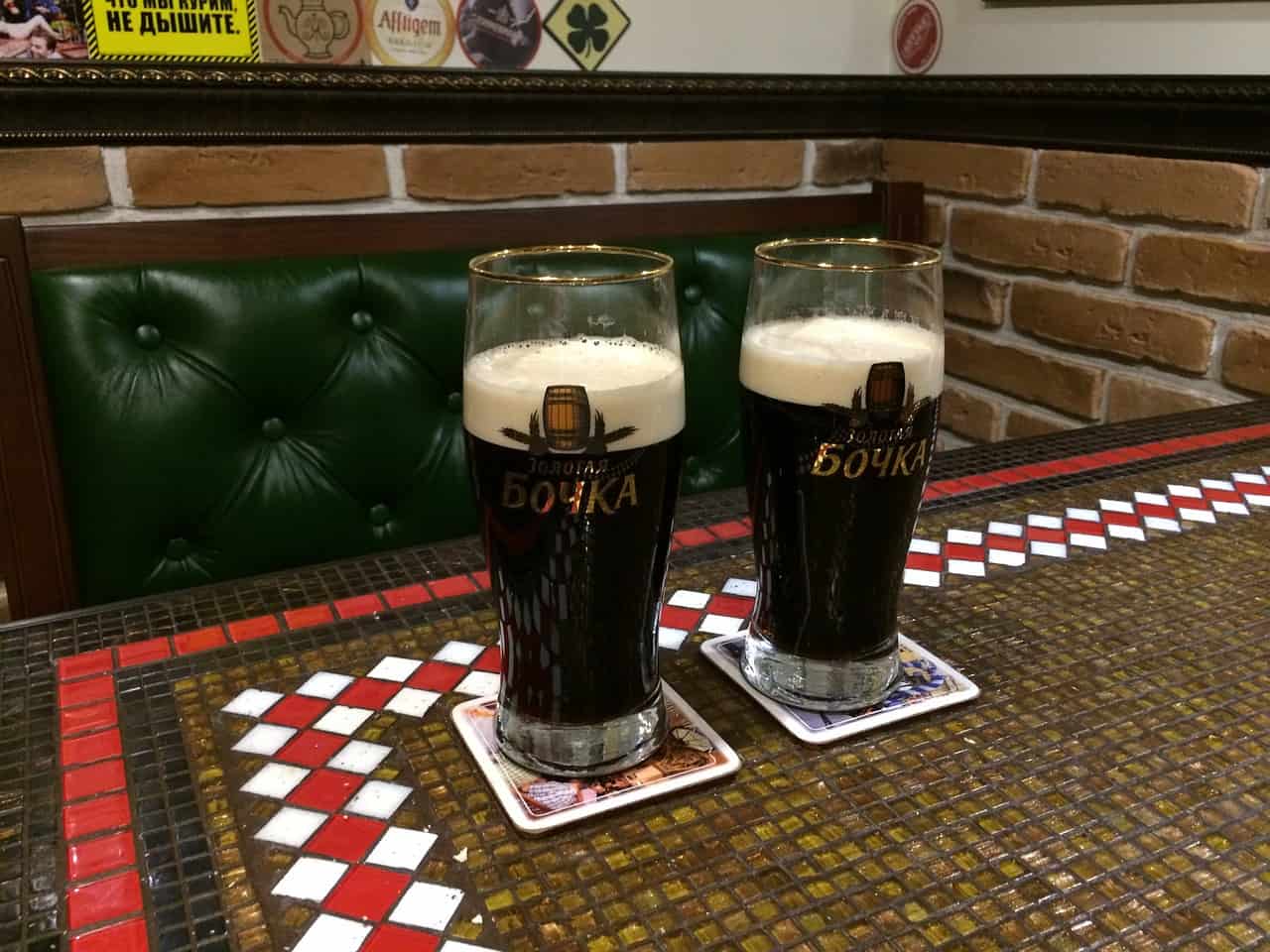 Irish Stout
Black in color with mocha-brown head; bitter with a soft finish

Guinness stout, Murphy's stour

3 to 5% ABV, 30 to 40 IBU score
Oatmeal Stout
Very dark in color with oatmeal added to the blend for sweetness

Samuel Smith's, Young's oatmeal stout

3 to 6% ABV, 20 to 40 IBU score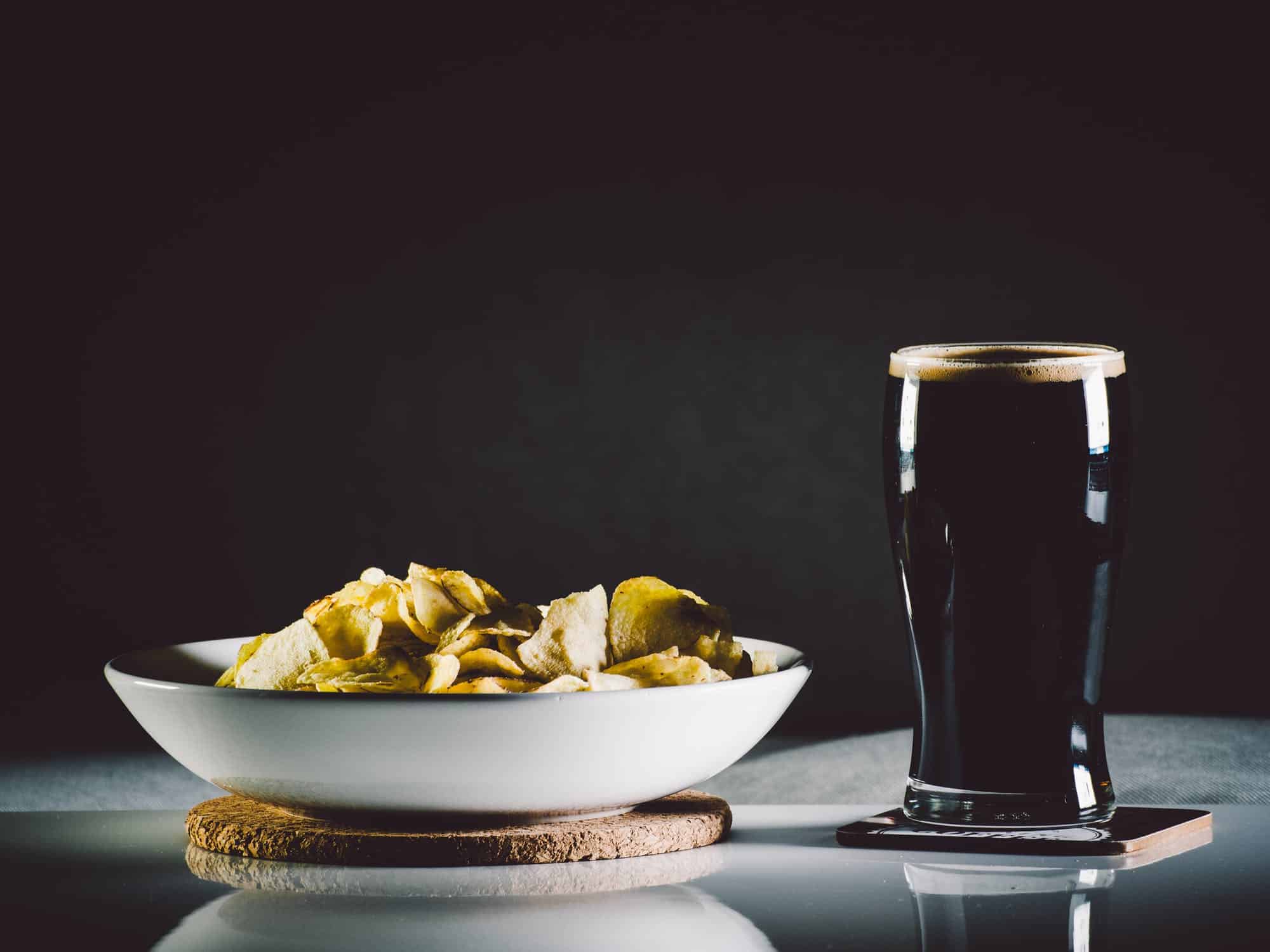 Milk Stout
Stout with sugars added from lactose to add a mild sweetness

Left Hand Nitro Milk stout, Stone Brewing Xocoveza

4 to 7% ABV, 15 to 30 IBU score
Belgian Ale
Very pale blonde color with noticeable hops

Leffe Blonde, Duvel

4 to 7% ABV, 15 to 40 IBU score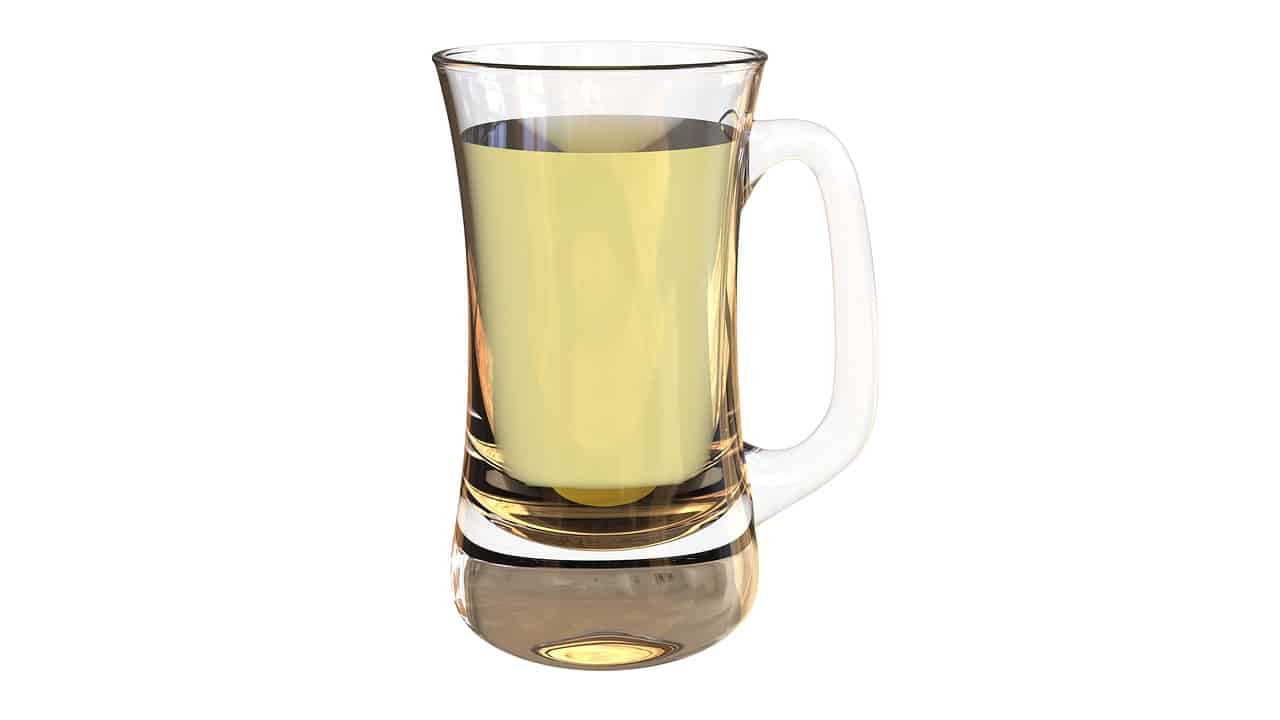 Belgian Dubbel
Slightly darker in color than Belgian ale, malt sweetness

Brouwerij Westmalle, Ommegang Belgian Dubbel

6 to 8% ABV, 20 to 30 IBU score
Belgian Tripel
Light bodied with blonde color; brisk hops with fruit notes

Westmalle Tripel, Tripel Karmeliet

7 to 10% ABV, 20 to 40 IBU score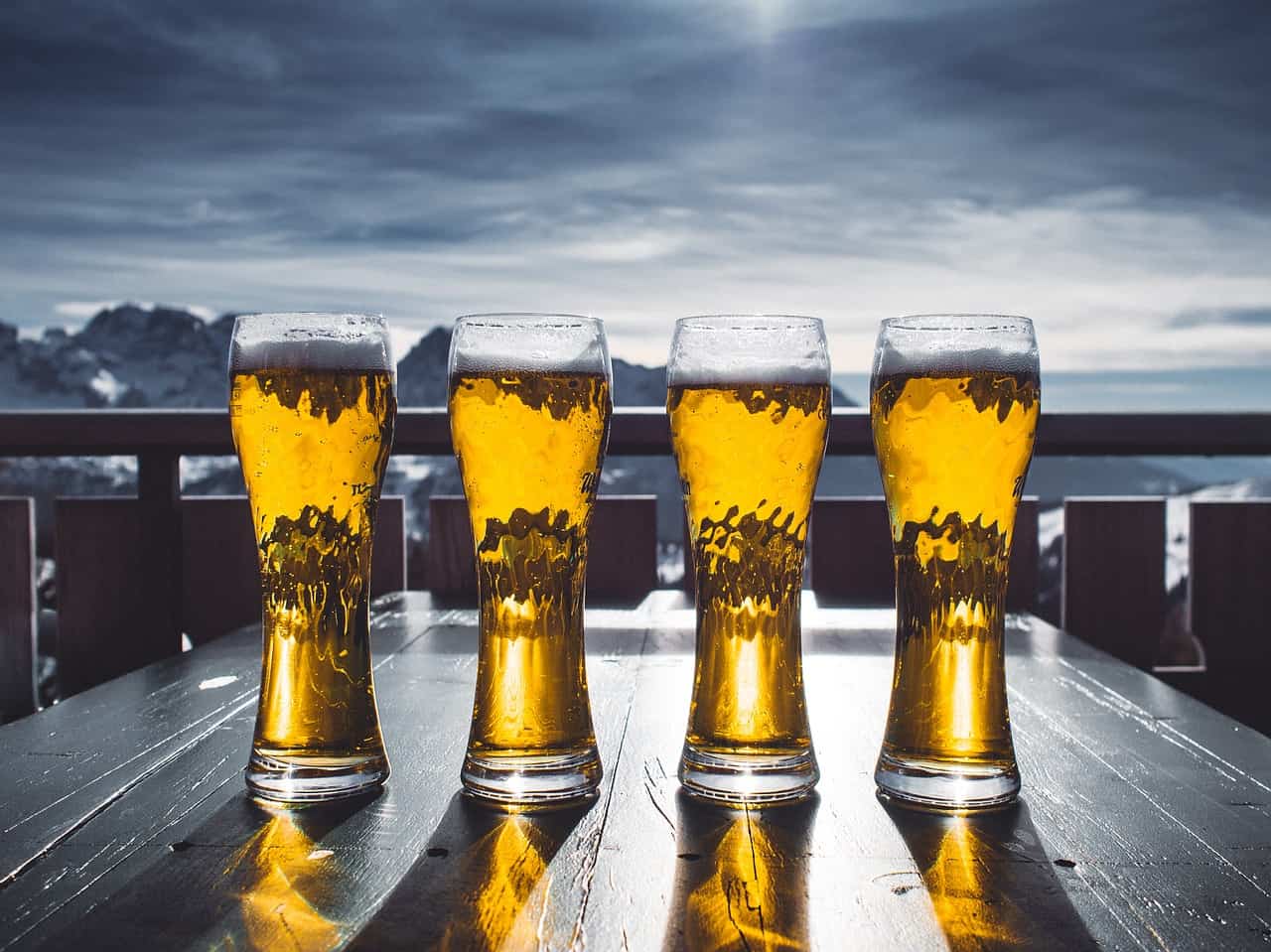 Saison
Belgian style with spices and earthy notes

Brooklyn Brewery Sorachi Ace, Victory Helios

4 to 7% ABV, 20 to 40 IBU score
American Pale Wheat
Pale in color with a soft, grainy finish

Blue Moon, Bell's Oberon

3 to 5% ABV, 10 to 30 IBU score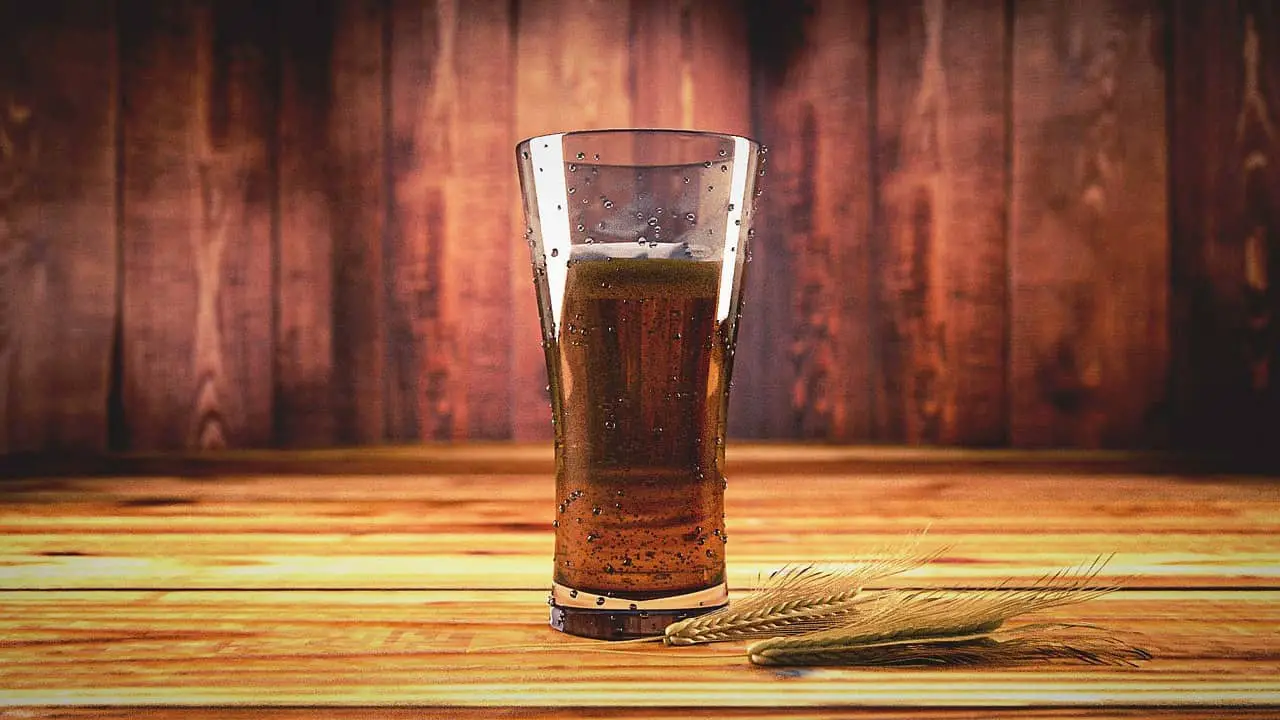 Belgian Whitbier
Very pale types of beer with a slight whiteness; soft hops and fruit notes

Hoegaarden, Blue Moon White

4 to 6% ABV, 10 to 17 IBU score
Hefeweizen
A wheat beer with light colors and subtle fruit and spice notes

Erdinger, Hofbrau, Tröegs Dream Weaver

5 to 7 ABV, 10 to 20 IBU score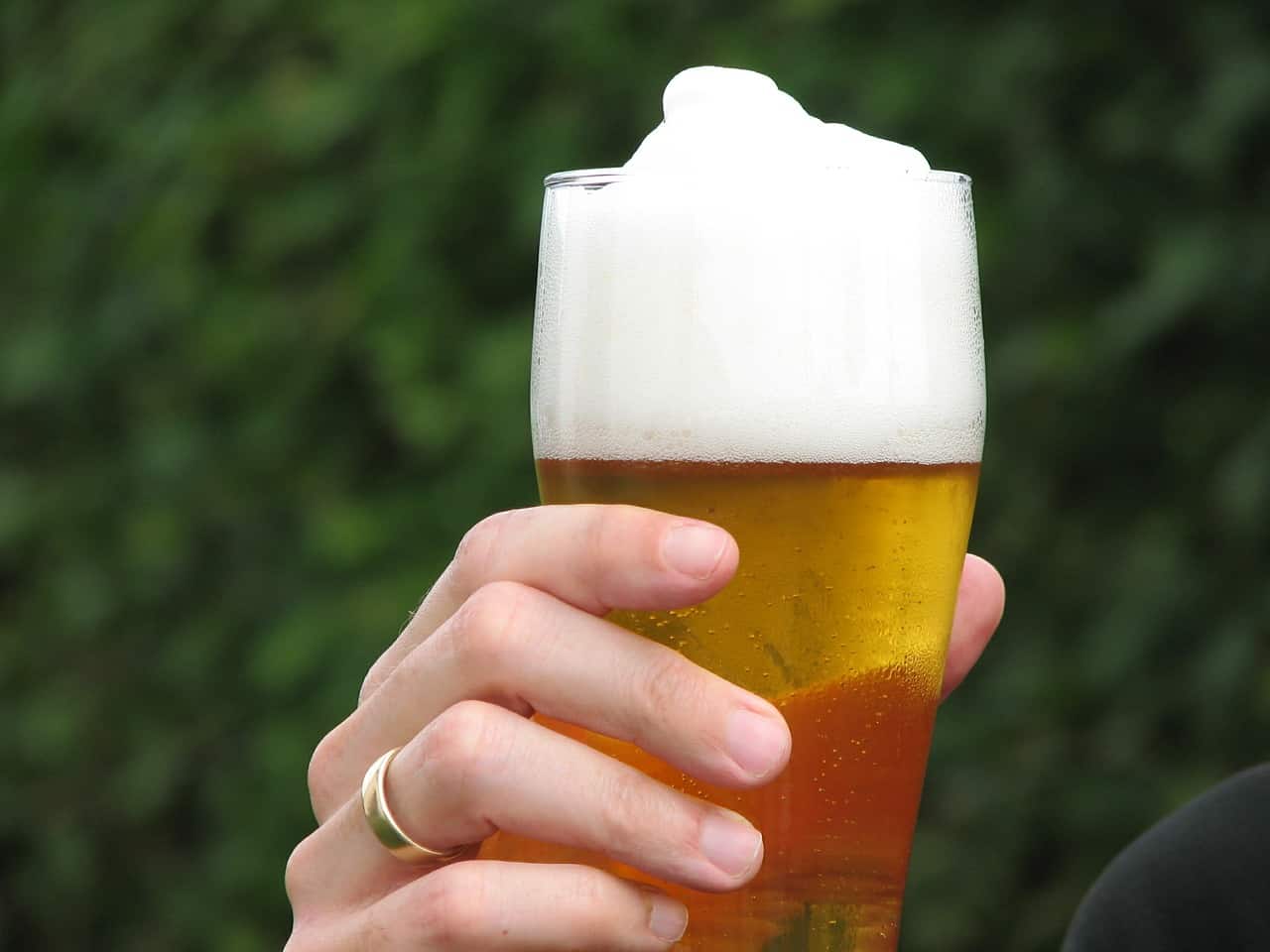 American Sour
Gold in color with a bold sour flavor from bacteria in the fermentation process

New Belgium La Folie, New Glarus Raspberry Tart

5 to 10% ABV, 15 to 30 IBU score
Lambic
Amber in color with bold sweetness from fruit used during brewing

Allagash fruit lambic, Kriek lambic

5 to 10% ABV, 15 to 30 IBU score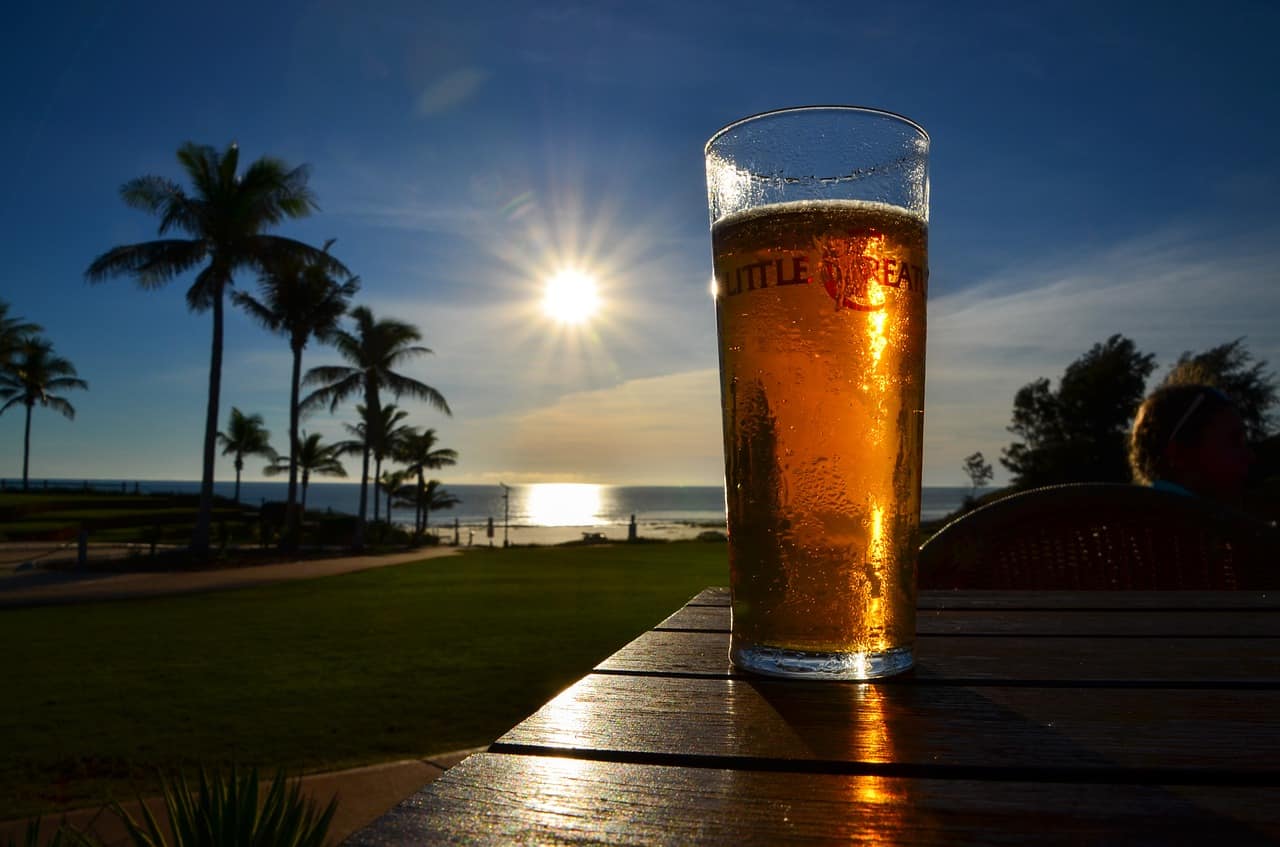 Gose
Blonde in color with sour and herbal notes

Stillwater/Westbrook gose, Victory Kirsch

6 to 12% ABV, 10 to 30 IBU score
As you can see, there's a big wide world of beer out there. Just make sure you've got some good chow to pair with your beer.
PAIR UP!
Cracking open your favorite Belgian tripel after a long week of work is great. But do you know what can be even better? Pairing that beautiful beer with the perfect grub. Beer and food have been practically inseparable since the beginning and their bond has grown stronger as more styles of beer hit the scene. So fire up your favorite takeout app, we're gonna need some chow!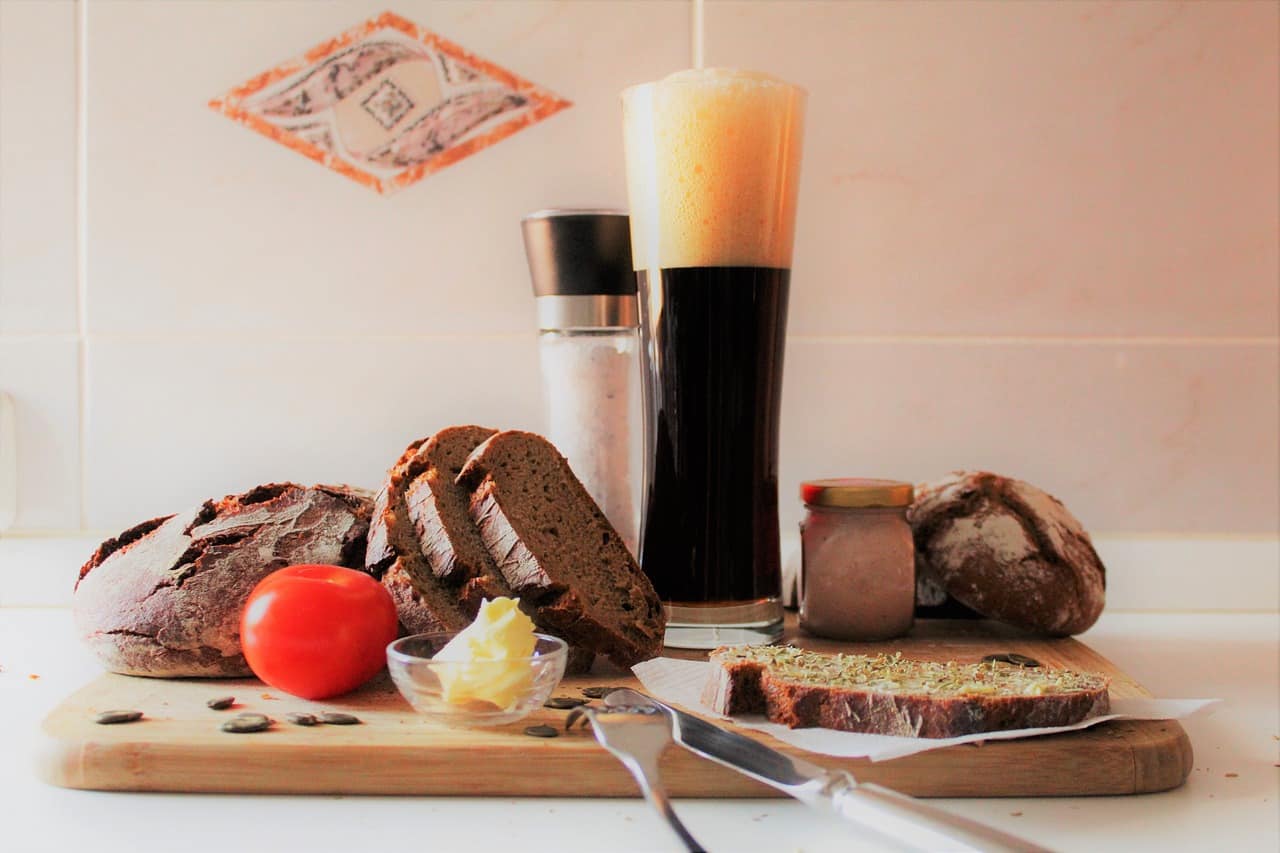 DON'T OVER THINK IT
The most common mistake people make when pairing food with different types of beer is trying to get too fancy. You don't need to spend a fortune on charcuterie to compliment a nice beer. Consider complimentary flavors like sweet and sour. More acidic styles of beer can be a nice compliment to greasy foods while full-bodied beers pair well with some spice.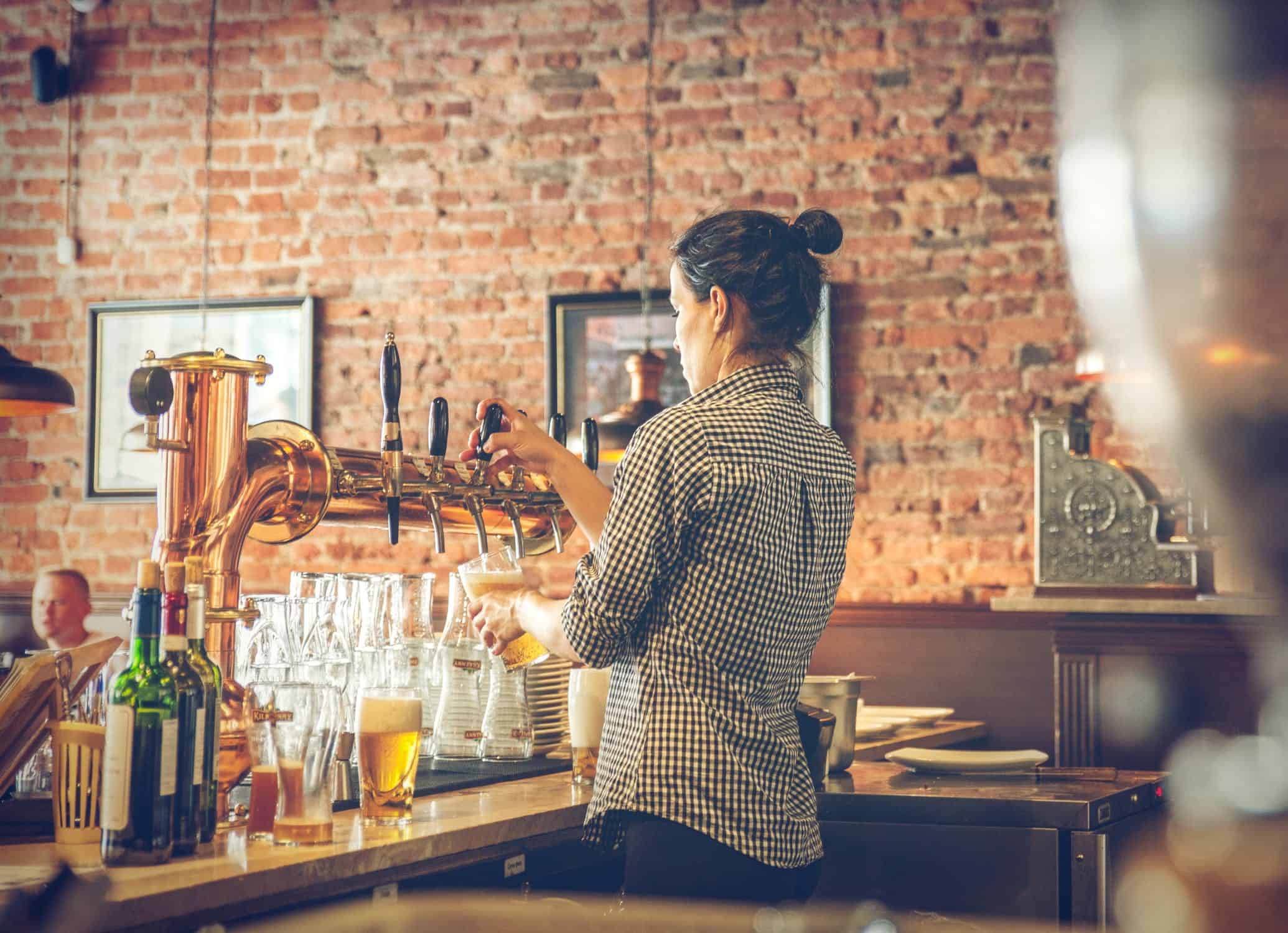 GO DEEP, GO DARK
Matching colors is also a great way to pair food with different styles of beer. Dark beers like ales, porters, and stouts can be a nice compliment to heavier dishes like stews and roasts. Also, consider cracking a dark beer as a match with fatty snacks like chocolate and cheese plates. Remember that all dark beers are not necessarily heavy but they may have the perfect taste to match your food.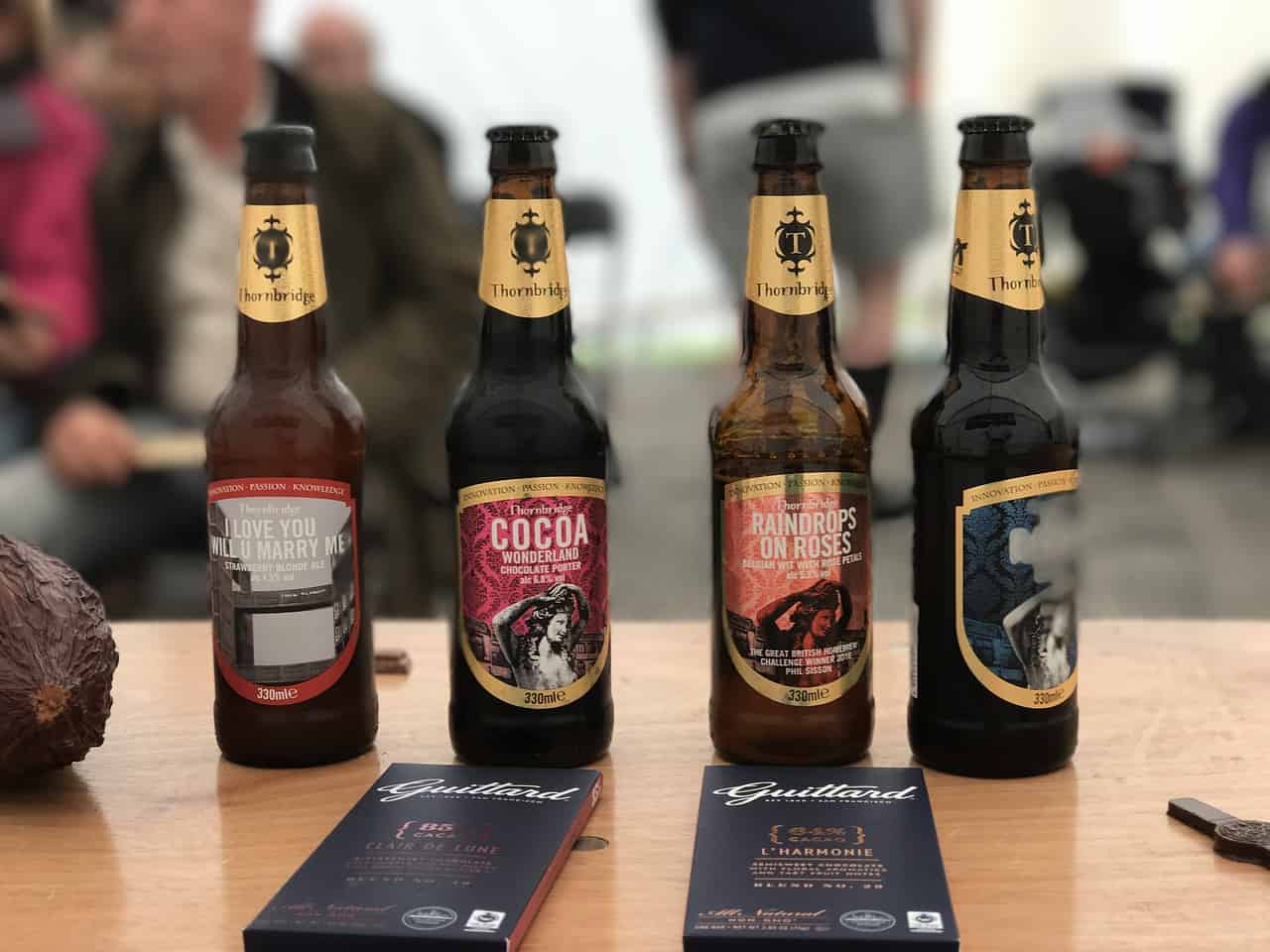 HIT THE LIGHTS
While dark beers can be super versatile with food, light beers will do the heavy lifting. The many styles of beer in lighter shades can work well with anything from grilled meats to Chinese takeout. Styles of beer with a higher alcohol content will have more flavor overall and may pair better with bold and spicy meals. For light fare like salads consider sticking to a traditional American lager. Soda pop beers have their culinary place too!
Beer is not only a perfect match for your favorite meal, but it's also good for you. We're serious!
LET'S TALK HEALTH
There's a special kind of magic that goes into the brewing and fermenting of different styles of beer. With all that science going on, it's not a stretch to believe that beer can do a lot of good things for your health. Moderation is key here, but you may be shocked at all the different health benefits hiding out in your favorite styles of beer.
DON'T GET HAMMERED EVERY DAY, OK?
Remember when we said that moderation is important? We actually meant that. The Centers for Disease Control and Prevention recommend that adult men drink no more than two alcoholic beverages a day and adult women only drink one. And that does not mean that it's cool to fill up your Big Gulp. That means 12 ounces of low ABV beer, five ounces of wine, or one ounce of hard liquor. Within those parameters, there are some real benefits . . .
GOOD COMPANY = GOOD HEALTH
One of the top health benefits you may enjoy from sipping a beer is just good company. Multiple university studies have shown that those who drink socially and in moderation tend to have more active social lives and better relationships. This can lead to improved health and a more active lifestyle throughout the aging process.
CURES FOR WHAT ALES YOU
Good times and good company aren't the only benefits may enjoy as a beer drinker. There's also a lot of magic in the chemistry of beer that can do a body good. Let's look at some documented benefits you might find while sampling your favorite types of beer.
Roll Those Stones – Beer can act as a natural diuretic. Increased kidney function can help ward off painful kidney stones.

Open Your Heart to Beer – The compounds in a nice pint can help increase your levels of HDL, or good cholesterol, to promote heart health.

Vitamin Beer – Many beers are packed with vitamin B6, which is important for hormone balance.

Stay Sharp – Flavonoids in some styles of beer have been linked with improved cognition over time.

Beer Has Flex Appeal – Athletes love beer because it's delicious. But it also has polyphenols that can aid in muscle and joint recovery after workouts.

Put These Bubbles in Your Tum – The malt used in many styles of beer has soluble fibers that can help regulate and improve gut health.

Wilford Brimley Shoulda Had Beer . . . – A compound that contributes to the bitter flavor in some styles of beer can also help control insulin levels and fight type 2 diabetes. Or diabetus, if you prefer.

Fight Those Sniffles – Some types of beer are loaded with antioxidants that can help keep the common cold at bay.

Chill Out! – Swigging on a few beers can add just enough alcohol to your bloodstream to help decrease blood pressure and lower stress.
You see? Beer is the answer to all your problems!
We're kidding, of course. All of these health benefits can easily be negated by drinking too much or too often. By let's say hypothetically you did have one too many? What then?
OH, THE PAIN. THE PAIN!
Have you ever tried a beer that was just so delicious you needed to have eight of them? Oh, of course not, neither have we . . . ahem. If you ever find yourself with a brutal hangover your best bet is to just lie low and ride it out. But there are a few scientifically backed remedies that might ease your pain.
YES, THOSE FRIES ARE A GOOD IDEA
You may not feel much like eating, but getting some carbs into your system could help a hangover. Getting drunk can easily dehydrate the human body your body may run low on carbs when dehydrated. You may feel better if you try some clean carbs like fruits and whole grains. But we're guessing you'll take the fries and that's cool too.
KEEP IT LIGHT. THE BOOZE, THAT IS
They say prevention is the best medicine and that can go for hangovers too. Alcoholic drinks with darker hues can have compounds and sugars that can make you more hungover and faster than light colored drinks. Everyone's body is different, but sticking with lighter colored drinks might give you a leg up if you actually have to get up tomorrow morning. And speaking of tomorrow . . .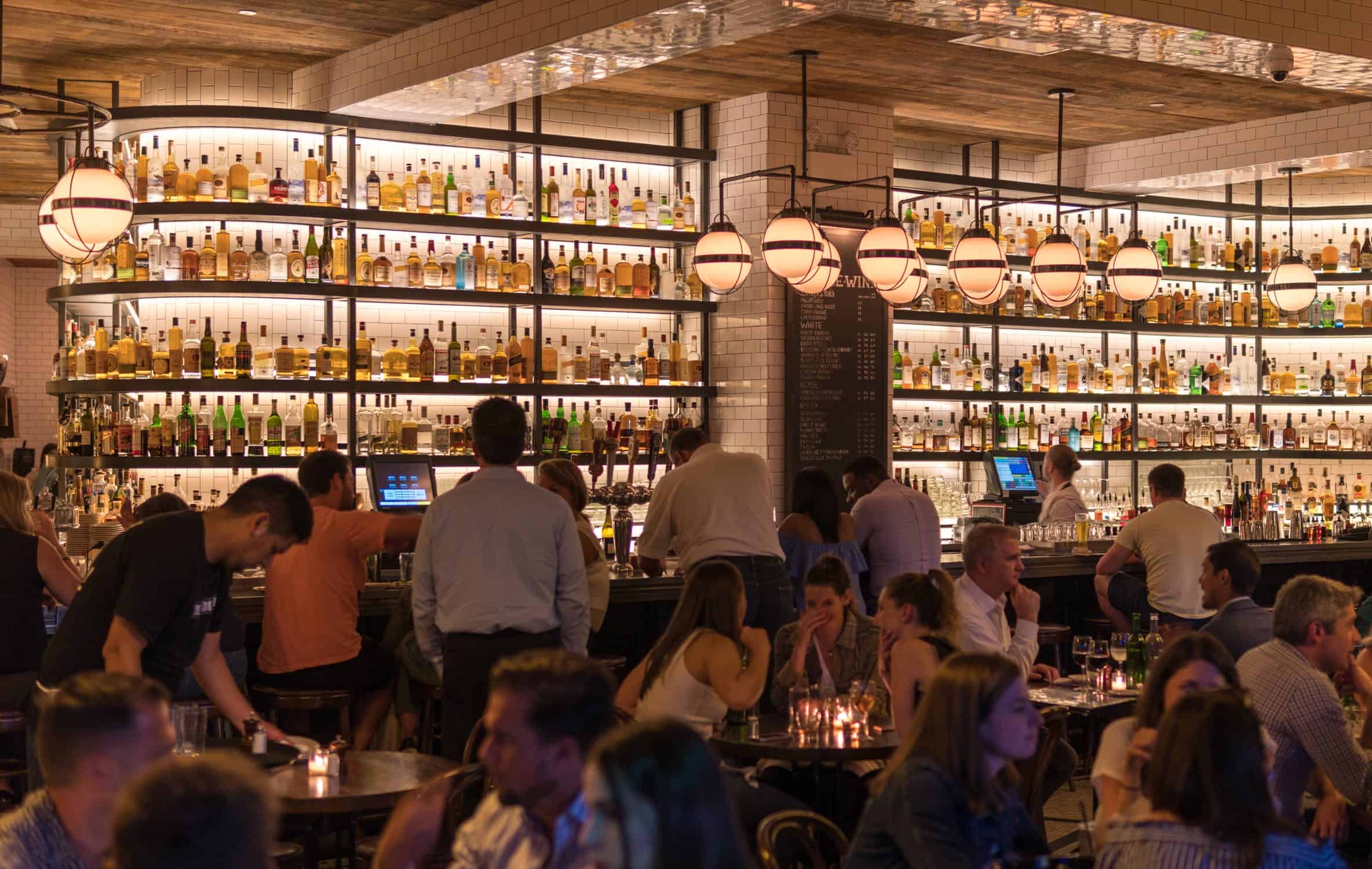 HAIR OF THE DOG? NO THANKS.
It's true that having a few drinks can ease hangover symptoms. When you're hungover, your body is essentially in alcohol withdrawal and so even a few nips of booze can make you feel a lot better. But don't do this. Chasing down the old hair of the dog is only perpetuating a cycle that the body needs to correct. May as well get over it now and move on with life.
DRINK LIKE A PRO
There are so many great types of beer in the world. We encourage you to try every single one of them. Take your time, you've got some drinkin' to do.
If you're going to start sampling the world's many types of beer, you'll want to do it like a pro. Brewers, critics, and industry experts have some very specific tasting technique to make sure they get the most from the experience. Here's you'll need to know:
Scope it out – Once your beer is poured into a glass take some time to observe the color and texture. How does it compare to other types of beer? How about beers in the same class?

Swing and sniff – Swirl the beer around in your glass. This will stir up any flavorful sediment in the glass and also create some foam at the top. Take a good, long, smell of the beer. Really get your nose right up in there. Smell is a huge component in taste and a big sniff will help excite your taste buds to help you get the most from your first taste.

Swig – Take a small to medium-sized sip. Leave room for a bit of air in your mouth when you take a swig and allow the beer to bubble up. This will further shake things up in your mouth and help you get the most from the beer.

Swish – Now move the beer around in your mother. Try to take note of all its different characteristics like sweetness, dryness, thickness, acidity, and flavors like fruit, chocolate, or coffee. Is it very bitter? These factors will vary with different types of beer.

Sava the Flava – To truly appreciate a sip of beer it must be swallowed. Unlike wines which can be spit after tasting, beer must be swallowed. This is because your tongue's bitterness receptors are way in the back. So gulp that brew down!
Now that you know how to taste beer like a pro you better get out there and find some delicious beers. But wait, how exactly can we do that?
HIT THE APP, HIT THE TAP
As we've said, this a great time to be a beer fan. There's more beer out there than ever and with the tools like blogs, podcasts, and apps, it's easier to find great styles of beer than it has ever been. Let's check out some top mobile apps that can help you find a new favorite beer in any style.
UNTAPPD
Think of this app as a social media platform for beer lovers. It allows users to find their favorite beers in bars and distributors, rate beers, view suggestions, and keep track of favorites. Once you're logged in it's easy to share your location with friends and find out where other friends are saddled up for a few pops. You can even rack up points and badges for participation. Sweet!
NEXT GLASS
The Next Glass app is like a personal beer expert in your pocket. Users build a taste profile and start telling the app which beers they love and which they don't. The app then uses a proprietary algorithm to offer suggestions based on your preferences. It's a great choice for beer lovers, but it also works for wine and cocktails. You can even check the nutritional details of your beverages before you sip.
BEER BUDDY
With this app users can access a deep pile of information on just about every beer out there. You can submit reviews, compare styles of beer, check nutrition facts, build lists of your favorites, and even look for distributors. Beer Buddy is integrated with ratebeer.com, which is a leading source for up to date info about the world's best beers.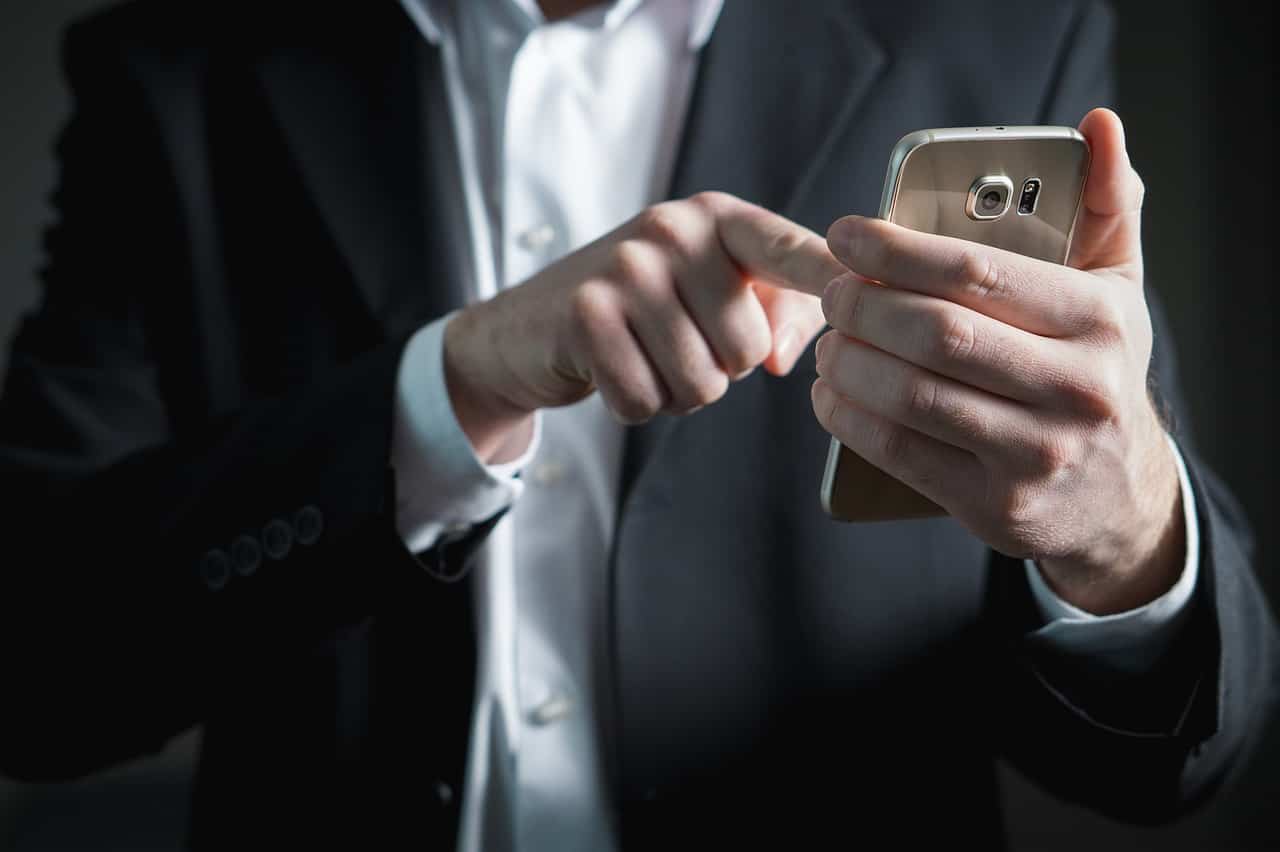 EASY AS ONE, TWO, THREE
There's a lot going on in a good pint of beer. From grain selection to fermentation, it's a complex brew that's worth some time and attention. With all the hype in the beer world these days it can be hard to know what advice is legit and what's cheap swill. When all else fails, keep these three tips in mind on your journey to becoming a beer pro.
IT'S NOT REALLY THAT COMPLICATED
Sure, it may seem like there are 50 billion different styles of beer out there, but nearly all of them are some form of ale or lager. Start by exploring one branch of the beer family at a time and you'll have far less confusion. Once you start to build a list of favorites it will be way easier to pick a tasty beer even when presented with the longest of beer menus.
ANYTHING IN MODERATION . . .
Beer is not only delicious but it can also be good for you. Seriously, how great is that news? Well, don't get too excited here bucko. Any health benefits you may find from beer are only valid in small doses. Adding an extra 3,000 beer calories to your daily diet may not be a great life decision.
YOU NEVER KNOW UNTIL YOU TRY
The world is packed with unique and delicious styles of beer. Most beer lovers have a few standout favorites but don't forget to keep exploring. Just because you had one lambic that was too sweet doesn't mean they're all that way. Keep an open mind and try as many new styles of beer as you possibly can. Your tastebuds may be pleasantly surprised.
LET'S POP A TOP!
We think that Benjamin Franklin hit the nail on the head when he famously noted that "beer is proof that God loves us and wants us to be happy." Kicking back with friends and cracking a few cold ones is a truly human experience and we think you'd be a fool to miss out. Lucky for us it's easy to find a great beer so just about any occasion these days. So order up a round, sip it like a pro, and savor the flavor of what is undoubtedly one of man kind's greatest inventions.