*This post may contain affiliate links. As an Amazon Associate we earn from qualifying purchases.
Trillium Brewing was founded by Jean-Claude and Esther Tetreault in March 2013. JC had long held an interest in beer and botany. Thus, the business is named after the trillium flower known for its beauty, strength, balance, and simplicity. It's a small craft brewery that is dedicated to using local ingredients when possible.
What Is Trillium Brewing?
The flagship location is in the Fort Point neighborhood of South Boston, Massachusetts. A large production facility and taproom are in Canton, MA, and a new brewery and restaurant are currently under construction in Fort Point. The beers are presently only available in the state of Massachusetts as per the history of beers.
Trillium is only one of three breweries based in Boston, and various beer review websites, including RateBeer and Beeradvocate.com, have given Trillium their highest ratings. Trillium is the only small craft brewery there, with Samuel Adams and Harpoon being much larger and more dominant. Despite its small size, the brewery launched 125 beers in its first two and a half years.
The Benefits of a Craft Beer
Accordingly, the Trillium Brewing craft beer has grown very popular because its small size allows it to produce any beer it wishes. The brewery favors using wild yeast and barrel aging, along with experimentation. Trillium embodies the definition of a specialty craft brewery, being small and independent. Craft beer is not mass produced beer, unlike the products of the large beer companies.
Craft breweries are more focused on improving the quality of their beer and tend to put more alcohol into their flavors than the mass market producers. Most craft beers have an alcohol by volume range between five and ten percent. Also, craft beer has more nutrients than wine, as well as soluble fiber, B vitamins (such as folate), silicon, and some antioxidants.
Talking About Nutrients
Most notably, it also has fewer calories than mainstream, commercial beer. While many people are likely to drink six 12-ounce servings of commercial beer, at 100 to 110 calories each, you are less likely to drink the same amount of craft beer because craft beer is stronger and has more alcohol.
Likewise, that means you will drink less, and you are more likely to drink slowly and enjoy your beverage. There are thousands of craft breweries in the United States alone, meaning that there is a lot of beer varieties to choose from. Often, the breweries change their beer offerings, so you are likely never to have the same beer twice.
Craft breweries often have their own taprooms where you can socialize with family and friends while enjoying beer. This also offers you the opportunity to meet the brewers. Some breweries offer tours of their facilities and samples of all their beers. Understanding these makes you more of a budding beer enthusiast.
Current Trillium Brewing Beers
Fort Point Pale Ale
This is a signature pale ale with an ABV (alcohol by volume) of 6.6 percent. Likewise, it has a fragrant nose of fresh citrus, peach, and tropical fruit, along with bold pineapple and mango flavors and dank notes of fresh pine needles and zesty citrus. It has gentle bitterness, a smooth mouthfeel, and a dry finish.
Double Dry Hopped Melcher Street IPA
This India Pale Ale (IPA) uses predominantly Mosaic hops. It has a golden orange color and a nose of orange pulp, mango, dried apricot, and passionfruit. The predominant flavors are pineapple and citrus sherbet. The beer has a delicate malt character, a gentle floral hops bite and a dry finish. Lastly, the ABV is 7.2 percent.
Uppercase Double IPA
This double IPA has an ABV of nine percent. It's been twice dry-hopped, using primarily Mosaic hops, followed by Galaxy, Columbus, and Citra. The flavors are tropical fruit, white wine, pine resin, and grapefruit zest. Then, the nose has aromas of overripe mango, passionfruit, and pineapple. The beer has a soft mouthfeel and a delicate dry pilsner malt character.
Mettle Double IPA
This double IPA uses Amarillo and Citra hops to dry hop. The beer, with an ABV of 8.4 percent, is medium bodied with pineapple, orange, mango, and hoppy dank aromas. Probably, the flavors are orange, melon, and light pineapple.
Amarillo Dry Hopped Sunshower Super Saison
This saison comprises a farmhouse ale with a light mouthfeel and a golden color. It's a dry beer with pepper and earthy characteristics. Amarillo hops are used for dry hopping, and Pilsner and white wheat malts give the beer its foundation. The ABV is 8.5 percent.
Free Rise Citra Dry Hopped Saison
This saison remains dry hopped with Citra hops and is considered one of the brand's signature farmhouse ales for Trillium Brewing. The process includes Danko Rye malts, along with Pilsner, flaked wheat, and dextrose malts. Finally, this implies a floral citrus beer that is balanced with a nutty malt character and black pepper spice. With an ABV of 7.3 percent, the beer is light bodied and has a clean, dry finish.
Spectacle Island IPA
This IPA, with an ABV of 6.8 percent, got its name after one of Boston's Harbor Islands. Spectacle Island became popularly known for farming and has walking trails, beaches, and a sea kayaking area. It also has views of the Boston skyline and surrounding Harbor Islands.
The beer has a golden orange color with a lot of haze, along with a tropical nose and ripe pineapple, Meyer lemon peel, evergreen tip, and fresh squeezed orange aromas. The flavors are tangelo pulp, yellow nectarine, and melon rind. The mouthfeel is full while the finish is soft and smooth for Trillium Brewing.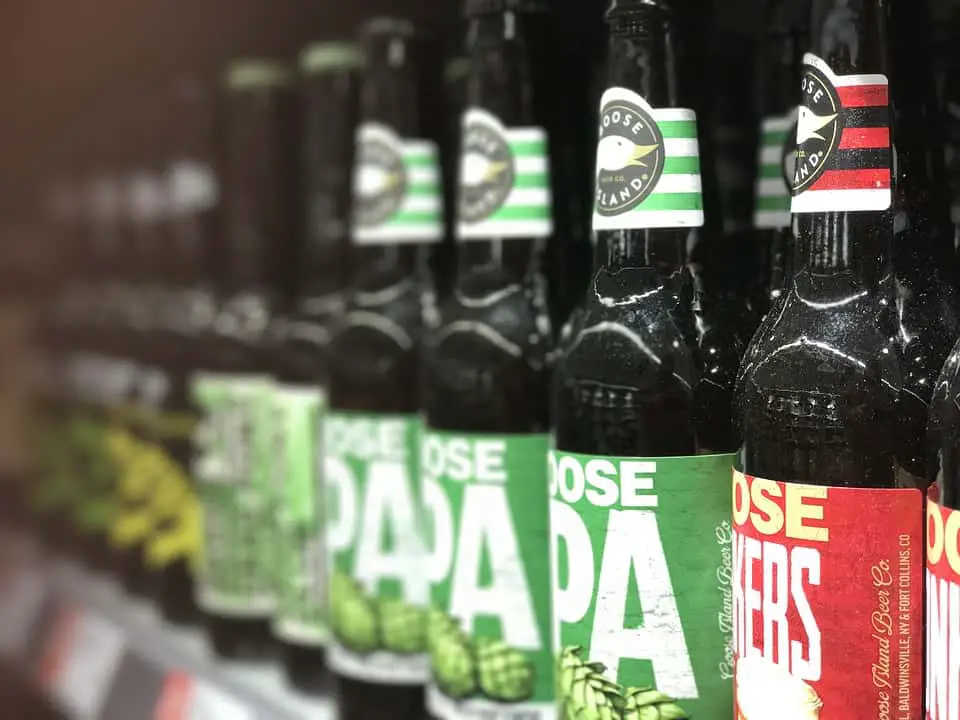 Apricot Stonington New England Wild Saison
The beer occurs brewed with Valley Malt. Makers ferment these with grape skins from the Saltwater Farm Vineyard snuggled in Stonington, Connecticut. Then, the saison ages in classic French oak Chardonnay casks for about sixteen months. The second fermentation with apricots then occurs for three months.
The color is a light hazy orange-yellow with a nose of intensive stone fruit, along with white grape, mild, yet earthy funk, and lightly toasted oak undertones. Apricot nectar, with overripe yellow peach, remains balanced with a crisp malt and oak spice flavors. The finish is semisweet, with light acidity and mouthfeel. Hence, this beer's ABV is 7.5 percent.
Double Raspberry Lineage Wheat American Wild Saison Aged in Oak Barrels
This beer from Trillium Brewing uses raspberry in a double dose and local wheat. It has a red color, raspberry, and dark cherry flavors, and some funkiness from the brand's proprietary Native New England mixed culture. Consequently, there are intense notes of tart cranberry and raspberry jam, with a floral-scented character and a light body. The ABV is 6.7 percent.
Cutting Tiles Double IPA
This beer uses Vic Secret hops, which conveys notes of pineapple and red grapefruit. Makers add raw wildflower honey in the brewing process. Even more, this DIPA, with an ABV of 8.5 percent appears big and juicy.
Permutation Series #54: Blonde Ale
The permutation signifies the Trillium Brewing brand's experimental series of small batch offerings. This beer remains light and considered as a blonde ale brewed with honey and pilsner malts. The pale straw color is slightly hazy, and there are notes of cracker and honey. The taste is herbaceous, with lemon peel and toasted wheat flavors predominating. The ABV is 4.4 percent.
Permutation Series #55: Gose With Guava, Pomegranate, Pineapple, Lime, and Orange
This gose has an ABV of 5.7 percent. It has a peach-pink color with a light haze. The nose has lemon zest, tropical fruit, and guava aromas. The flavors are fresh fruits, starting with lime, pineapple, and guava and ending with grapefruit and orange. It is slightly salty and tart.
Permutation Series #58: Double IPA With Citra and Galaxy
With an ABV of 8.8 percent, this beer uses two fruit-forward hops, Galaxy and Citra, as well as Mosaic and CTZ hops. The color is yellow straw, and there is a medium-heavy haze. The aromas are pineapple, honeydew, and orange. Most noteworthy, the flavors are citrusy from pink grapefruit and lemon zest. Above all, tangerine and melon round out this DIPA.
Why Should I Drink Beers From Trillium Brewing?
Though Trillium Brewing is a young brewery, it has quickly become one of the best breweries in Massachusetts. Fans of this beer appreciate the range of products. Certainly, Trillium brewing craft beers as known for their pronounced noses, allows you to smell the beers before you taste them. The beers tend to have light bodies and are fruitier than they are bitter.
Trillium is gaining recognition for its IPAs, even though its products are not available outside of Massachusetts. While IPAs are the most popular beers in the Northeast region of the United States, Trillium has also gained fans because they use to experiment with different hops to create the various beers and then named those beers after surrounding Boston streets.
Drink Trillium Brewing Products Moderately
Other well-received beers include now-retired beers such as the Night & Day imperial stout, the Day & Night barleywine, the double IPA Artaic (which uses 100 percent Mosaic hops and is brewed with local wildflower honey), and the Pot & Kettle classic porter. The Apricot Stonington New England Wild Saison remains an enduring favorite of the founders and brewery's fans.
Trillium Brewing is less difficult to acquire than it once was, producing beer at a run rate of around 20,000 barrels. Ultimately, it began canning its beers in 2016 to make its brews more accessible, particularly hop-forward beers. Sour, wild, and barrel-aged beers remain bottled. After this, read through an article of the world's greatest brew houses for more information.