*This post may contain affiliate links. As an Amazon Associate we earn from qualifying purchases.
The only thing better than knocking back some cold ones (or lukewarm ones, English style), is knocking them back with friends and like-minded beer lovers. So, how do you make that better? More beer, of course, as well as more friends and brew enthusiasts from the world over. There aren't many more exciting events than world beer festivals for those who love beer.
Breweries from across the nation and the world come together to showcase their passion and innovation. World beer festivals are a chance to discover a wealth of new brews you've never been able to experience before. Throw in great food, entertainment, and even educational seminars, and you've got an unforgettable alcoholic experience. Well, possibly unforgettable, depending on how much fun you decide to have.
There are a great number of world beer festivals that happen regularly across the United States, which is fast becoming the world beer capital, depending on who you ask. American self-proclaimed superiority is nothing new, and it doesn't mean that there aren't world class beer events going on in other countries. Let's take a look at some of the biggest and best beer festivals from around the nation, then go global with some worldwide festivals that are perfect destinations for beer pilgrims.
American World Beer Festivals
Here in the U.S. of A, we like to go big, but we also like to maintain our indie cred. That's why there are plenty of big beer bashes across these great states and also local, more intimate events. Whether you're trying to throw down with the throngs or relax with the residents, there's a beer even for you.
World of Beer Festival at Schwabenhof
Let's start small, with a famous beer festival out of Milwaukee. The World of Beer Festival is a smaller and more subdued even than others on this list, but it is no less interesting. It happens every year in June and attracts locals and out of state visitors alike.
Taking place at the Schwabenhof, a vintage German lounge and beer hall, the organizers offer beverages from Wisconsin and around the globe. You'll have the opportunity to try over 350 drinks including beers, ciders and even mead. These handpicked brews are some of the finest in the world, and this festival is one of the only opportunities to taste them besides flying out to their countries of origin.
If you are on the lookout for rare and unique brews to try, you can check out their Very Interesting Beer (VIB) area. If knowledge is more what you are seeking, there are presentations of beer tasting, beer history as well as home brewing. The festival only happens on one day in June, however, so plan ahead.
World Beer Festival of Columbia, South Carolina
One of the most anticipated events in Columbia, South Carolina, the World Beer Festival is a great beer destination if you are in the South in late winter. They have recently moved to the South Carolina State Fair Grounds to accommodate higher attendance and split the sessions; one is held for four hours in the afternoon and the other for four hours in the evening.
The World Beer Festival showcases beers from local craft breweries and international breweries from all over the world. The festival runners split the breweries into "neighborhoods" of similar beer types and set up a beer garden to sit and chill. This festival is a good mid-sized festival in which you can relax and taste rare and delicious beers at your leisure.
Extreme Beer Fest Boston
Let's kick things up a notch. If you are looking for a more intense beer experience, the Extreme Beer Fest in Boston is right up your alley. Here, festival runners showcase "the ultimate throwdown of craft beer creativity." Here you'll find some of the wildest and most experimental brews in existence.
Besides the break from the norm, this festival also provides rare beers from around the nation. All in all, there are over 300 brews on offer. You could walk in a novice and step out a (drunk) beer aficionado. To top it all off, the festival is hosted by Beer Advocate, one of the most trusted names in craft beer, so you know they know their stuff.
Great American Beer Festival, Denver, Colorado
Let's go west and check out one of the older big beer festivals in the states. The Great American Beer Festival offers some of the best beers in the nation and the world. With over 3,000 beers on offer, it is virtually impossible not to find something you love. There's a reason this beer festival has been going strong since 1982.
If you need a break from the beer, you can take in some of the fine food available, or take a home brewing class and learn how to be your own brewer. Then, watch the many brewing competitions and cheer on the winners. Once you know which breweries are the best, you can then go and try more of their beer!
Seattle International Beer Fest
For the perfect combination of delicious local craft beer, extreme brews, international rarities, good food and good times, the Seattle International Beer Fest is the place to be. Taking place in the shadow of the Space Needle in the heart of the city, these three days in early July are not to be missed. Over 200 world class beers are available, in great amounts, from all over the globe.
Seattle has some of the best international food in the country, so you won't be waiting for a good base to drink on. Live music will also keep you entertained throughout the day. Best of all, perhaps, is the many animal charities that attend each year because the festival donates a portion of the proceeds to them every year. There are furry friends all over the festival!
International Beer Festivals
Road trips for beer fests are great, but if you are looking to make a pilgrimage to world-class beer festivals around the world, there are a few that you simply must attend.
Great Australasian Beer SpecTAPular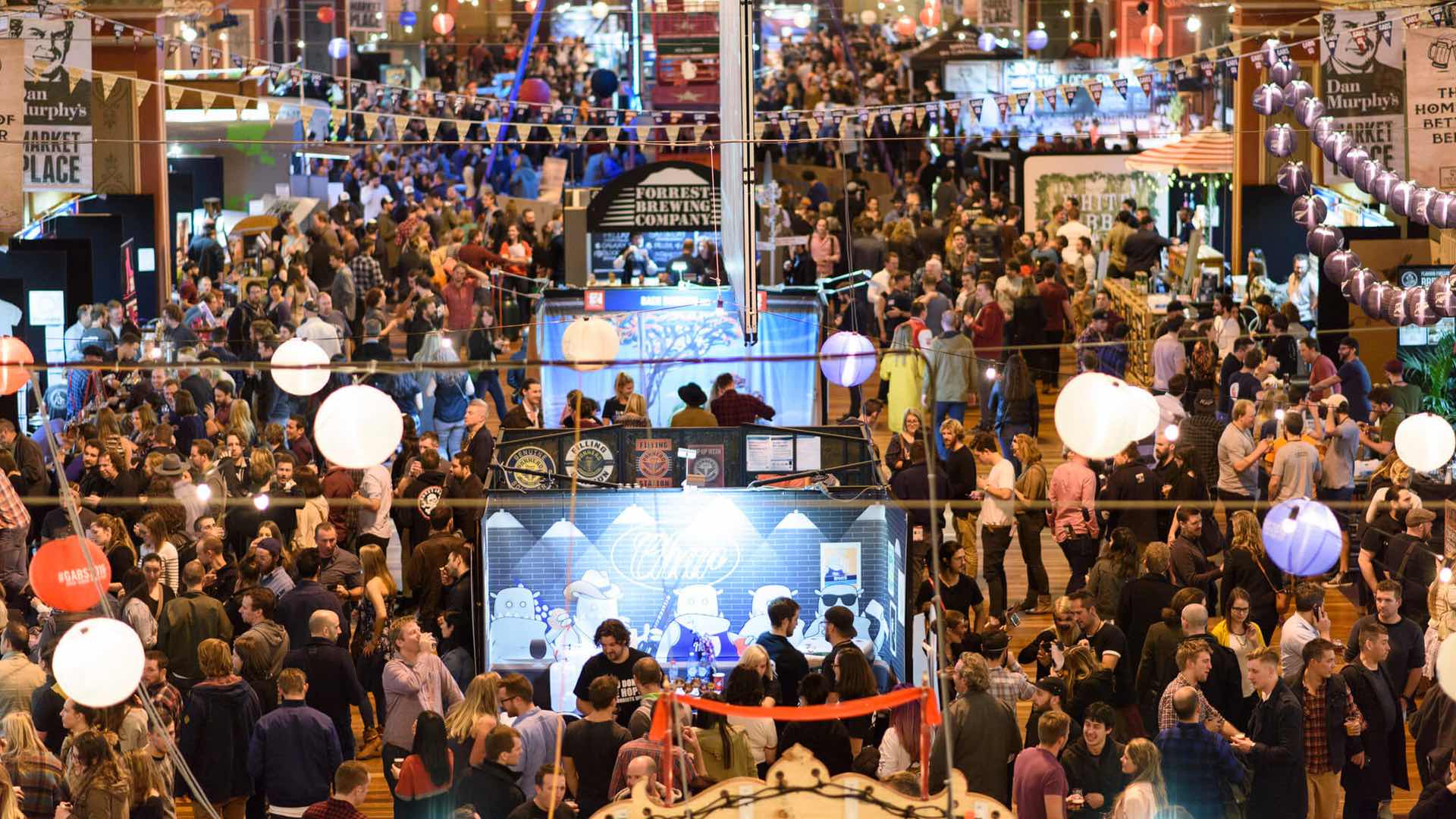 Known lovingly as GABS, this festival takes place down under in Sydney and is widely regarded as the nation and region's biggest and best fest. Showcasing hundreds of ciders and beers from across the continents, this festival has brews that you literally cannot find anywhere else.
Of course, no festival is making a "best of" list on just beer (although that is the most important part). The GABS is chock to the gills with activities, events, food, awards and educational talks. All this and the opportunity to get sloshed with some Aussies on some of the best beer around; what's not to love?
Keyaki Hiroba Spring Beer Festival
This may not be the biggest or most international beer fest on the list (only Japanese beers are on offer), but it will still send your indie beer snob cred through the roof. Japanese craft beer is on the rise, yet it is difficult to get it outside the country. This festival in Saitama is the perfect solution; hundreds of Japan's best beers together in one, beautiful venue.
Imagine sipping some of the rarest craft beers in the world under a peaceful cherry blossom tree. Then imagine getting housed with Japanese businessmen who love nothing more than unwinding with a good brew. An exotic experience you are sure to enjoy.
Belgian Beer Weekend
If you are looking for more idyllic drinking, the Belgian Beer Weekend is one of the most cultured and refined festivals around. Taking place in the Grand Palace of Brussels, this festival will let you sip some of the finest and oldest brews on the planet all while surrounded by ancient gothic architecture. Trappist ales, artisan saisons, sours, and porters are all available to help refine your palate.
Oktoberfest
The beer lover's Mecca. No beer festival comes close to Oktoberfest in terms of size, energy and metric tons of fun had. Millions of people come from all over the world to taste to finest German beers and most delicious German food. For 16 days in October, the nation is absolutely soaked in beer.
Every brew enthusiast should visit Oktoberfest at least once in their lives. And I'm not talking about the many satellite and copycat events around the world, although those are great too. There's simply nothing quite like boozing in a huge beer pavilion and steadily amassing a forest of enormous (empty) beer steins while getting full on pretzels and wurst. It's so fun you'll even grow to love German.
Some words of experienced advice, however. Bring plenty of Euros in cash; it's only once a year, so why not? Also, check what time the beer gardens and pavilions open and get there early; not on time, hours beforehand. You're going to want to sit, and that's not going to happen if you get there late. Ladies, be prepared for LONG bathroom lines; do what you have to and bring what you need to.
Also, emergency room visits are free for tourists in Germany. Don't let your American fear of uninsured hospital visits scare you into avoiding medical care for your sprained ankle that you got jumping after a unicorn balloon you spent 10 Euro on.