*This post may contain affiliate links. As an Amazon Associate we earn from qualifying purchases.
Although Blue Moon is a craft beer, what defines its unusual flavor? Here's a detailed Blue Moon beer review and factors that make it unique.
You've probably tasted various brands of beers, each with a distinct flavor. While you may opt for drinks from major brewers like Bud and Miller, you may want to try Blue Moon. You may have come across Blue Moon Beer at a local bar, restaurant, or a supermarket.
However, if you've never read a Blue Moon beer review, you may be curious about what sets this beer apart. Below is a detailed Blue Moon beer review, and a look at what makes it unique.
WHAT ARE WIT BEERS?
Wit beers, or witbier, have a deep golden to pale straw color. They have a 4-5% alcohol by volume. The unfiltered beers combine flavored wheat beer with flavorings from coriander, Curacao orange peels, and other spices.
The style has its origins in Belgium. Lately, more and more companies in the U.S. have started to manufacturer beers as a summer seasonal.
WHAT IS BLUE MOON?
Blue Moon is a Belgian-style white beer by the Molson Coors Brewing Company. Keith Villa first introduced the beer in 1995. Back in the day, Blue Moon Beer was Bellyside Belgian White. Although the beer is an example of a Belgian beer, Molson Coors makes it in the United States.
The Blue Moon Belgian White is a type of Belgian witbier style, unfiltered, packaged, and with a coriander and orange peel flavor. By 2009, Blue Moon has become the largest craft beer brand in the United States. It was the first company to introduce consumers to different Belgian styles of beer
Although there were four beers namely Honey Blonde, Belgian White, Pumpkin Ale, and Nut Brown, these were discontinued to concentrate on Blue Moon Belgian White, which is the company's best seller.
The name, Blue Moon came into existence from the assumption that excellent-tasting beers only happen once in a blue moon.
The beer has 5.4% alcohol volume, and it's available in kegs, bottles, and cans. Blue Moon grains include white wheat, malted barley, oats, coriander, and orange peel. The company brews blue moon in Golden, Colorado and Eden, North Carolina.
The phrase Belgian White refers to the cloudy white beer brewed in Belgium for over 300 years. The ale uses oats and malt wheat in the brewing process. With the process being unfiltered, the yeast and protein are suspended in the beer to create a cloudy appearance. The cloudiness also contributes to beer smoothness.
BLUE MOON SPECIFICATIONS
Manufacturer: Blue Moon Brewing Co (Miller Coors)
Packaging: Bottle
ABV: 5.4%
Style: Witbier
PRICE OF THE BLUE MOON
A six-pack of blue moon costs roughly $13.
HOW BLUE MOON COMPARES TO OTHER WHEAT BEERS
Below is how Blue Moon performs when compared to different beers on the market.
ALLAGASH WHITE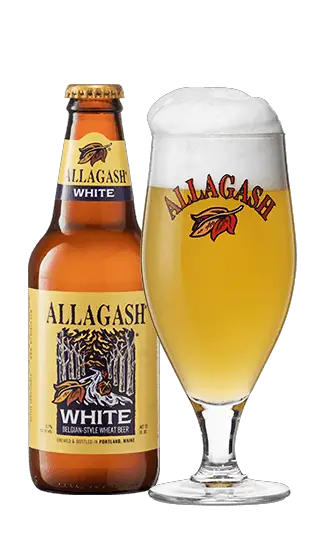 Rob Tod, the founder of Allagash White, came up with this beer in 1994. Its long slender glasses and witbier are ubiquitous in the New England Market. The beer, like Blue moon, mixes wheat spiced with Curacao orange peel and coriander. However, the founder admits that consistent brewing using this recipe can be difficult.
Allagash White has a 5.10% alcohol by volume. It's been a favorite getaway beer for many. Blue Moon and White shares similarities in their aroma and lightness of body, but Allagash White has a subtle clove aroma and lemony brightness that makes it inviting and fresh.
You'll notice the flavor goes right down the Belgian witbier road with a restrained orange peel and a squeeze of lemon up the sip. In spite of these flavors, once you've swallowed, you're left with a touch of citrus.
Allagash White is available in most states like Connecticut, Philadelphia, Washington D.C, North Caroline, Georgia, Virginia, etc.
Manufacturer: Allagash Brewing Company
Packaging: Bottle
ABV: 5.10%
Style: Witbier
HARPOON BREWERY UFO WHITE
UFO Whi​​te is another excellent choice for a night out with friends, a summer barbeque, or those times you need to taste something different. Like Blue Moon, UFO White has an orange flavor coupled with raw, grainy wheat. It's woody, piney, and flowery blend makes it unique.
Harpoon Brewery first introduced UFO in 2009, unlike Blue Moon which was in 1995. A six-pack costs $8.99.
However, unlike Blue Moon that maintains its body, UFO White has low carbonation, and the body quickly drops. Moreover, it's somewhat thin and dry, something that Blue Moon wins in. The unfiltered version has a natural appearance and taste.
It has 4.8% alcohol by volume. You'll love the texture, and the fact that it's content balance is natural on the palate. Although UFO White may not be extraordinary, its style is worth checking it out.
Manufacturer: Harpoon Brewing Company
Packaging: Bottle
ABV: 4.8%
Style: Witbier
HOEGAARDEN
Hoegaarden beer is a natural cloudy white beer that is light bodied. Like Blue Moon, it comes seasoned with Curacao orange peel and coriander. It has a spicy dry finish, a fruity sweetness, and a Belgium yeast aroma.
The difference between the two comes in their production. Blue Moon is brewed in Colorado, while Hoegaarden is a Belgium product. Belgium is a pro and the pioneer of the craft beer style.
Also, some people find Hoegaarden watered down, and prefer Blue Moon which is flavorful and tasty. Nonetheless, a few people find Hoegaarden lightness perfect for all night drinking, unlike Blue Moon.
With the first sip, you'll notice each of the above flavors and hints of tart and zesty lemon. While the scent is present in the taste, it's subdued resulting in medium carbonation and light body. Remember that you need to take the beer with a meal that won't overpower it. A pre-meal salad would be an excellent choice.
Manufacturer: Hoegaarden Brewing Company
Packaging: Bottle
ABV: 4.9%
Style: Witbier
SHOCK TOP
Shock Top is another Belgian-style wheat beer that is a top competitor to Blue Moon. The beer by Anheuser-Busch InBev has been in operation since 2006, features distinct coriander, and orange peel flavor.
Unlike Blue Moon, Shock Top adds lime and lemon to the concoction. The award-winning Belgian beer is unfiltered; this results in a naturally cloudy brew with a smooth and light golden color. Some users thought that the beer would be better with a residual sweetness and crispiness.
Manufacturer: Anheuser-Busch InBev
Packaging: Bottle
ABV: 5.4%
Style: Witbier
Oberon Ale
Oberon Ale features a spicy year and lemony citrus aroma. Most people find its zingy finish and a touch of sweetness refreshing. You'll notice that each sip gives you a soft, yet smooth texture as it sits in the glass.
While Blue Moon has a 5.4% alcohol by volume, Oberon Ale has a 5.8% ABV. Its complex flavor and alluring color make it an excellent summer beer. You'll love the citrus character and smooth finish that is perfect with grilled fish or a hotdog when relaxing.
However, it's a decent amount of carbonation make the Blue Moon a top contender in craft beers. Oberon Ale retails at $10 for a six-pack, which is slightly less expensive compared to Blue Moon which retails at $13 for a six-pack.
Nonetheless, Oberon Ale is exceptionally well-crafted and drinkable, making ideal for summer.
Manufacturer: Bell's Brewery
Packaging: Bottle
ABV: 5.8%
Style: American Pale Wheat Ale
Pros and Cons of Blue Moon Beer
Some of the advantages of Blue Moon include:
Unique Taste- Blue Moon taste is unmatched when compared to other craft beers in the market. Some people find different wheat beers watery, unlike Blue Moon which has a delicious, flavorful, and spicy flavor. Its frosty orange color makes it refreshing and unique.
Versatile and Diverse-although there are overlaps in craft brews styles, you can easily pick out blue moon because of its quality and flavor. Take an experienced beer drinker to any bar, blindfold him, and he'll be quick to point out Blue Moon due to its distinct taste.
Some of the disadvantages of the Blue Moon include:
The Cost-Blue Moon is a bit expensive compared to other craft beers in a six-pack. Blue Moon retails at about $13 for a six-pack. However, the cost of Blue Moon is a replica of its quality. You can be sure you're getting value for the extra buck.
Availability- Sometimes you may find it challenging to get a Blue Moon on an impromptu beer run. Also, the distribution networks may not be as vast as those living close to the brewery may. However, the company is working on improving its distribution channels to fill these gaps.
CONCLUSION
We hope that the Blue Moon beer review has offered you an overview of what the beer contains, and why it's a favorite with most beer lovers. The Blue Moon beer from Coors has been in the market for over 20 years and remains to be a great style of beer.
With its distribution in over 25 countries, you can be sure to grab your favorite beer at your local bar or restraint. Its unique orange peel and coriander flavor make it a top Belgian-style craft beer in the market.