*This post may contain affiliate links. As an Amazon Associate we earn from qualifying purchases.
Are you on the search for the best cheap beer out there? Are you looking for just one thing when it comes to the beer you drink – affordability? There are thousands and  housands of beers on the market these days, and it can seem impossible to sort through the bad tasting, overpriced, and overmarketed brands. With this cheap beer guide, you will never have to search for the best cheap beer brands out there again!
comparison table
Here we will break down and explore the wide and tasty world of beer, specifically, cheap beer. How did we come to these decisions, you ask?
HOW WE CHOSE OUR RATINGS
When we choose our top picks for a popular product online, especially such an important purchase like the best cheap beer, we search for one key factor: transparency. We only choose products that offer a completely transparent purchase, from the time you click search in your Google bar to the moment the product arrives on your doorstep or when you purchase it at the supermarket. We value your opinions and finances and take the proper steps to ensure our best of's truly are that —the best of.
Other key factors we considered when composing this list are previous customer reviews (product history), the product quality in correlation with the price (value for cost) and the company's track record (customer service). We hope this list provides you with accurate, well-thought out and valuable information to assist you in finding the perfect fit in the best cheap beer for your tastes.
THE 10 BEST CHEAP BEERS
Any beer drinker knows that beer does not have to be expensive to taste good. In fact, America has produced and created some of the most delicious and affordable beers available in the world. Although you probably have heard of the majority of the beers on this list, we hope a few names are new to you and offer a bit more variety for beer drinking on a budget.
Established in Milwaukee, Wisconsin, in 1844, Pabst Blue Ribbon has been producing their highly affordable American lager practically as a food staple for Americans over the age of 21. The beer was originally called Best Select until the name was changed to Pabst Select, and then to its current name due to the blue ribbons tied around the bottleneckbetween the years 1882 and 1916.
PBR, as it is aptly referred to, is one of the most celebrated light American lagers of its time and is especially fond of the lifestyle of people deemed "hipsters." The typical twelve-ounce Pabst Blue Ribbon beer can contains 144 calories, 12.8 grams of carbohydrates, and 4.74% alcohol by volume (ABV).
Ah, Coors Light, the American light beer that is as "cold as the Rockies." This "cold as the mountains" beer is iconic for its "Cold Certified" logo of mountaintops that turn the label from white to blue when the beer's temperature is lowered to 39 degrees Fahrenheit.
Coors Light is brewed in multiple locations in the United States, but the primary brewing location is in the beautiful Golden, Colorado. This beer is both delicious and cheap. It is considered high on the list of best cheap beer because it is just so darn cheap. It sits in a class with "big three" beer competitors: Bud Light and Miller Lite, which will both be discussed further down the list. The three of these beers are referred to sometimes as the "big three," and we think that if you are going to drink one of these cheap beers, Coors Light is your best option.  
Of course, we are also privy to Bud Light. Not because of the taste, but because of the cheap factor this beer giant offers its drinkers. The beer was introduced nationally in 1982 and is brewed with malt and hops ratio different from the company's prize beer, Budweiser (also on this list). Brewed by Anheuser-Busch based out of St. Louis, Missouri, Bud Light is made with a blend of premium aroma hop varieties, both American-grown and imported. Bud Light is known for its supreme drinkability that brings a wave of refreshment and satisfaction to the drinker, making it one of our favorite best cheap beers available today.
The beer is definitely one of the better-known light beers out there, especially when it comes to cheap and affordable beers.
We decided to keep the big three together and add Miller Lite next in line of the list of best cheap beer. The giant beer company MillerCoors has been producing this legendary American light pale Lager since the sixties when it was originally marketed as "Gablinger's Diet Beer." The beer is said to be one of the first diet or light beers in creation and was invented by a biochemist named Joseph L. Owades working for New York's Rheingold Brewery.
The beer has been widely praised for its ability to be enjoyed all day long without feeling full. Miller Lite has always been a huge competitor of both Bud Light and Coors Light, and it is just a little bit pricier than the other two.
While we are at it, we are going to discuss the wonderful cheap beer that is Miller High Life. Brewed in Milwaukee, Wisconsin, by Miller Brewing Company, Miller High Life is famously known for being the champagne of beers. When Miller High Life was  ntroduced in 1903, no one had ever seen something so fancy in regards to beer.
Miller High Life was bottled in glass and presented as a big, bold, bubbly beverage meant for luxury. The beer's signature champagne-shaped bottle with sloping shoulders has made the beer iconic and actually makes you think you are drinking a more expensive beer when you are drinking it. The glass has always been clear to demonstrate just how pure and high-end the beer really is.
Since 1939, the Tito Brothers, owners of the Latrobe Brewery, made a decision that they wanted to branch off from the mainstream and create their own beer. This beer turned out to be Rolling Rock, a beer widely celebrated for its dynamic taste and cheap price tag.
Rolling Rock uses the simple and traditional ingredients of water, malt, rice, hops, corn, and brewer's yeast, throws it in a bright green bottle and sells its unique taste at unprecedented rates. In 1994, the brewing reached its one million barrel mark breaking records at the brewery for production and capacity. The brewery even incorporates a fun and extremely unique piece of mysterious showmanship for its drinkers with its "33 mystery" beers. Every bottle of Rolling Rock comes with a "33" on its back. Nobody knows exactly what the 33 means, but there sure are many different theories.
It would be a travesty for a best cheap beer list to not include Budweiser, one of the cheapest and most famous in the American light beer category. Budweiser is most fondly known as "The King of Beers," and the history of the beer dates back to 1876. Adolphus Busch and his cunning ability to run a successful beer business created one of the most successful beer brands of all time.
The Budweiser bottle has remained almost the same since its introduction in 1876, featuring the Budweiser bowtie logo with the coat of arms. The beer is light-bodied with faint sweet notes and negligible bitterness and has been chastised for its blandness, although this is not clearly demonstrated in the beer's ability to be one of the most widely sold beers in American history.
Busch beer is made with the finest ingredients, including a blend of premium hops, exceptional barley malt, fine grains, and crisp water. The result is a refreshingly smooth taste with an easy finish. A twelve-ounce can of Busch beer contains 114 calories, 6.9 grams of carbohydrates, and 4.3% ABV. The beer was first introduced in 1955 as Busch Bavarian Beer, but the brand name was changed in 1979 to its current title. The pale ale is definitely at the top of the list when it comes to its price and this might be why the beer is Anheuser-Busch's second most popular brand.
Better known as Natty Light, Natural Ice might be the cheapest beer of all the cheap beers. It really is lacking in flavor and out of all of the American light beers, it tastes the most like water. Natural Light is a reduced-calorie pilsner style beer produced by Anheuser-Busch. The ingredients include water, barley malt, cereal grains, yeasts, and hops, and each twelve-ounce can contains 95 calories, 3.2 grams of carbohydrates, and 4.2% ABV.
The beer was originally created to compete with Miller Lite's 96-calorie content light beer and was the Anheuser-Busch's first widely distributed light beer, followed by Michelob Light and Bud Light. The name was shortened from Anheuser-Busch Natural Light to Natural Light after the beer was reformulated to have a similar taste but slightly fewer calories.
BUYER'S GUIDE: WHAT MAKES A CHEAP BEER CHEAP?
Being among the best cheap beers in the nation is no easy feat. The highly sought-after classification of best cheap beer requires that a beer both taste cheap and also come complete with a cheap price tag to match. Although there are many cheap beers out there, there are some that just pop into your head when thinking about the best cheapbeers available.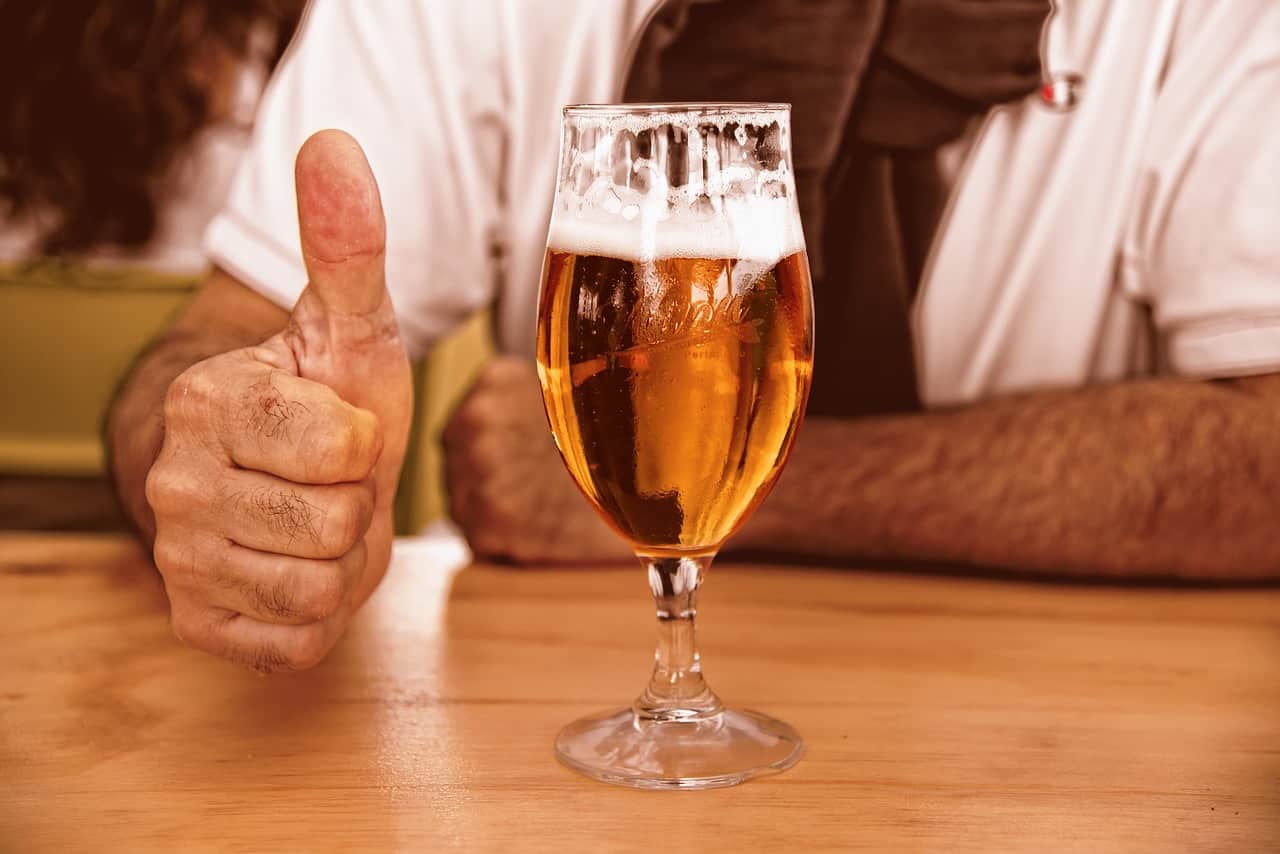 image via Pixabay
This is precisely what this list contains – the best cheap beer accessible for purchase today. All of these beers are priced at under one dollar a beer and in most cases, closer to .60 cents a beer. If you are looking to drink beer on a budget, do yourself a favor and head to your local beer dealer today for a case of one of these terribly cheap beers.