*This post may contain affiliate links. As an Amazon Associate we earn from qualifying purchases.
You've probably seen a number of beers labeled "Oktoberfest" around Fall, but have you ever wondered why? Is it just a seasonal delight with ingredients like a pumpkin being more readily available, or is there a deeper meaning behind this annual brewing tradition?
Oktoberfest beer finds its roots deep in German history, where modern-day hop brews originated from in 1150. While beer is undoubtedly a staple of the tradition, the event itself is actually one of the world's largest folk festivals. With over six million visitors making their way to this event each year, it has become somewhat of a Mecca for beer drinkers around the world.
What Is Oktoberfest?
Oktoberfest is a festival that takes place over the course of two weeks, held in a meadow just outside of Munich. The weeks are filled with parades, fairground rides, and a celebration of German culture. You'll find individuals dressed in traditional Bavarian clothing munching on oxen, grilled sausages, and giant pretzels.
Much like the 4th of July celebrates American culture, Oktoberfest is a national holiday that bolsters pride and love for the rich culture that has resided in this area since recorded history. It takes place in September and October at varying dates each year. If you're planning on attending this time around, make sure to book your reservations and travel accommodations well in advance.
Origins and History
Oktoberfest, Munich, started in 1810 as a celebration honoring the marriage of Crown Prince Ludwig of Bavaria and Princess Therese of Saxony-Hildburghausen. The original event lasted a full five days as the people of Munich were encouraged to eat and drink their fill. Musicians played throughout the night, firearms displays drew in crowds, and horse races kept the populous entertained.
Everyone, including the royal newlyweds, had such a great time that they decided to hold the festival again each year afterward. Soon, the festival grew to include the entire country instead of just Munich. While the festival has been canceled during individual years due to war or other critical issues, 2018 will mark the 210th annual celebration.
What Happens?
Oktoberfest, Germany, is held all around the country. However, the main proceedings take place in the original meadow in Munich from all those years ago. Opening day kicks off with a colorful parade and the tapping of a beer keg by the town mayor.
Aside from eating and drinking, the parade continues at various points throughout the two weeks with costumes, riflemen processions, and an open-air big band concert. Vendors sell everything from pretzels with beer cheese to full-course meals featuring oxen and chicken. Several locations are also open during the event, including the massive Haufbrau brewery and beer hall.
Most of the festival takes place both on the streets and in massive tent structures complete with wooden tables and benches. Several tents feature more than one level, with come capable of accommodating up to 10,000 visitors.
There are over a hundred carnival attractions ranging from rides to fun games, and plenty of interesting sights to see while visiting Munich during this time. The best thing to do is roam around from tent to tent, trying the various dishes and beers available.
When Should I Go?
When is Oktoberfest? Check online for the current year's dates, then plan your travel accordingly. Festivities are held from 10:00 am to 10:30 pm on weekdays and from 9 am to 10:30 am on weekends. You can expect a much larger turnout during the weekends, with most locals stopping in during the week to avoid touristy crowds.
Keep in mind that the event lasts for two whole weeks. While it isn't necessary that you attend the entire festival, different parts of the parade do happen on specific days. To make sure you're there for the things you want to see, make sure to check out a calendar of events.
You might also want to book your place in a tent. You can always walk in and grab a seat, but the tents can be incredibly packed. Booking ahead ensures you have a seat when you want one while letting you get to the foods you want to eat.
Should I Dress Up?
You will see hundreds of thousands of people in traditional lederhosen and dirndl. However, no one is required to wear an outfit for the event. Feel free to join in on the fun if you would like, but you don't have to wear anything special to enjoy the festival.
What To Do While You're There
Given the size of this event, there's a lot to take in even with two weeks to do so. Here's a comprehensive guide to making your first trip to Oktoberfest a memorable one.
The Tents
While you will probably be tempted to hit the Haufrbau tent, and you should, it is highly recommended to try out as many tents as possible. Each has its own set of traditional stylings such as instruments, and some have unique features like beer gardens.
Tents vary significantly in size, with the Schottenhamel seating 10,000 and the Glockle Wirt accommodating just 98 people. Each has their own food and beer selection for the brewery they represent. For instance, the Hackerbrau tent will have a different choice than the Winzerer Fahndl.
For the best experience, walk around from tent to the tent while trying out different beers. When you get hungry, dig into some delicious traditional foods.
The Beer
There are three main brews available are Augustiner, Paulaner, and Spaten. Each is Munich-based, and offer a wide variety of stylings from Pilsner to Lager. Whatever your tastes are, there's a beer here just for you.
Each beer is served one liter at a time. That means you won't find any pints or jugs during your trip. While that might sound like quite a lot to drink at a time, it gives you the opportunity to walk around and enjoy the festivities without continually having to refill your mug.
It's a good idea to pace yourself, but don't feel bad if you end up joining the masses and going a bit overboard. Water is available once you've had your fill, or you could opt for a beer and lemonade mixture called a Radler.
If beer isn't your thing, then there is always the wine tent. Weinzelt has over 15 different wines from Germany as well as sparkling wine and champagne. Bodo's Café also serves up coffee, cocktails, and pastries.
The Food
There's no lack of fantastic food at this festival. You'll find half portions of roasted chickens, giant pretzels, and bratwurst on nearly every corner. Other plates include pork knuckles, fresh smoked fish, and all sorts of gingerbread creations.
Should you find yourself hungrier than you've ever been in your life, and you probably will after all of that beer, then head over to the Ochsenbraterei. They serve heaping portions of fresh ox roasted on a spit.
Non-Drinking Activities
It comes as a surprise to many that Oktoberfest is aimed at families as much as it is beer enthusiasts. You'll find all sorts of carnival-style attractions from old-fashioned merry-go-rounds to rollercoaster rides like the Hollenblitz and Teufelsrad.
Several tents feature singing and dancing from modern hits to traditional stylings. Live bands can be found throughout the streets, museums are open for business, and there is an abundance of shopping options available as well. You don't have to drink to have a good time, but it helps.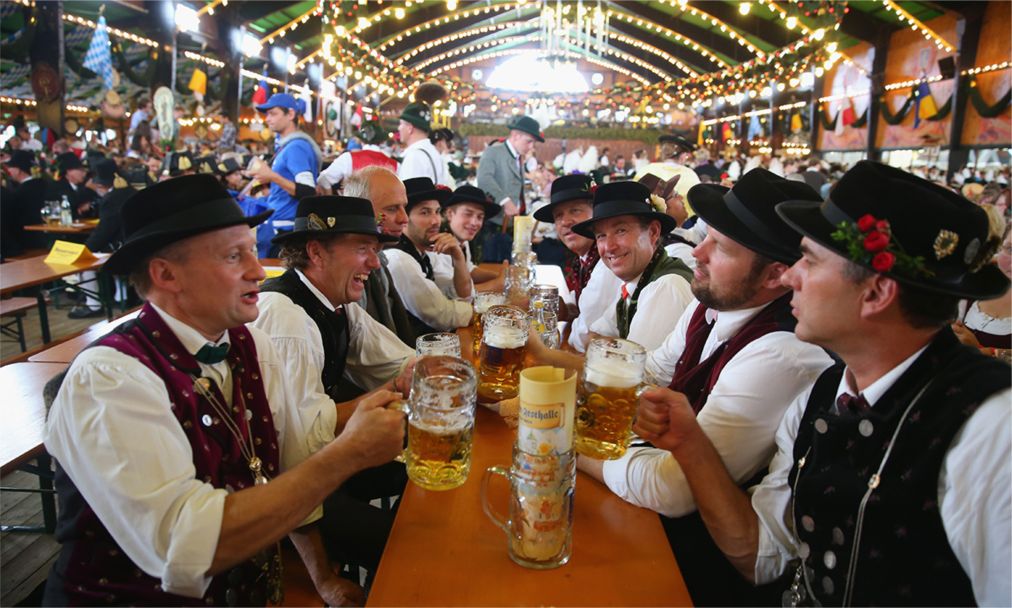 Mingling With Locals
People come from all over Bavaria to drink at Oktoberfest, but your Bavarian doesn't need to be perfect to make new friends. Just like at any party, a little alcohol goes a long way in creating fellowship and fun memories.
There are a few terms you might want to familiarize yourself with before you go, though. For instance, you'll probably hear a group of people in any of the various tents shout, "Oans, zwoa, drei, gsuffa!" It's a countdown to a "bottoms up," and means that everyone is about to cheers. "I mog di," is another popular phrase you'll hear, which means "I like you."
Those are just two examples, but a quick Google search can fill you in on the key phrases you'll need to know in order to purchase beer as well as food. It isn't a lot to remember, and it can make your trip a lot more fun.
Safety Concerns
Many worries that, because everyone is so drunk, the crowd might get out of hand or someone may become a mean drunk. Munich has a high level of security and guards on duty throughout the two weeks, but there is rarely a cause for concern. Unlike many of the unpleasant bar scenes you may have experienced, Bavarians are incredibly happy drinkers.
The World's Largest Folk Festival
Oktoberfest is a one of a kind event that every beer lover should experience at least once in their life. The combination of rich culture, tasty foods, and fun atmosphere makes for an unforgettable experience. For more information, head over to Oktoberfest.eu.